What's happening in Novaya Baravaya where there is no running water for three days
17 November 2020, 14:30 | Sniazhana Inanets, TUT.BY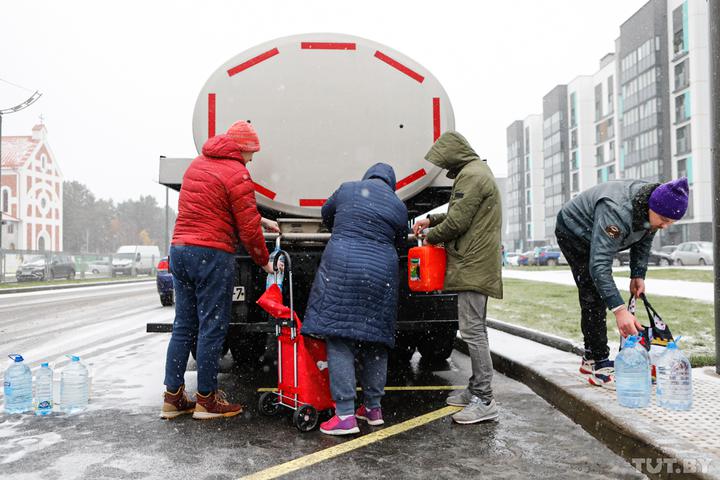 Minsk residential area Novaya Baravaya is out of running water for a third day in a row. The local school is closed today due to this situation and the residents are bringing water in bottles and buckets. Already yesterday the water supplier Minskvodakanal said that one of the water valves in the system could have been damaged on purpose. Today they announced that the problem was solved, however water is not supplied to the area as it is being quality tested by a sanitary station. In addition this morning some of the houses periodically were left without heating [which is water-based]. Residents believe this is revenge for their protest activity. TUT.BY was on location to see what was happening in Novaya Baravaya.
"My husband did not go to work this morning, luckily he has flexible hours, and was driving around the area looking for ways to get water," says local resident Sviatlana.
By the time of this conversation (around 10 am) water trucks from Minskvodakanal had arrived. Two are standing next to Sviatlana's house at Aviiatsyinaia street 13.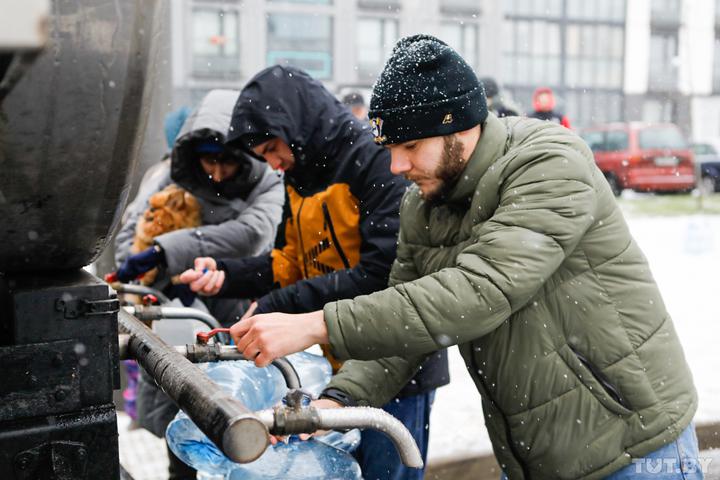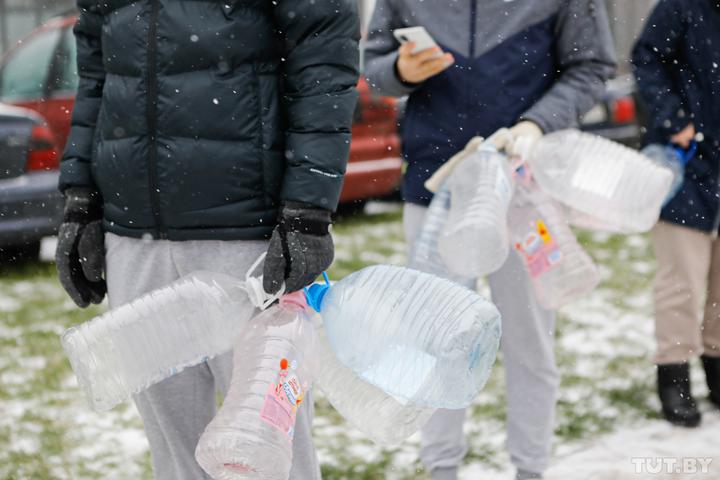 Sviatlana and her husband have two children, the youngest is three years old. Elderly mother-in-law also lives with them. For a few days now their everyday routine includes basins and buckets.
"All this will be enough for the evening," says Sviatlana and points to the water supplies that they managed to collect in the morning. "We can do without showers but we still need water for cooking and the toilet."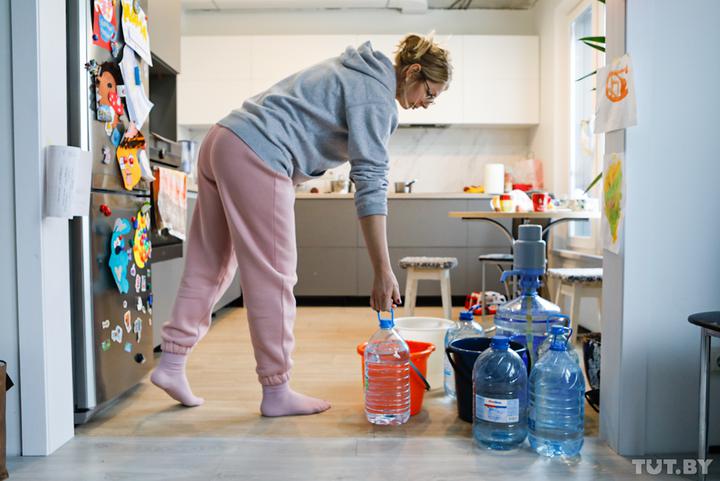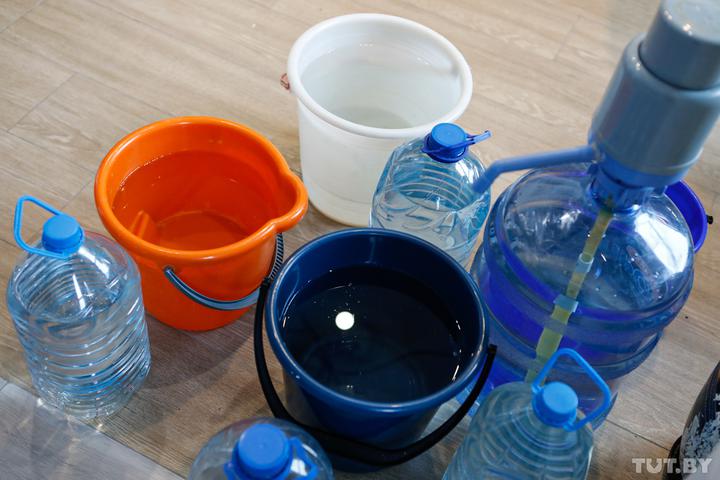 The eldest child did not go to school. This is the new school called "School of the future" which recently has reported big problems with cleaning [due to lack of cleaning personnel]. On Monday it was open, but at the end of the day parents were told that the school would close on Tuesday due to problems with water supply.
"The situation at school was already middling – too many children and not enough cleaners. Sanitary authorities were always there. But what can you do with no water at all? Children use the toilet all the time, you need water to flush. They said yesterday they had water on the first floor, at low pressure. But the school building is two-story," Sviatlana explains.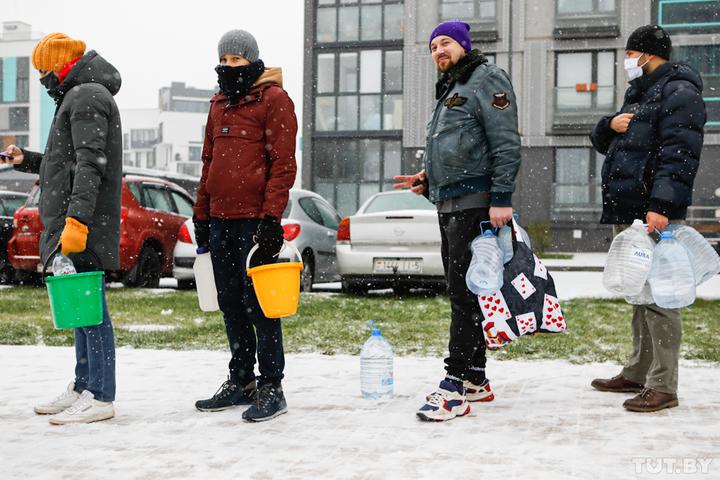 Also here on Aviiatsyinaia street Anna and her son, who is in third grade, are carrying water.
"We are trying to stay positive," Anna laughs. "Today my son did not have to go to school, he's happy. There are four of us in the family. Three days with no water is challenging. Luckily, our grandmother lives in Uruchcha, we can take a shower at hers."
Residents are queueing for the water trucks, snow is blowing in their faces – bad timing for this weather. Everyone is discussing the morning announcement from the service company "A-100 comfort" about the accident at the local water boiler station.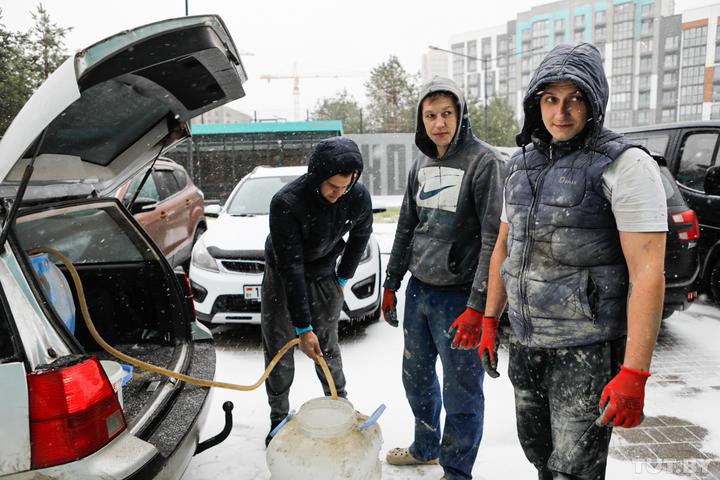 Despite the news that some of the houses in Novaya Baravaya are without heating, those we talk to say it is still warm inside their apartments.
"Our radiators are still warm. The service company is asking not to drain the radiators as the heating will disappear," explains one of the residents on Niabesnaia street Siarhei.
Note that after our news report the heating returned.
The young man tells us that volunteers have been actively bringing water to Novaya Baravaya in the last few days. And ordinary people had started to help well before the "government" water trucks were sent.
"Local online chat grew by more than 1,000 participants in one night. Everyone is offering to bring water or use their house to shower or wash clothes or anything else. Overall – this is horrible. So many thousands of people without running water for three days in a row and no one from the authorities is doing anything. We consider ourselves under siege. On top of everything someone brought these outdoor white-red-white toilets. How childish!" sighs a local.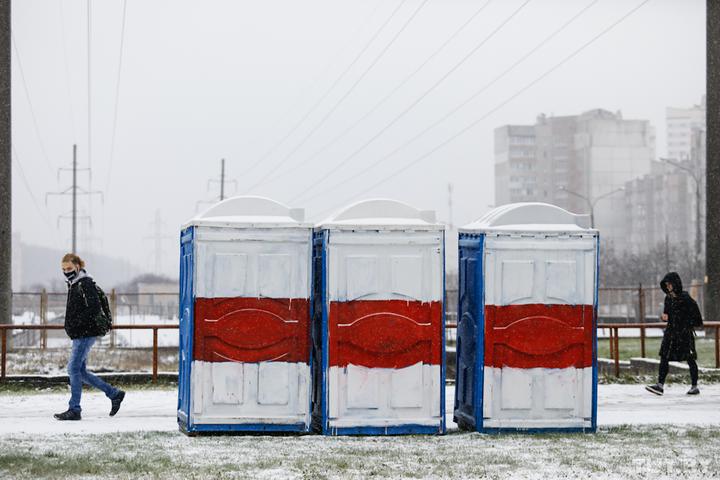 White-red-white toilets are not a joke. Indeed, on the same day when the water disappeared in the area someone brought chemical toilets to Novaya Borovaya, painted in the colors of the national flag. Locals are calling it "a sham". They believe that the white-red-white toilets, the accident in the water system and today's accident which led to no heating in some houses are all connected to their active civic stance.
To remind the reader, Novaya Baravaya has in recent months come to be known as an area with high protest activity. At two of the polling stations located in the area Sviatlana Tsikhanouskaya was officially reported as the winner in the presidential election. After the election local residents have been actively putting out white-red-white national flags on display.
"I saw how the white-red-white toilets were set up," says Aliaksei, local resident. "It was done by a crane, and at a bus stop nearby there was a minibus similar to those present at protest rallies. I don't know whether those were connected but when I was passing by I didn't dare to ask what was going on."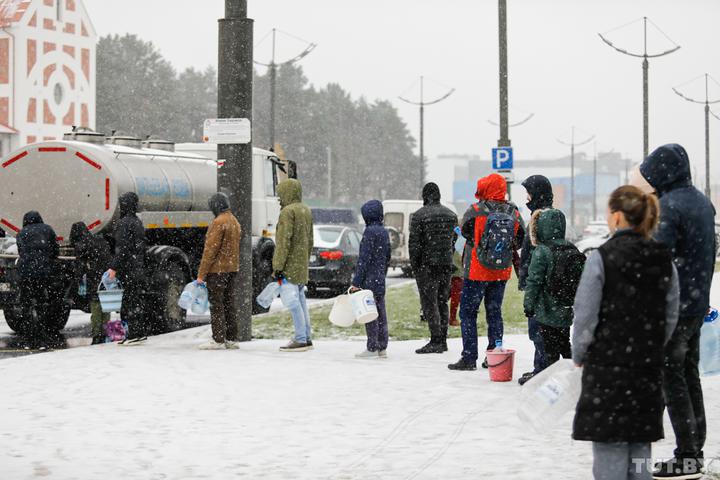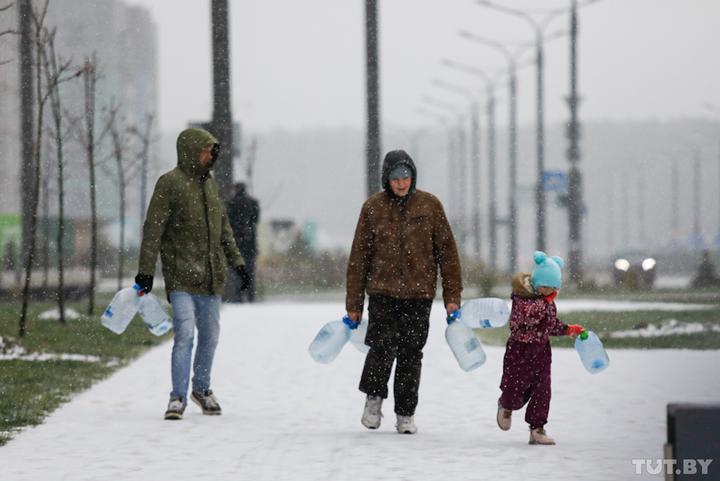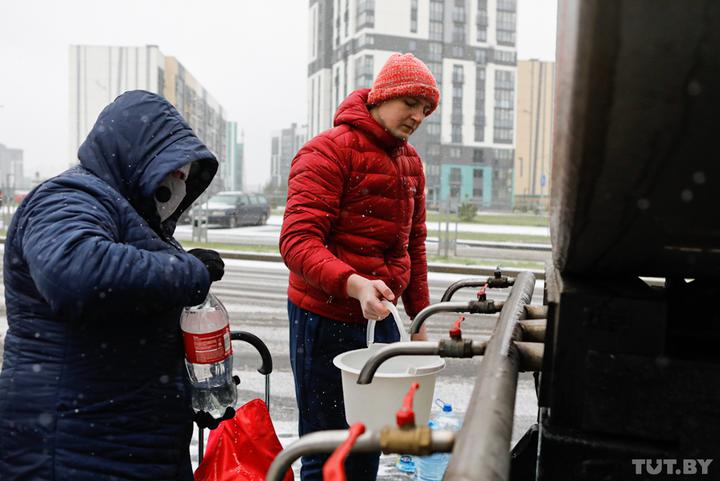 We know that residents have forwarded a complaint in electronic form to the Prosecutor General's office asking to clarify the situation with the cutoff of running water.
Practically on the central square of the Novaya Baravaya residential area a nursery school called "Giraffe" is located. We met a few parents that told us about water delivery this morning. Nursery administration told us that everything was working as usual, it was warm inside (we can confirm), and that a water truck had been sent immediately after the headmistress made a call.
"Parents have brought water this morning, we are grateful for that. But it was more their kind gesture. We've got enough water anyway," a nursery representative commented.
In the middle of the main square there is a gathering point where volunteers deliver water. Around 11 am there were about ten 5-liter bottles of water. There were also six policemen around. Locals told us that that morning they had a visit from special forces, emergency services and some bureaucrats.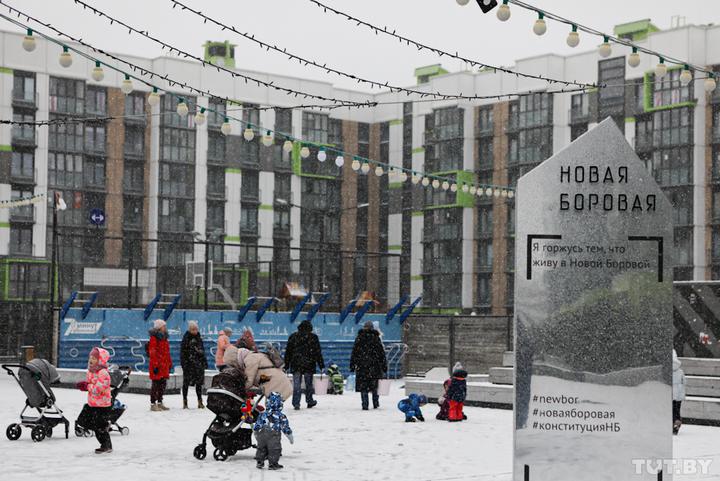 "We went to the policemen to ask them whether they were here because of the water situation. As even the water supplier "Minskvodakanal" suspects that the valve has been removed on purpose. But the policemen told us that was not why they were there," said a mother with a small child. "However all those visitors took down all the flags that were hanging on the entrances on the Leonardo Da Vinci street. Flags bother them more than our troubles with water."
Locals also told us that yesterday the Head of the Barauliany local executive committee Zhanna Varabei had been there.
"When she was here someone was taking away our memorial to Raman Bandarenka and posters with excerpts from the Constitution. Yesterday there was no talk about water," locals shrug.
"Do you have any information?" an elderly lady asks the young people on the square.
"We have information that we live in an incomprehensible country," someone replies.
"This is a hybrid war," concludes the woman.
Sviatlana Nikalayeuna is also retired. Together with her husband she is carrying water in pink buckets.
"These pink buckets are from the past life," laughs the couple.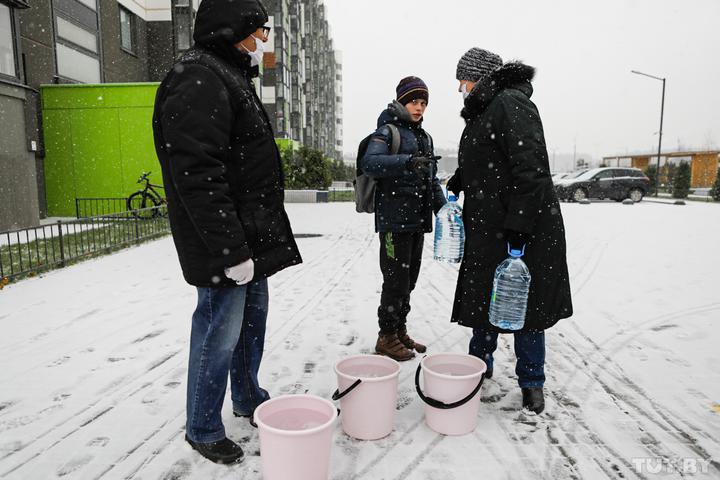 They are bringing the water from the house on Leonardo Da Vinci street 2. They've got water there!
"This house was completed first and is supplied from another network connected to Hintauta street," the elderly couple explained. "Our neighbours are saving us."
"We live on Aviiatsyinaia 3. Today the security forces were on the clean-up, taking down the flags," says Sviatlana Nikalayeuna. "I suggested they could bring me some water. But they said it was not their business. I think it is all because we are the unruly ones."
The elderly couple is approached by a school boy who hands them bottles of water.
"Take it, please. It's from our house."
"Well done, you'll grow up to be a good person," the couple is smiling. "You know, our people are so kind! Not only around here. Today an elderly man called and said, "I'm not on Viber or Telegram. Pass my number to people. If they have small children, they can come to my place in Uruchcha to take a shower."
Aliaksandr and his wife live on Leonardo Da Vinci 2, where there's water.
"We take empty containers, fill them with water and deliver them to people. We don't read news today, we carry water."
After 2 pm on Tuesday Telegram channel "Pul pervogo" closely related to the press service of the president reported that the president has been informed on the situation in Novaya Baravaya.
Alexander Lukaschenko's aid for Minsk Aliaksandr Barsukou (former deputy head of the Ministry of Internal Affairs) and the commissioner of Minsk Natallia Kachanava were instructed to monitor the return of water supply to the area.