The employees of Kupalauski theatre speaking about the protests in Belarus
28 August 2020 | Nikita Pavliuk-Pavliuchenko, Snob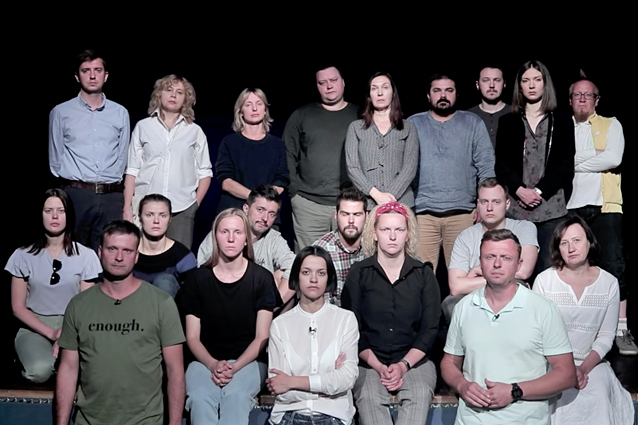 The Belarusians have been protesting for more than two weeks. The employees of Yanka Kupala National Theatre were among the first who supported the protesters. Primarily they demanded from Lukashenko to stop violence within the peaceful protests and then handed in resignation letters. The theatre stopped working. This year it would have celebrated it's one-hundredth anniversary. However, the theatre season will not start. The Snob talked to actors Andrej and Kristina Drobysh, lightning designer Nikolaj Surkov about Lukashenko's censorship and financial aid from abroad.
Today the name of your theatre often hits the news, but hardly any readers from Russia perceive the influence and weight of Kupalauski in the Belarusian arts.
Kristina: Firstly, I would like to mention that this year marks 100 years since the theatre was opened. We planned to celebrate its anniversary in September. Kupalauski is the oldest drama theatre in the country named after the Belarusian poet Yanka Kupala. The opera theatre in Belarus started at our stage. Now Kupalauski has neither it's troupe nor technical staff – the theatre can't exist without them.
Nikolaj: To make it clear for the Russians I will compare Kupalauski theatre with Chekhov Moscow Art Theatre.
Why did the employees decide to support the protesters?
Kristina: We took to the streets on the date of the elections (on August 9 – editor`s note). We saw large-scale, and I underline, peaceful protests, broken up with grenades, rubber bullets, and water cannons. Everything that happened on the streets can be called genocide, and our pre-trial detention centers can be compared to concentration camps. Being the employees of the National theatre we understood that we couldn't come on stage in such circumstances, much less celebrate the anniversary, keeping up appearances.
Nikolaj: It would be blasphemy for our part.
What happened then?
Kristina: We recorded a video message for the government appealing to stop the violence. We understood that firstly, those statements would cause the theatre managers firing as they supported us. And that is exactly how it happened: our general manager (Pavel Latushka – editor's note) was fired. Following that, more than 50 people wrote resignation letters. We insisted on a meeting with Yury Bondar. He refused to answer our questions but was open to discussing the following season. He naturally was hissed, and left the theatre accompanied by people shouting "It's a shame!". The next day we were prohibited to enter the theatre. They explained that the theatre closed for sanitization due to COVID 19. However, the police were inside. Those who managed to enter had to go to the dressing rooms with law enforcers.
Andrej: Then we were pressed on the public TV: STV channel demonstrated that we were called idlers, alcoholics, and drug addicts, who destroyed the building of the theatre which had been repaired for public funds.
How many employees retired?
Kristina: About 80. There are people who can't leave the theatre due to external factors: some of them are on vacation, some are on maternity leave. There are also older actors, and it's hard for them to participate in the protests. Their view is understandable.
Were there employees who discouraged others to appeal to the government, understanding what consequences could be caused?
Nikolaj: Of course, everyone has the right to his or her own point of view. Nobody blamed such people.
What arguments did they provide? Why didn't they want to record the video?
Nikolaj: I will explain: even those who persuaded us from recording the video were against violence and blood. They insisted on protesting through the art.
Andrej: They resembled that the theatre worked even when Minsk was occupied by the Nazis.
Why didn't you accept these arguments?
Kristina: Firstly, today there are very few spectators. Secondly, each of us has a closed one who was beaten by the OMON riot police ramming batons in the ass and pressing eyes. It is impossible to work when the theatre is surrounded by OMON. There is a Lukashenko`s ex-residence right behind Kupalauski – now it is the administration of the president. During the hottest days – on August 9, 10, and 11 there were military machinery and hundreds of soldiers in full gear.
Andrej: How could we come on stage, play a comedy, or sing lyrical songs, when people are killed? Our stock plays are meant for a peaceful life.
By the way, have you ever dealt with governmental censorship?
Nikolaj: There were cases when the representatives of the Ministry of Culture came to the early viewing and said that we had to take something away from the performance. We had a spectacle after Adam Mitskevich's novel (a Polish poet of Belarusian ancestry – editor's note). There was a huge white triumphal arch on the stage. When its backboard was illuminated with red light, the public officials saw the white-red-white flag in this composition.
When did it happen?
Nikolaj: About seven years ago. Within this performance devoted to the rebellion in 1863 (in Russian history it is called the Second Polish rebellion – the national military coup in 1863-65 aimed to recover the independence of Poland. It happened on the territory of modern Poland, Lithuania, Belarus, and Ukraine – an editor's note) actors with flags of Lithuania and the Polish-Lithuanian Commonwealth as well as with the historical Pogonya emblem came on the stage. We were strongly encouraged to take it away.
Kristina: I didn`t remember that spectacles were prohibited. There were some cases of censorship like Nikolaj mentioned. It concerned not only our theatre but the whole Belarusian culture.
Aleksander Lukashenko recently threatened the employees of Kupalauski that after your appeals the theatre could forfeit government grants. Is it blackmail?
Nikolaj: It is clear that the theatre as any other comparable institution is fully sponsored by the government.
Andrej: He offers us to leave for the USA and work there on the market conditions. It is the rubbish of a mentally disturbed person.
Kristina: How could we conceive his words seriously after he helicoptered under Minsk in with a weapon and demonstrated it to the whole world?
I heard that you are asked to leave your service flats?
Nikolaj: Many employees live in service apartments. They are situated near Uručča (Minsk dormitory district where the OMON riot police broke up the protests – an editor's note). According to the contract we had to leave this accommodation after retirement. Thus, now we are not only unemployed but also homeless.
Aren't you afraid that you will be replaced by Russian actors as it happened with the retired Belarusian journalists?
Nikolaj: All our repertoire is in Belarusian. Where will he find the actors? I don't intend to offend Russian colleagues, but they can't learn the Belarusian language in the short term.
Kristina: Kupalauski theatre is strongly connected with the national culture and history. If they find actors ready to step into our shoes, the directors won't be able to prepare the troupe for the season – it takes at least half a year. Yes, the salaries in Kupalauski are the highest in Belarus, but I doubt that the Belarusian actors can now compromise with conscience and come on our stage.
Andrej: The spectators of Kupalauski will not attend the repertoire performed by another troupe. I am sure.
As far as you touched on salaries: how much do the actors of Kupalauski earn?
Kristina: I would talk about this in the past – we have already retired.
Andrej: Last half a year I earned $700 per month, at an average – $500.
Nikolaj: As a lighting designer I earned near $600.
As far as I understand, now you receive aid from the Fund of Solidarity which was recently founded?
Andrej: As we retired a short time ago, we haven't received aid from them yet. Moreover, I find it unethical to require money straight after retirement. However, I know that some people received aid from this fund. It is plain and simple: you just need to send them your work record book, fill out the form, and receive money.
Nikolaj: A short while ago I was picked up by taxi – a driver heard me speaking by phone and understood that I was from Kupalauski. When we arrived, it appeared that he refused to take money from me.
Andrej: By the way, the drivers refuse to taxi the OMON riot police employees.
Kristina: I am astonished at the amount of the aid provided by Belarusians. Our people are amazing. It was clearly illustrated on August 16 on Sunday when the Minsk citizens came to the monument devoted to the heroes of WWII. The actors of Kupalauski also participated in this march from Independence Square. When people saw us they came apart and started applauding. Then I understood that even if I retired everything would be ok.