What do people who were hiding from security forces for 15 hours say?
16 November 2020, 13:24 | Katsiaryna Barysevich, TUT.BY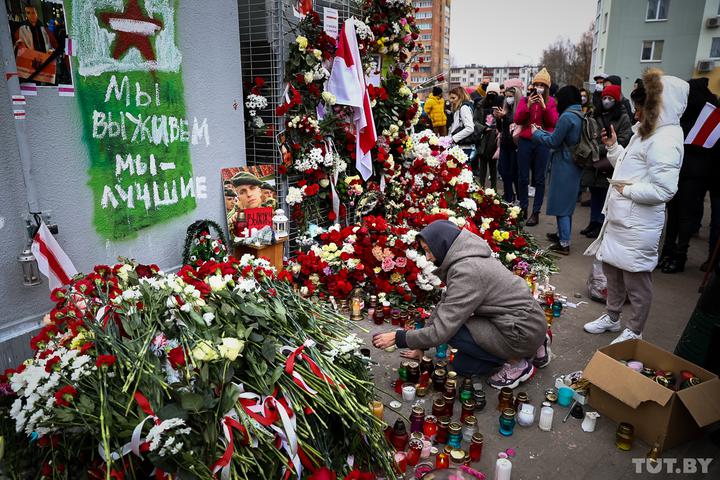 On Sunday at the Square of Changes when the violent dispersal of protesters began, people were forced to hide from the security forces. They describe the hours spent locked up as "a real siege". They say they were forced to lie on the floor for more than 15 hours, tried not to show signs of life, did not have water, and those who had food "starved out of solidarity." How could you take a bun out of your bag if everyone around is hungry?
Residents of the apartment buildings near the Square of Changes said that on Sunday afternoon after the dispersal some of the security forces stayed. They went from building to building checking passports and were guarding the entrances.
"What we have experienced is very similar to the stories that grandmothers told about the war. We were lying on the floor in the dark for 15 hours, motionless, there wasn't enough air, and all that time without food. Out of solidarity, everyone was fasting. I had a loaf of bread and two cookies, but how do you share them if there are dozens of people around you? Should I ask who is the hungriest? That could lead to an unnecessary quarrel," Marina tells TUT.BY.
She is one of the people who were forced to hide from the security forces after the crackdown on the Square of Changes. According to the estimates of those who found themselves in that situation, there were between 100 to 200 people. On Sunday morning Marina went to church service, and then came to Charviakova Street to honor the memory of Raman Bandarenka. She recalls when the security forces began to attack, people raised their hands up and shouted: "Shoot!"
"Then the grenades came, people cried out wildly, and I ran into the first open doors. We heard how the security officers spoke on the radio, how they walked nearby, but out of horror no one paid attention to what they were saying", Marina conveys the emotions of those who were together with her. "In my experience, you sit in an ambush for 2-3 hours and then go out. Nobody could have imagined that it would take 15 hours. There were a lot of us, at some point it became too stuffy, but we continued to hide and remained lying on the floor. We saw how some guys were detained in the neighbouring houses, brutally beaten, and taken into prisoner transporters. It was scary… Some people kept sitting down on the floor for 15 hours and did not even go to the toilet."
Today, around 10 am Marina was able to leave the house together with those who were hiding at the Square of Changes.
"Our stomachs were gurgling like orchestras"
Victoria did not come home for the night either. She says she hasn't missed a single Sunday march, but "there has never been such a siege".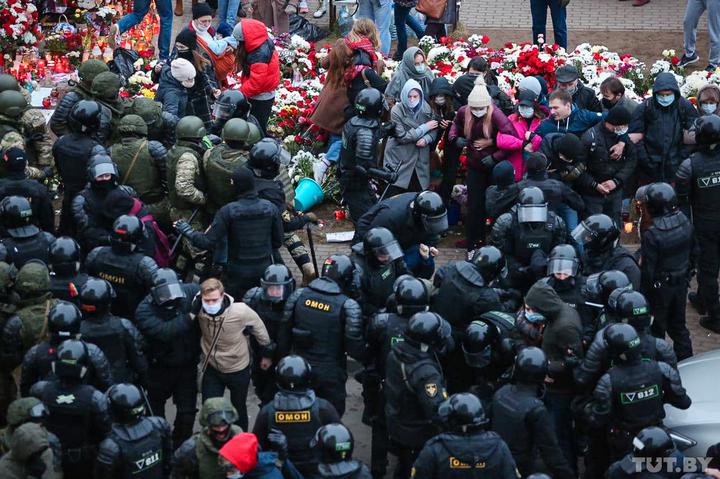 "As the door to someone's apartment closed behind me at 4:25 pm yesterday, it didn't open until the next morning", Victoria tells TUT.BY. "I came out in shock, some buses drove up to catch us but everything turned out well. There were about 200 people in hiding. In the morning, when lots of people ran out to the Square of Changes, I got scared: are they our people or the government forces in civilian clothes? Will they arrest me? But from their tortured faces I understood – these are our people."
Victoria describes the atmosphere as psychologically challenging. Firstly, everyone tried to remain silent so as not to betray their presence. Because of this, it was impossible to discuss what to do next. Secondly, they all the time heard the policemen talking, their steps, and saw how the officers shone their lanterns in search of the protesters.
"But we understood: it is better to stay here than in a police department under oppression and torture. When people I didn't know hid me, I hesitated: can I trust them? You were offered to go to a toilet, to sit down. That sounded like magic. Every hour we thought we would leave, but the security forces did not leave. There was an uncertainty. Yes, you seem to be able to go outside, but at the same time you understand: you might immediately get into a prisoner transporter and these 15 hours that you spent locked up are all for nothing. Everything starts anew: waiting in a prisoner transporter, police department, proceedings. Therefore, we endured until the very end, our stomachs gurgling like orchestras. Imagine, many only had breakfast on Sunday morning and that was it. It was difficult. In addition, everyone has their own psychological barrier, some came to the square with their families, their loved ones were detained, but they were able to hide. What to do next? It seemed like they had to go out and look for relatives in a police department, but as soon as you get out, you are already in danger."
Now Victoria is back home and is grateful to those who opened their doors for her: "Thank you very much for sheltering!"