18 August 2020, 17:45, TUT.BY
A museum director from Vaukavysk who refused to sign a local election commission protocol has been found dead, reports Angel, a search and rescue squad.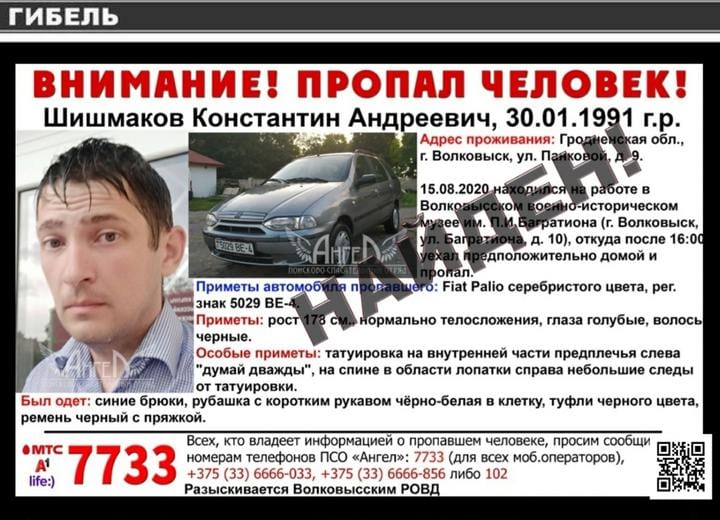 The information at TUT.BY's disposal suggests that Kanstantsin's death is non-criminal in nature. The circumstances of his death are indicative of a suicide.
We are anticipating an official comment from the Belarusian Investigative Committee.
As previously mentioned, 29-year-old Kanstantsin Shyshmakou, the Director of the Bagration War History Museum in Vaukavysk, disappeared on 15 August. He had refused to sign the protocol of a local election commission in which he worked, then called his wife at about 5 p.m. and said: "I'm not going to work here any more, I'm heading home." However, he never returned.
"It was on 9 August that the whole thing began," his father recalls. "He was in the election commission at the time. There was another guy — I don't remember his name, won't mention it. They both didn't sign the protocol. My son said somebody signed it instead of them. He called his wife and told her about that."
Andrei Shyshmakou says that, after the commission finished its work, his son and the other young man were offered a lift home. They refused again, saying: "We've got nothing to be ashamed of."
The staff of the National Art Museum and the National History Museum of Belarus staged a walkout to support him. They also expressed their solidarity with all the Belarusians who disappeared before and after the election.