5 October 2020 | Infocenter Free Belarus 2020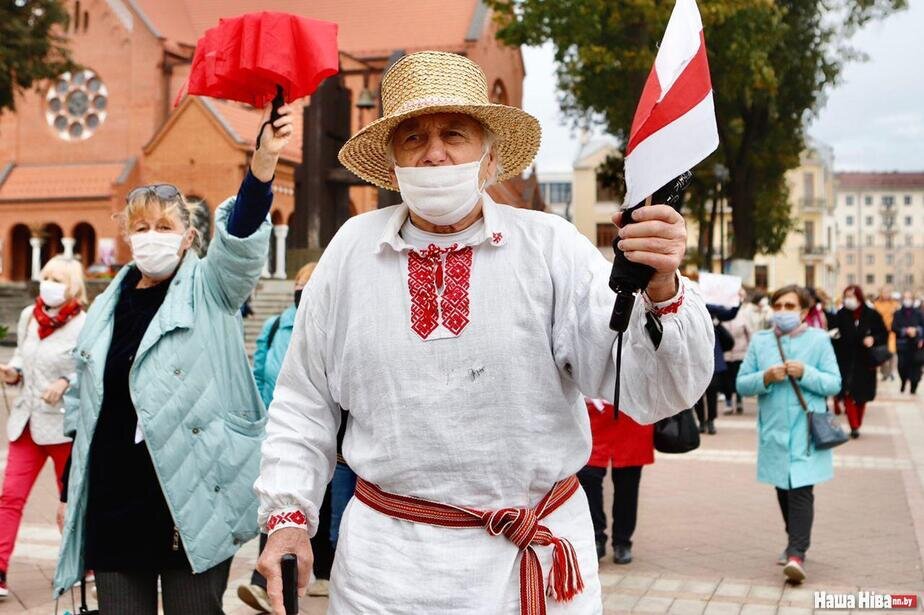 Good morning, the 58th day of the protests has begun. According to the human rights center "Viasna", 247 people were arrested yesterday across the country.
8:00 am Happy Birthday, TUT.BY
🎂🥳 News portal TUT.BY turns 20 today! Our editors congratulate all employees of the largest media outlet in the country!
Photos and videos of yesterday's protests are on TUT.BY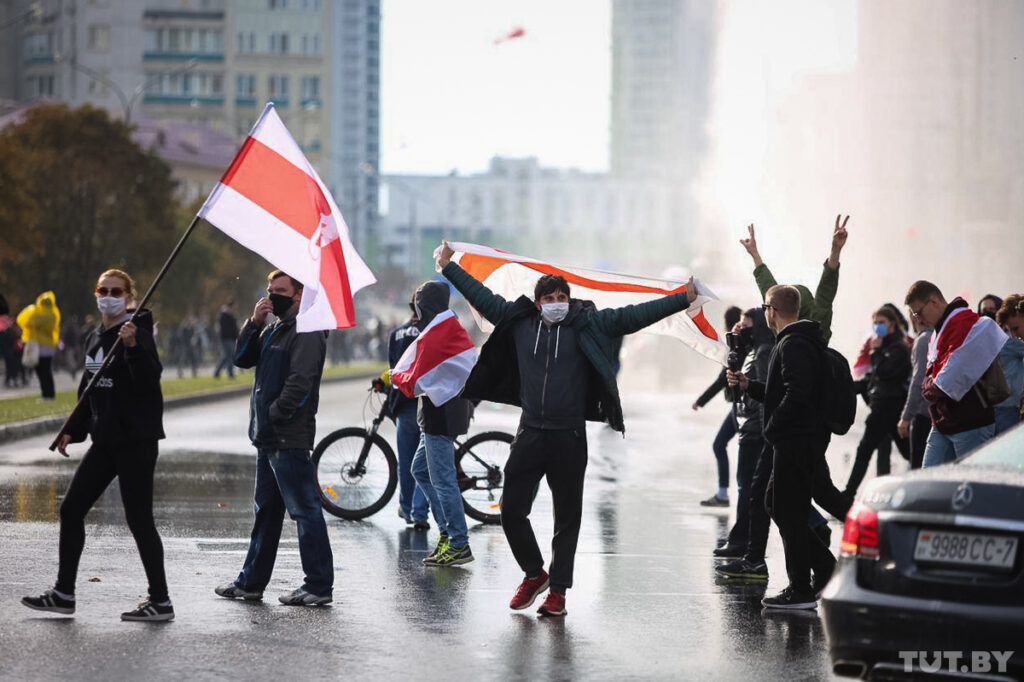 8:10 am How Much Is a Journalist's Conscience?
"SB" journalist Lyudmila Gladkaya, reporting on the Sunday march, said that she interviewed detained protesters together with the riot police.
"A total of 600 people gathered for a rally today… All in all, only a few dozens of protesters reached the final point."
"BT" journalist Aleksandr Khorovets describes emotionally in his report how "bottles seem to be thrown at the soldiers, and stones possibly too." Khorovets is the only person to have seen this.
8:18 am "Enough persecuting people who just want a fair election."
Minsk Wheel Tractor Plant employees recorded a video message. On 17 August, Lukashenko was booed during his visit to this plant.
8:42 am The Lithuanian Foreign Minister expressed his support for the journalists working in Belarus.
"The recent decision by the Lukashenko authorities in Belarus to cancel press accreditation of all journalists working for foreign media is a shame. Such primitive steps will not hide their crime against Belarusians who have been demanding freedom for the 57th day in a row."
8:45 am Belarusian School Children Against Violence
A petition from Belarusian school children against violence and "educational meetings" appeared on change.org:
Their requirements are:
Stop the forces and ideological structures interfering with the educational process;
Stop violence against peaceful protesters;
Free all political prisoners.
If their requirements are not met by 11 October 2020, Belarusian pupils will join the national protest as a separate wing.
9:00 am Latvia condemned the official Minsk's demand to recall the Lithuanian and Polish ambassadors and to reduce the staff of the diplomatic missions of these countries.
"I agree with High Representative Josep Borrell, Latvia stands in solidarity with our EU partners – Lithuania and Poland, we condemn the demand of Belarusian authorities to withdraw Lithuanian and Polish ambassadors and significantly reduce diplomatic personnel in Minsk."
9:39 am Belarus Loses 2022 Chess Olympiad
The International Chess Federation has reopened the bid for the 2022 Chess Olympiad. According to FIDE, the Belarus organizers failed to perform their organizational and financial duties.
Meanwhile, Chess.com has temporarily changed the flag it uses out of solidarity with the people who oppose the non-democratically elected leadership. The chess platform will review this change as the situation develops.
10:32 am Solidarity Is Stronger Than Repressions
Minsk Tractor Plant workers published a new video message calling for people to leave state-run trade unions.
"Unite through independent trade unions. Solidarity is stronger than repressions," the message says.
11:14 am Plan for Belarus Will Become a Part of the EU System
The Polish Prime Minister, Mateusz Morawiecki, named the conditions for implementing the Marshall Plan on the Telewizja Polska.
"This is the plan for a democratic Belarus, so we emphasize that the start of the democratization process should be a precondition to implementing the Marshall Plan," he said.
Morawiecki noted that this is a multi-year program worth billions of euros.
11:29 am Volunteer Camp Gone From Akrescina Street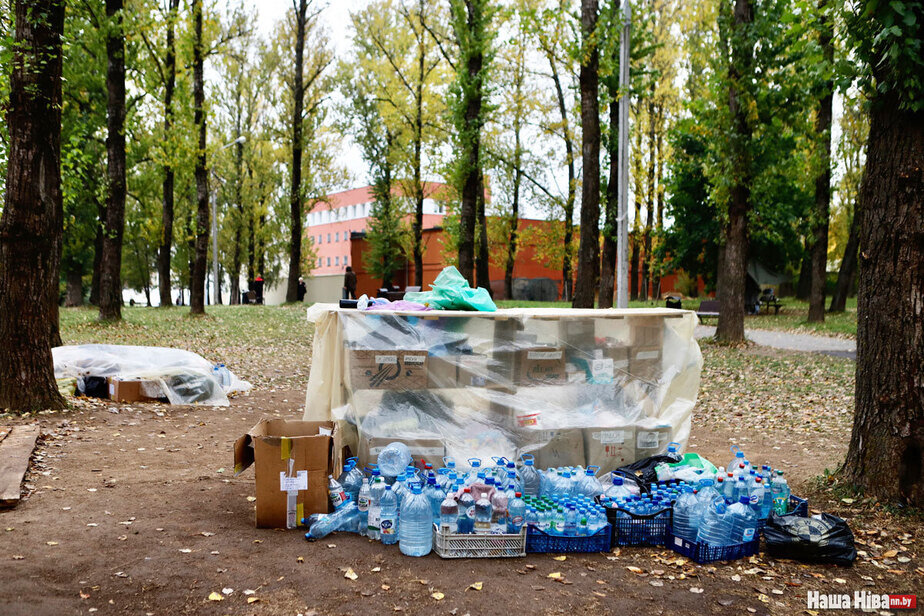 The volunteer camp near the detention center on Akrestsina Street in Minsk has stopped its work. Their tents are gone from the park. @nashaniva was informed by the inmates' family members, who came in today bringing parcels for detainees.
The correspondents are trying to find out why this happened.
11:43 am ❗️ Maria Kalesnikava's defenders filed a petition with the Investigative Committee to terminate criminal prosecution due to the lack of evidence.
They point out that all of Maria's speeches and statements are freely available, and do not contain any calls for action aimed at harming the national security of Belarus.
12:17 pm Journalists Oleg Shepelyuk (Belarusians and Market), Daria Sapranetskaya (BelGazeta) and Alexander Vladyko (Onliner) were detained during yesterday's march. They were taken to the Oktyabrsky district police station in Minsk. Later on, the journalists were released; however, they received summons to the police stations the same evening.
12:24 pm The journalist Marina Mauchanova was brought to the hospital from the pre-trial detention center at night with a hypertensive crisis. Three more journalists detained in Babruisk still remain in the pre-trial detention center.
12:28 pm Dmitry Mazuro, a student from the Belarusian State University of Informatics and Radioelectronics, has been sentenced to another 15 days of detention. In total, he has been punished with 38 days of detention for participation in unauthorized actions and disobedience.
12:30 pm Lukashenko threatened to "intercept" traffic from the Baltic States. "Almost 40% of trucks arrive from Latvia and Lithuania this year. This is a huge [revenue] sum, if we consider this flow, the Lithuanian logistics points will not receive around a quarter [of the sum]," he said.
12:38 pm The former editor of the state television channel STV, Lilia Latagurskaya, recorded an emotional video appeal on the refusal to admit candidates to the presidential elections and a statement made by the Russian film director Mikhalkov.
12:39 pm The head of the Vitsebsk district, who forced teachers to falsify the elections protocols, has resigned from his post.
12:54 pm The Ministry of Internal Affairs of Belarus counted 10 protests which took place in all regional centers and the capital on 4 October. In total, the security forces detained 317 people for violation of the law on mass gatherings, with 258 people still in custody.
12:55 pm In response to yesterday's attack on a 13-year-old girl, the police claim that gas had not been used against the 13-year-old girl in Hrodna; it was used against her stepfather who, apparently, behaved aggressively.
13:08 pm In spite of everything, the Minsk State Linguistics University students still take part in protests in front of their university. Today, the young men and women sang the famous song "Wind of Change" by the Scorpions.
13:12 pm Testimony from victims of police brutality: "There were detained people who could not walk or even move."
"They beat me continuously for several minutes, and the other detainees were ordered to sing the national anthem of Belarus," says Andrei Vershenya.
13:27 pm The fifth week of pickets begins at the Belarusian embassy in Berlin.
13:37 pm Following the detention of 317 protesters on Sunday, 4 October, and arrests last week, at least 13,550 people have been detained or arrested in Belarus during the presidential campaign and protests against election fraud, as reported by Nasha Niva. The highest number of people detained was recorded during 9-12 August when, according to the Ministry of Internal Affairs, "more than" 6,700 people were detained (the Ministry failed to provide exact figures for those days). This summer, more people were detained in Belarus than the number of Polish protesters detained during the events of the Solidarity movement in Poland. During martial law, 10,123 people were detained in Poland. To compare the scale of police operations in Belarus in terms of the number of detainees per capita, the number of arrests in Belarus corresponds to approximately 205,000 in relation to the population of Russia, 60,000 in Poland or Ukraine. In any case, this is the largest seizure of civil liberties in the history of Belarus.
1:38 pm The philosopher Alexander Adamyants and the member of the Coordination Council, philosopher Olga Shparaga, detained yesterday, have been released.
1:39 pm The former head of "Anti-Maidan in Minsk" Ivan Uss has been sentenced to 15 days of detention for participating in the March for Change.
1:43 pm Poster stickers in support of the dismissed National Artist Zoya Belakhvostik have been displayed all over the Academy of Arts. "We, Zoya's students, display our support posters on every door in the Academy. Despite the fact that the stickers are removed immediately, we have more [to display]."
1:54 pm Around 30 demonstrators were detained in Brest yesterday; most were sent to the temporary detention facility.
2:11 pm A small "fire" has been reported at the Cascade residential complex. Thereafter, the security forces detained and took away the owner of the apartment where the cable for the white-red-white flag is coming from. The residents believe it to be a provocation.
2:27 pm Police visited a local activist, Denis Kobrusev, at his home in Homel. The police searched his home and confiscated laptops and telephones. Denis was detained and taken to the local police station.
2:52 pm Pavel Batuev, an activist from Salihorsk who was detained on Saturday, has been sentenced to 10 days of detention under Article 23.34.
3:15 pm Several hundred people participate in the Senior Citizens' March at Independence Square. They are chanting, "Grannies against OMON" and "Freedom to our grandchildren!"
3:19 pm The administration of the detention center on Akrestsina Street in Minsk made a decision that parcels for prisoners can now be sent only once a week, and not every day as before. This was probably a response to yesterday's protest march, which ended at the walls of the detention ward.
3:21 pm Singer and Eurovision 2005 participant Anzhelika Agurbash in an interview with Radio Svoboda: "Every new day of Lukashenko seizing power means new broken lives."
3:25 pm Sviatlana Tsikhanouskaya made a number of appointments.
Lawyer Mechislav Grib and politician Anatol Lyabedzka became the representatives of the constitutional reform commission. Alana Gebremariam, a Youth Block activist, became the representative for youth and student affairs. Political scientist Aleksandr Dobrovolsky became the senior political adviser, and journalist and analyst Franak Viačorka became the adviser on international relations.
3:35 pm Students of the Belarusian State University of Informatics and Radioelectronics have gathered for a now almost traditional sit-in protest.
3:52 pm The office of the Homel publication "Strong News" is being searched.
4:19 pm Volha Semchanka, an actress of the Mahiliou Drama Theater, was sentenced to 7 days of detention for participating in a peaceful protest.
4:21 pm The participants of the Senior Citizens' March lined up in a solidarity chain in the very heart of Minsk, on Oktyabrskaya Square. Around 1,000 people have been reported to participate in this rally.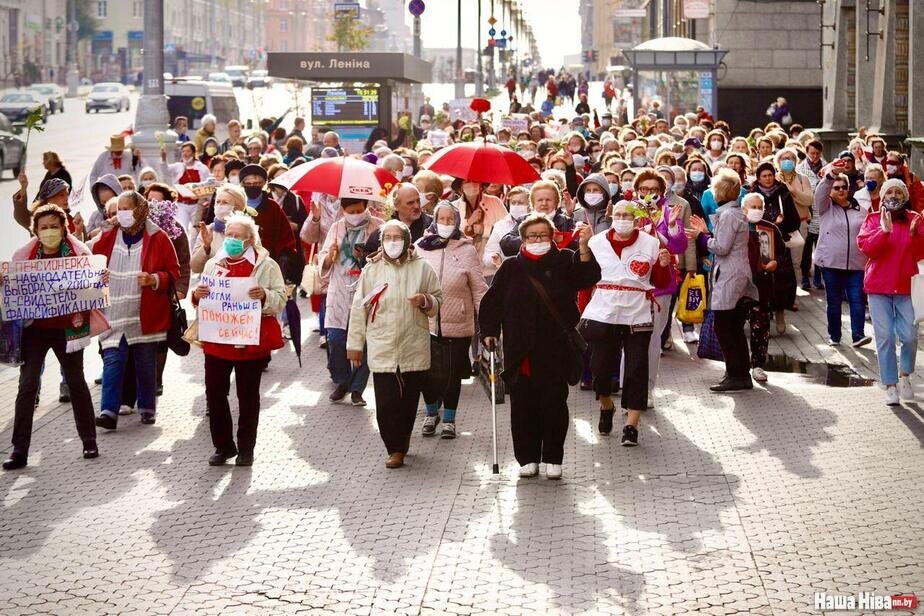 4:34 pm The leader of the Belarusian people, Sviatlana Tsikhanouskaya, has arrived in Berlin on a three-day visit. She is scheduled to meet with Chancellor Angela Merkel and German Foreign Minister Heiko Maas, as well as with the Belarusian diaspora in Germany.
4:41 pm Belarusian human rights defenders sent a report on human rights violations in the post-election period to the OSCE rapporteur appointed under the Moscow Mechanism. It should be noted that Belarus is the first country for which the OSCE Moscow Mechanism has been activated for the second time.
5:03 pm Two men who dismantled the water cannon at the Sunday march have been detained and are now at Akrestsina detention center. They are charged with violation of the procedure for participation in mass events.
5:05 pm The court case against Mahiliou journalist Alexander Sidorevsky has been postponed until 12 October. Alexander is currently released from custody.
5:08 pm Sviatlana Tsikhanouskaya made a speech about expanding the sanctions list.
"I am sure that there are many more people responsible for falsifications and violence. And the list of 40 people is just the beginning," she said in an interview for the German newspaper Spiegel.
5:24 pm The Senior Citizens' March has ended with the laying of flowers at the monument to Yakub Kolas. Fortunately, there were no arrests.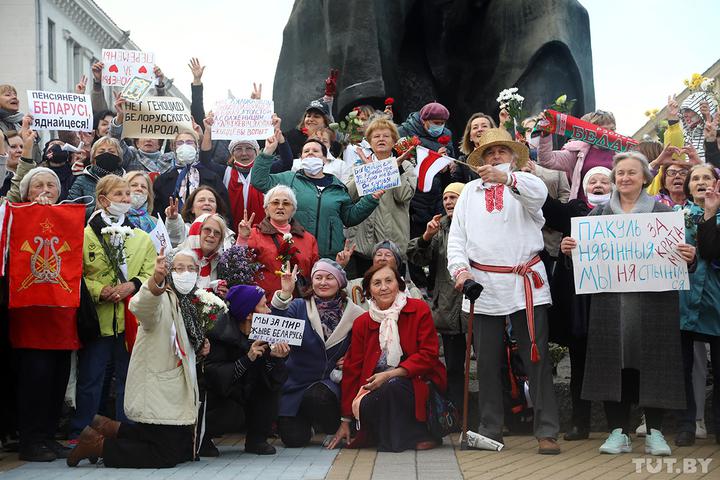 5:37 pm Sviatlana Tsikhanouskaya met with representatives of the Belarusian diaspora in Germany. The meeting took place in an art gallery, where an exhibition of political posters and installations on the theme of protests in Belarus is currently taking place.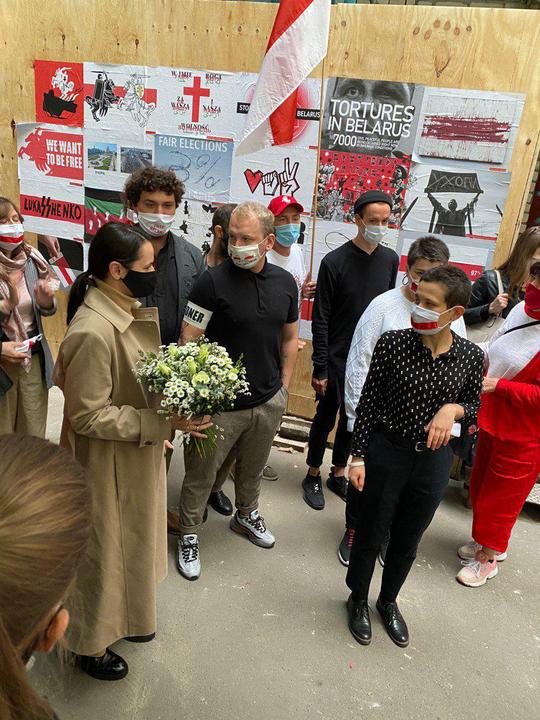 Sviatlana emphasized that she wants all people who were forced to leave Belarus to return home as soon as possible. And she makes such visits precisely for the sake of launching negotiations for new elections: "I am one of the ordinary people. Trust me, I know who I am and why I am here. I am here thanks to the Belarusian people. I am among you and I am one of you."
5:43 pm After a search, all the computers and other technical equipment have been confiscated from the office of "Strong News".
5:44 pm Denis Yakshtas, an employee of the Homel "Strong News", has been sentenced to 15 days of detention for participation in a protest action. Other journalists, Anna Yakshtas and Nadezhda Puzhinskaya, are still awaiting their trials.
5:59 pm The lawyer of the political strategist Vitaly Shklyarov, who has been in custody for several months, reported a sharp deterioration in his health after he suffered from the coronavirus.
6:01 pm 27-year-old Nikita Ignatyuk was arrested and convicted in Minsk. On Sunday, he was photographed with the hydrant that the protesters pulled out of a water cannon, Nasha Niva reports.
6:06 pm British news outlet The Guardian has released a short documentary on Belarusian protests.
6:12 pm During a meeting with Belarusian community representatives in Berlin, Sviatlana Tsikhanovskaya stated that she would like to talk to the Russian president "to understand why he is supporting Lukashenko".
6:10 pm Cryptocurrency exchange KUNA.IO has received an official demand from the Department of Financial Investigations to release personal data of those who use the platform to financially support Belarusian protesters. In response, the exchange not only refused to divulge the information, but also released an official statement and started a fundraiser to help Belarus.
6:24 pm Olga Shparakha and her husband Alexander Adamiants were detained on 4 October. After her release she shared some details of her experience with the press: "even in jail they wear balaclavas, and this makes you think that they are even more scared than we are", she said.
6:39 pm The Main Department of Internal Affairs in Minsk has announced that criminal proceedings have been instigated against 19 people who published police officers' personal information on the Internet.
6:44 pm Activist Andrey Yurkov was fired after his release from a temporary detention center, where he had spent 22 days for participating in protest rallies. 25 October will be his last working day at "Vuchgaz BDSGA". Alexander Yankovich, the head of the company, has stated that Mr. Yurkov's activism is not the only reason for his dismissal. However, he did not clarify further.
7:39 pm Dozens of Belarusians with national flags have gathered at the Brandenburg gate in Berlin. They are waiting for Sviatlana Tsikhanouskaya's speech.
8:08 pm Sviatlana Tsikhanouskaya is singing the Belarusian folk song "Kupalinka" with the crowd in Berlin.
8:34 pm Lithuania is recalling its ambassadors.
"Maintaining the support of Belarusians remains of critical importance. This is an important reason to keep the channels of communication open. Therefore, following consultations with EU partners and in coordination with Poland, Lithuania recalls our Ambassador in Minsk for consultations", Lithuanian Foreign Minister Linas Linkevičius tweeted.
9:01 pm Sviatlana Tsikhanouskaya gave a speech at Brandenburg gate. She announced her plans to ask Germany for help in organizing negotiations for a new election.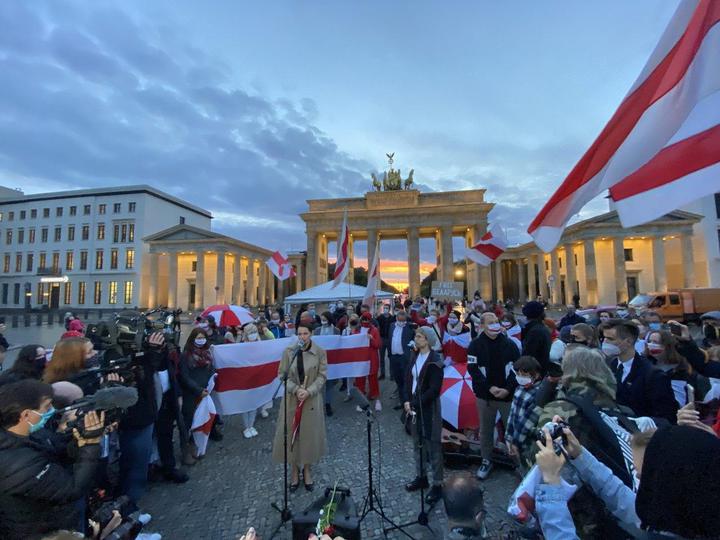 "The protests are absolutely peaceful and truly decentralized. I am convinced that violence is not a viable response to violence. That is why we keep pursuing negotiations for new elections. We are considering including other countries in the talks, and in particular, using OSCE as a platform. We would like Germany, one of the most influential world powers, to help us organize these negotiations."
9:43 pm Belsat reports that Listovka printing house employees have been sentenced to 15 days in jail. They were charged with participating in unauthorized activities on 23 August and 23 September.
To recap, Konstantin Nesterovich and Evgeny Dziatkovski were detained on Friday morning at the workplace. Listovka co-op was printing leaflets and posters in support of the peaceful protests.
10:05 pm Belsat journalist Alexander Sidarevsky was released after a trial for participation in rallies on 23 August and 6 September. Mr. Sidarevsky stated that he was providing news coverage of the rallies, and the judge approved the request to call in a Belarusian Association of Journalism representative to confirm whether it was true.
The court was then adjourned until 12 October. Sidarevsky was released from the temporary detention center right after the hearing, having spent 3 days in custody. His phone was confiscated as evidence.
10:30 pm Belsat reports that political prisoner Vitaly Shklyarov's health has worsened dramatically after he was sick with COVID-19. He is currently experiencing heart problems, including severe pain, arrhythmia and insomnia.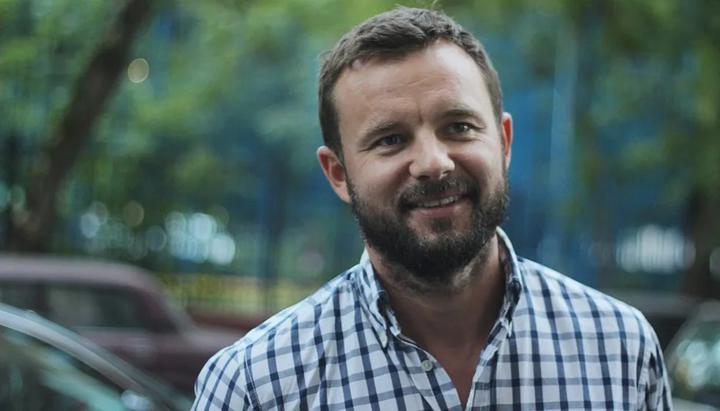 11:00 pm Belarusians are once again gathering in communal areas near their homes for concerts, parties, and walks along city streets. Their bright flashlights serve as a symbol in the fight against these times of darkness.