How teenagers end up being persecuted
12 November 2020, 07:25 | Ihar Ilyash, Katsiaryna Andreyeva, BELASAT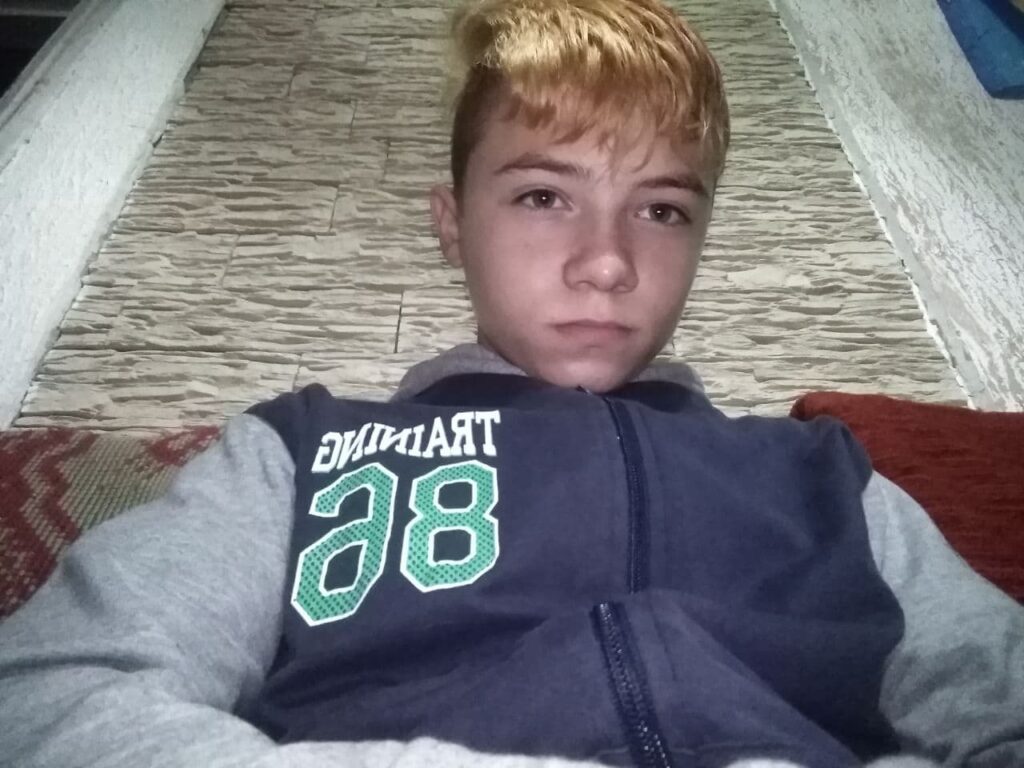 For the last six months, 900 criminal investigations related to peaceful protests and the 2020 election campaign have been launched in Belarus. These investigations include 11 reported cases of minors as suspects. Some of the minors are currently imprisoned. BELSAT has made inquiries into cases against teenagers who received criminal charges in connection with mass protests.
"Daddy, when will they stop beating me up?"
Mikita Zalatarou from Homel is 16 years old. The teenager has been in prison for three months. He was detained on 11 August and is under investigation in accordance with Part 3 of Art. 339 ("Persistent hooliganism") of the Criminal Code of Belarus. The school boy is facing up to 10 years in prison.
On 10 August Mikita happened to be at Lenin Square in Homel during the dispersal of a protest rally against election fraud.
"Mikita was at the bus stop waiting for a friend. All of a sudden he saw people running and shouting to run for his life. Well, he took off with everyone. They ran through residential areas… I don't know what happened after, but next thing you know he took a shelter somewhere", Mikita's father, Mikhail, told BELSAT.
Next morning Mikita was arrested in his home and transported to prison while his parents were at work. "The neighbours said that Mikita opened the gate (Mikita's family lives in a private residence. Note BELSAT) wearing only his underwear. In order to apprehend him the policemen started twisting Mikita's arms. They would have taken him away right in his underwear if not for the neighbors who came out and pleaded to at least let Mikita get dressed", Mikhail said.
That day the boy was held at the police station from 10:30 to 17:30 without a lawyer or any of his parents' present. Ulad, Mikita's 18-year-old brother, was also detained by the police.
"Mikita was assaulted by the police as they demanded him to give up the password for his mobile phone but he did not give it away. He is not a physically strong boy, but mentally he is very tough. And then his hands were twisted and forcefully placed on the phone (to the unlock touch screen. Note BELSAT). Ulad was in the hallway and heard Mikita being beaten. When Mikita was escorted out, his T-shirt was torn and he was covered in bruises. "What are you doing to my brother?" Ulad asked. "Shut your mouth, or you'll get …(beaten up. Note BELSAT)" he was told.
During the first official interrogation (already in the presence of a lawyer and his mother), Mikita became ill and was called an ambulance. The young man was taken to the Homel Regional Children's Clinical Hospital. The ward Mikita was in was under surveillance by the authorities and no one was allowed in, not even his parents. Mikhail filed a complaint to the Investigative Committee asking to investigate the assault of his son by the police.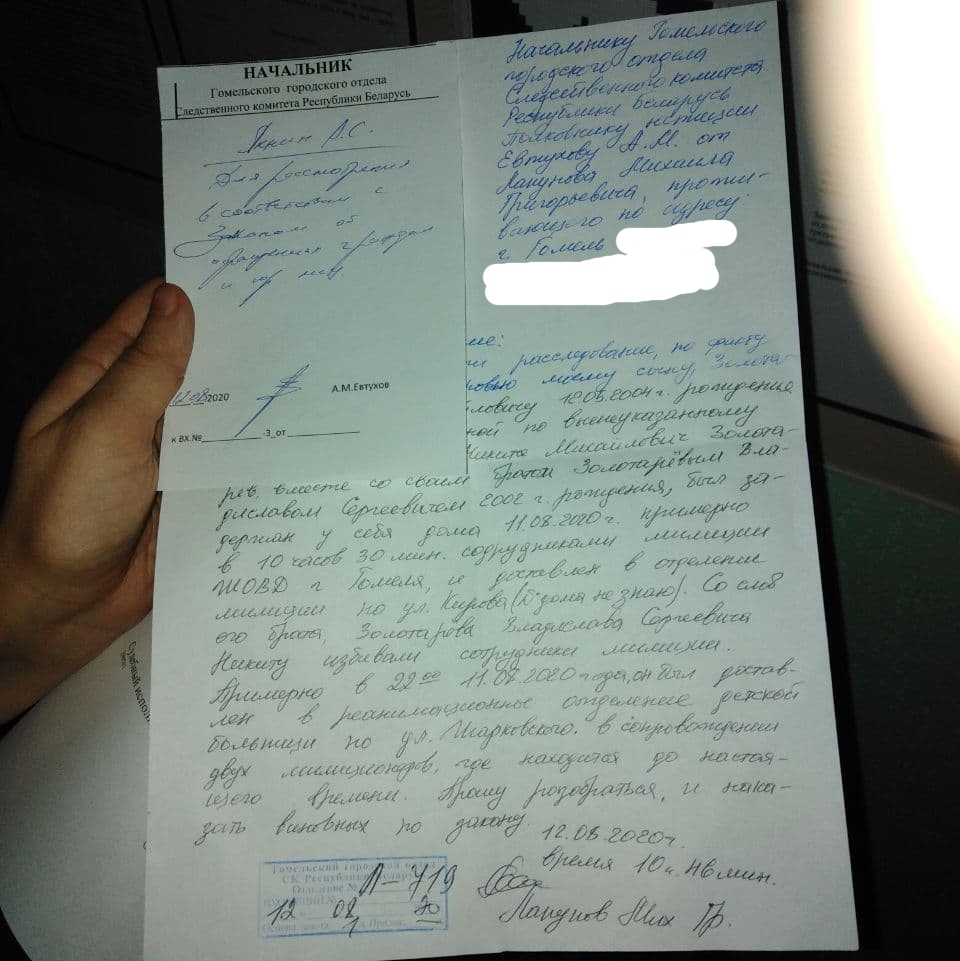 "By that time I had already contacted the press because I wanted to go public. But in order to deny the press any access to my son the next day the police took Mikita from the intensive care unit straight to the detention center. I am sure that it was done under pressure because patients are not usually discharged from the intensive care unit after only one day," Mikhail says.
In the discharge report Mikita's doctors wrote that the teenager was hospitalized with an epileptic seizure. There was not even a single word about the beating.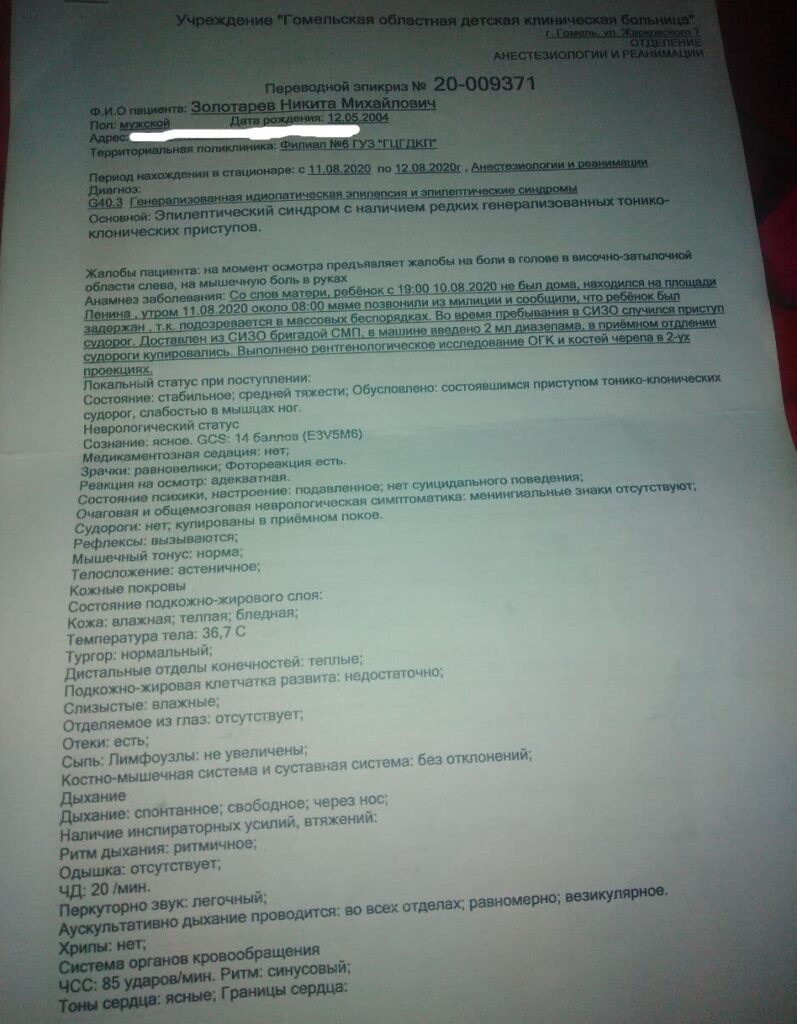 Mikita also mentioned the beatings to his mother on the day of detention and then to his father when they saw each other during the investigative procedures.
"Mikita put his head on my shoulder and said, "Daddy, when will they stop beating me up?" He said they are hitting him on the back of the head. Afterward he feels dizzy and loses consciousness," Mikhail says.
"I have the impression that he is being held hostage"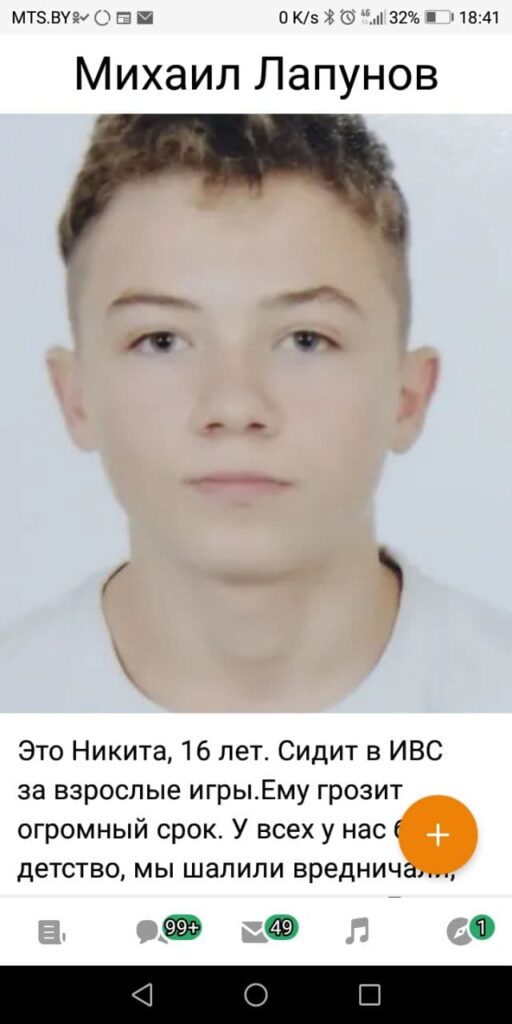 Mikita is accused of allegedly throwing a bottle of combustible mixture in the direction of a police officer while fleeing from the security forces during the dispersal of the protest on 10 August. No one was injured. And the teenager himself categorically denies he is guilty.
According to Mikhail his son is being forced to give false testimony, in particular to testify against another person. At the very beginning of the investigation his father was told that if Mikita mentioned a certain name he would be released under house arrest.
"I have the impression that he is being held hostage. Strangers have approached me three times on the street and said: 'Hello Mishanya, why is your Mikita being so silent? He should give up the name and go home."
Mikhail doesn't know the person the investigators are talking about. But several more people are under investigation in Mikita's case. "I have asked him during the investigation if he has anything to say," says Mikhail. "No, Dad, no. I didn't do anything," answered Mikita.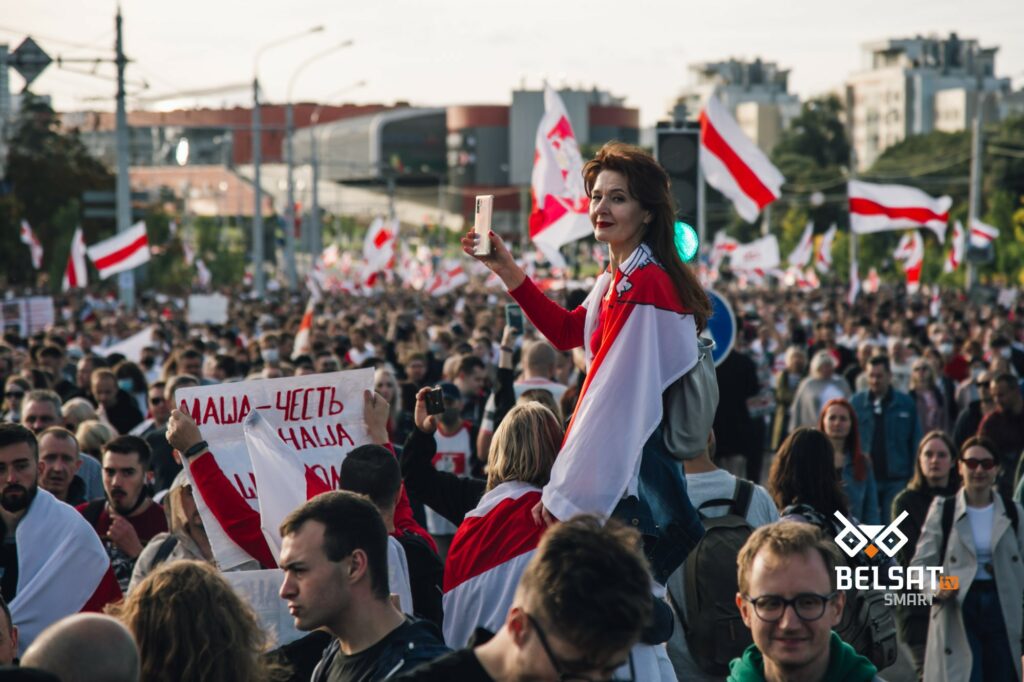 According to the law, investigative actions of minors must take place in the presence of their parents.
"The interrogations do not take too long, maybe an hour and a half or two. But the waiting, the pauses in between, can drag on for a very long time. One time I came at 2 pm and it was over only by 9 pm. One day, when the investigator left the room, one of the policemen guarding Mikita approached me, leaned over and said: "You are worthless people, we have been … (in the meaning of beating you) you before, we are …you now and we will be … you in the future". "These are his precise words," Mikhail recalls.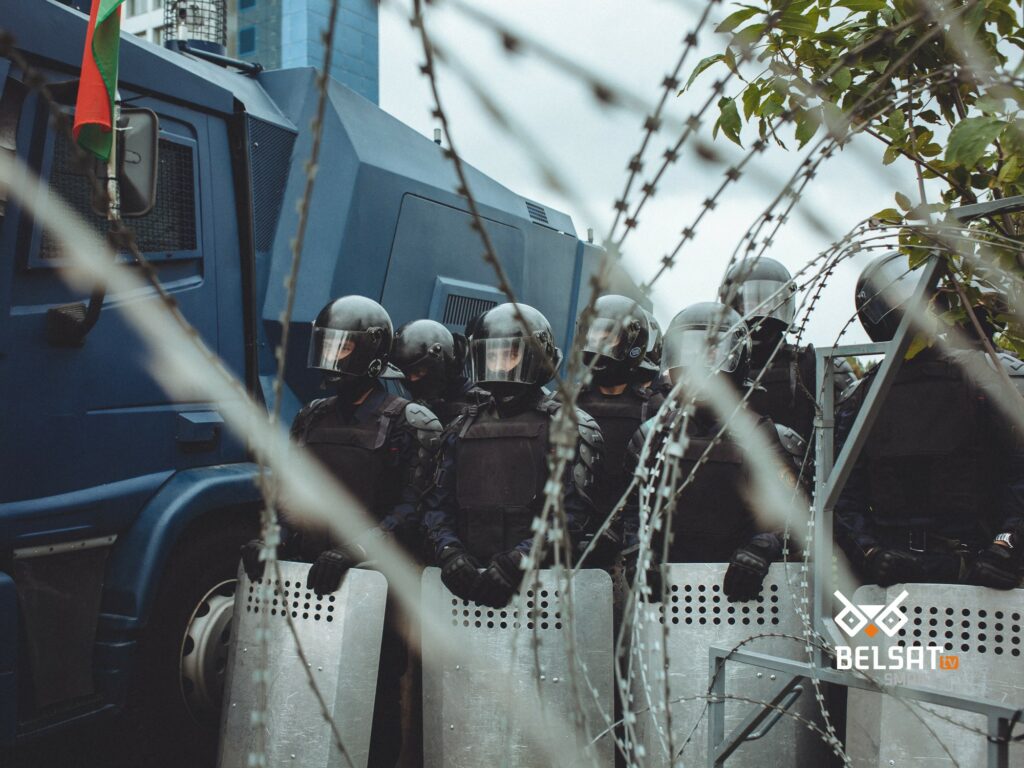 Ten days into his detention Mikita was transferred from the temporary detention center to the pre-trial detention center where he remains as of right now. In October he was awarded an opportunity to see his mother for the first time since his arrest. Although the beatings have stopped, Mikita complains of general malaise and dizziness.
"He is sick, he has epilepsy. He has to take medication every day. Immediately after the arrest in the detention center he was not given medicine. Mikita says that he has access to his medicine, but not on a regular basis. He is only 16 years old, he doesn't really understand what's going on. Why was he imprisoned? He says he wants to see the sky, trees, and people. Their walks last only 15 minutes and you can see only a little bit of the sky from the detention center's courtyard," Mikhail says.
Several investigators have been replaced in Mikita's case in a three months period. According to Mikhail the newest investigator wants to conduct an examination to find out the age of Mikita's psychological development. If it turns out that the psychological age is less than 16 years then they might have grounds for termination of criminal prosecution.
They are also looking at the possibility of reclassifying his case from Art. 339 to Art. 342 ("Acts that grossly violate public order"). It would be a milder charge with the maximum penalty 3 years in prison.
New cases and the first verdict
Mikita Zalatarou's case is perhaps the most infamous case of persecution of a teenager due to protests. Most often parents are reluctant to contact the media and human rights activists so little is known about the circumstances of these cases.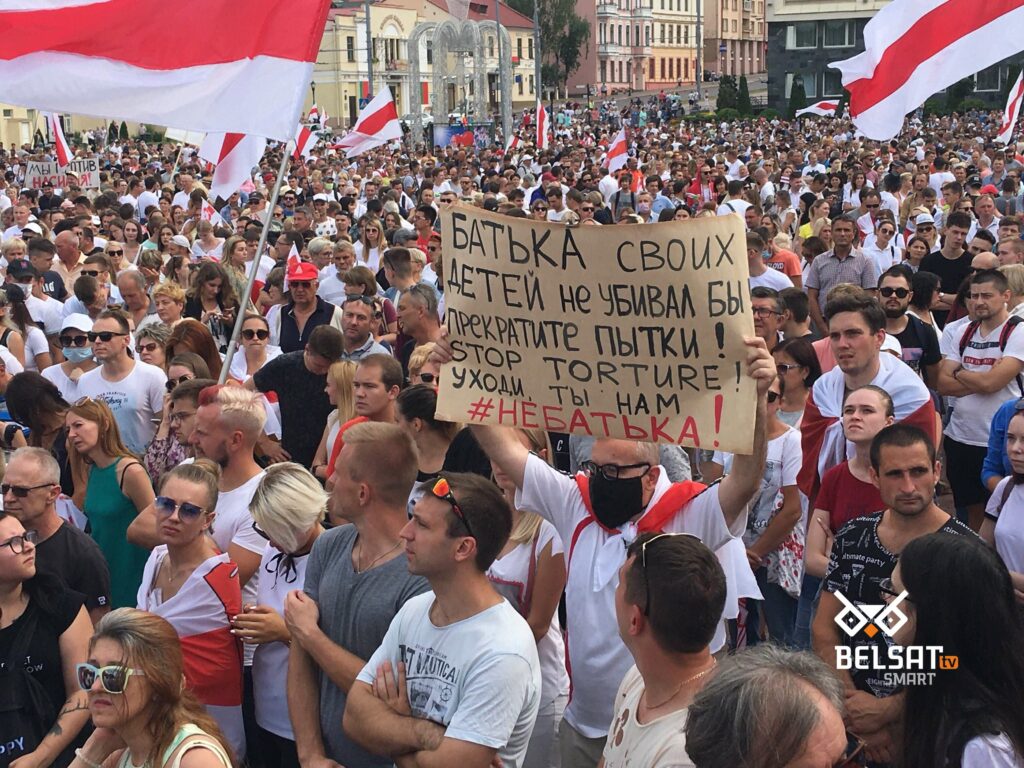 Another example of teenage persecution is the unknown fate of a 16-year-old tenth-grader from Hrodna who is accused of "throwing stones at riot police" during a protest action on 13 September. He was criminally charged under Art. 364 ("Violence or threat of violence against a police officer"). Moreover, the press release of the Ministry of Internal Affairs did not specify whether at least one riot policeman was injured by the actions of the schoolboy.
The whereabouts of an eleventh-grader from one of the schools in Brest who is currently 16 years old and who was detained by the organised crime and corruption forces in late October are also unknown. He is accused of throwing a bottle at the police during the protests on 10 August. The case was initiated under Art. 293 ("Mass riots") of the Belarus Criminal Code. The Ministry of Internal Affairs also distributed a video of the incident where you can see the teenager throwing a bottle. The bottle does not reach security officers and falls a few meters away from them.
In the video released by the Ministry of Internal Affairs the detained teenager admits that he took part in an unauthorized protest action and explains the reason for his participation by the desire to "run away from the police". He also admits his guilt in the same video.
"Nowadays it is a common phenomenon when detainees are filmed making statements on camera, confessing, etc.," says the deputy chairman of Viasna Human Rights Center Valiantsin Stefanovich. "And the question always arises whether the law enforcement agencies explain the rights to the detainees. Do the detainees even know that they have the right to not testify against themselves?" he wonders.
"It should be noted that in most cases such videos are recorded in the absence of lawyers, therefore violating the right to defense. And in cases that involve minors their legal representatives or teachers must also be present. Only then this video can be used by the authorities as proof that the person committed illegal acts and, allegedly, confessed. But I would not even consider the evidence that was obtained in violation of the law."
The Ministry of Internal Affairs previously published a video of teenagers, aged 15 and 16, who were accused of throwing a Molotov cocktail at a police car parked near the local police department on 11 August confessing on camera. As a result of this act no one was injured, only the skin of the Gazelle car was damaged.
A 15-year-old teenager who made a Molotov cocktail was simply registered with the juvenile inspectorate because he had not reached the age of criminal responsibility. His older friend, Elisei Kuzniatsou, was found guilty by the Zhabinka court and sentenced to 2.5 years of so-called "home prison" on 5 November. According to a press release from the Supreme Court, the teenager admitted his guilt and even signed a confession.
Behind bars or under house arrest
In Mozyr a case against two 17-year-old boys was filed in court under Art. 342 of the Belarusian Criminal Code last week. They are accused of throwing stones at one of the rallies "in the direction of a bus stop where a specialized MAZ truck belonging to Military Unit 5525 was parked." As a result of these actions the windshield and the body of the truck were damaged. The damage amounted to 160 rubles. According to the prosecutor's office both teenagers are under house arrest.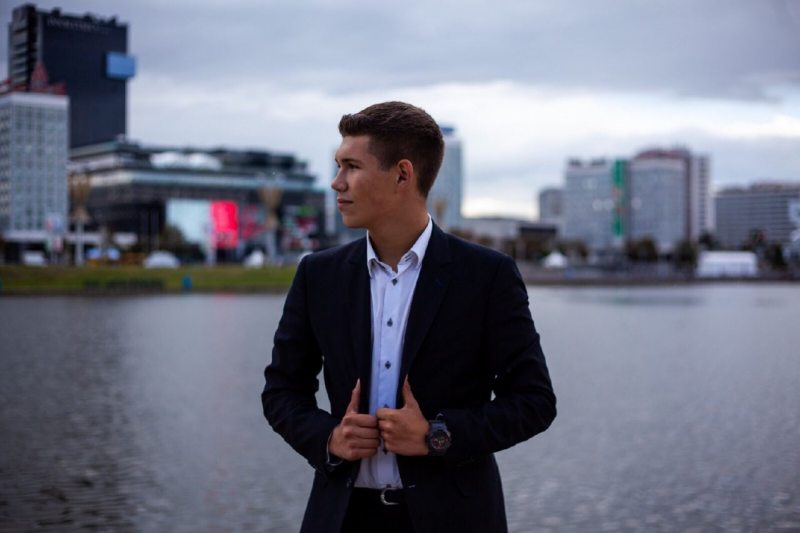 In Minsk, two 17-year-old boys were charged under Art. 342 and Art. 339 of the Belarusian Criminal Code and arrested for the duration of the investigation. The reason for the persecution was the incident that took place on 13 October in Serabranka when a group of people blocked the road at the intersection of Rakasouski and Pliakhanau streets. There they had an argument with one of the drivers that escalated into a fight.
One of the defendants in this case is a second-year student of the Minsk State Automobile College, Maksim Babich. He was arrested in the morning of 19 October while he was on his way to college and was placed in the detention center on Akrestsina. Babich has health problems, a heart defect to be precise. Human rights activists have already recognized Maksim as a political prisoner.
Open sources also contain information about three more cases of criminal prosecution of minors:
In Zhlobin Vital Prokharau was detained on the evening of 11 August while walking home from the sports ground. The boy's father told "Nasha Niva" that Vital was beaten by people in balaclavas and tied to a chair. The abuse at the police station had lasted for two hours. "The whole back is in traces of batons, legs are covered in wounds, a bruised eye, bumps on the head, bruises all over the body. He is limping on both legs," his father said. At first Vital's punishment was in the form of an administrative report. But at the end of August, a criminal case was launched under Art. 342 of the Belarusian Criminal Code. It is unknown what stage the investigation is at right now.
In Minsk, according to the Viasna Human Rights Center 17-year old Uladzimir Kaspiarovich had a criminal case launched against him under Art.293 of the Criminal Code. His house was searched by the authorities.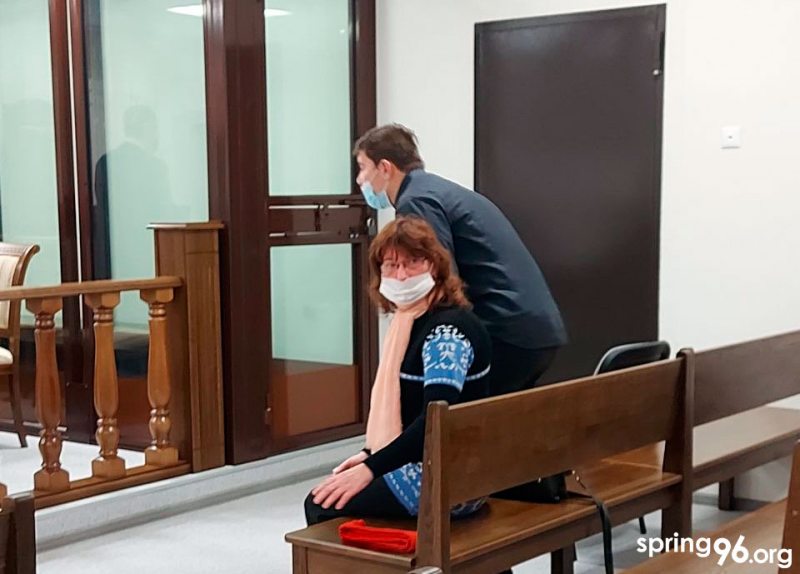 In Brest last week trial accusing a 17-year old Kobryn resident, Artsiom Zeliankou, of ripping the state flag (Art. 370 of the Criminal Code) has begun. Artsiom admitted his guilt and was not taken under arrest.
Human rights activist: putting minors in prison is a special phenomenon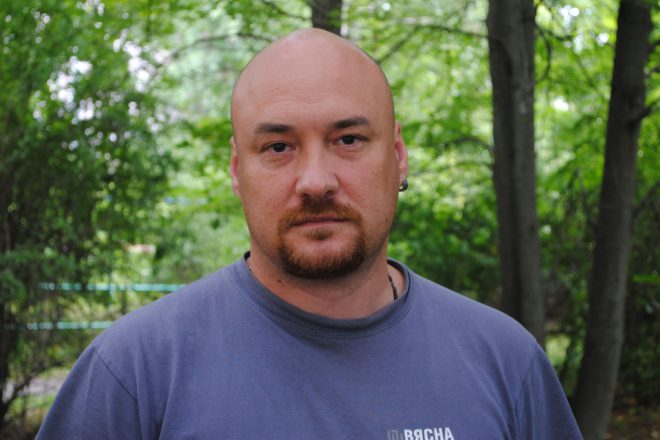 Valiantsin Stefanovich states that Belarus has a history of politically motivated prosecution of minors. One of the most famous stories is the persecution of the Young Front activists in 2006-2007 under Art. 193-1 ("Activities on behalf of an unregistered organization"). A number of activists, including Ivan Shyla and Nasta Palazhanka, were still minors (although they were not placed in prison at the time). Earlier, in 1997, a 16-year-old activist, Vadzim Labkovich, was imprisoned for politically themed graffiti and spent six months in prison.
"Therefore in general the phenomenon is not new. But we always focus on age, because putting minors in prison is still a special case. It doesn't even matter if the persecution is politically motivated. It still has to be due to some extreme circumstances when a serious crime has really been committed. In most cases children must stay at home; the court must take into account their age and not impose sentences involving imprisonment," the human rights activist emphasizes.
Stefanovich believes that it makes no sense to detain adults either if they are accused of "mass riots" or "gross violation of public order", as these articles (293 and 342) do not fall into the category of serious.
"Speaking of politically motivated prosecution, our demands are clear – the immediate release of everyone," he said.