Four stories about beatings and torture in Vitebsk
24 August 2020, 07:58 | Nasha Niva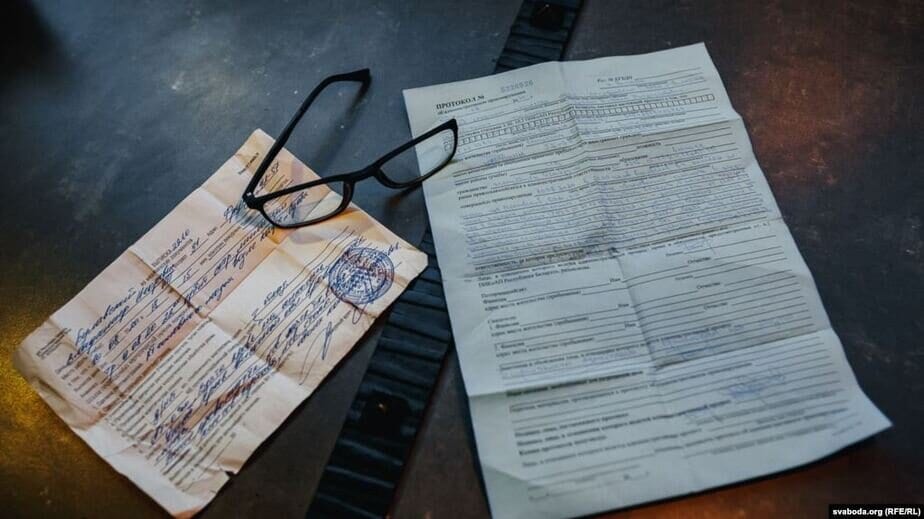 Radio Free Europe/Radio Liberty ​talked to people from Vitebsk who were detained on 9 August in multiple locations across the city. People were detained in front of a ​polling station; while they were taking a walk, in the city center, near their homes. They were beaten and kept behind bars. They spoke about physical pain and mental pressure, about being treated like criminals. None of them violated the law, instead, their rights were violated.
"You just live, and all of a sudden find yourself in a movie about a concentration camp"
Maxim Zhukov, 45, entrepreneur and ​community leader who finances the restoration of a former mansion of a well-known botanist Adamov outside Vitebsk.
He got 15 days in jail for coming to the polling station to find out the election results.
Maxim was detained on the evening of 9 August near the polling station. He and his friends came to check results. According to him, no more than 15 people gathered outside the school #40 in the Pervomaisky district of Vitebsk. The police and the riot police, who appeared unexpectedly, called this an unsanctioned rally and asked the people to disperse.
"I started filming this. In a minute they lifted me by the armpits, put me into a car and took me to jail," Maxim said.
He was taken to the cell after midnight. Besides him, there were seven more people there.
"Almost all the jail cells are like saunas," – he said. "All the surfaces are covered in black mold due to humidity. The toilet is in the cell and is exposed. Some people had their footwear taken, and left barefoot. There were no bedsheets – we slept on metal plates. You doze off for 20 minutes, then everything starts to hurt. Though they let us lie down during the day – you could undress and put your t-shirt under your head."
On the second night, the detained were put into a police truck and taken to another detention center – the policeman said it was "a free tour."
"During the search, they told us to strip naked and forced us to do squats. Then they sent us to our cell. They gave us mattresses, and we managed to sleep for a few hours. At 6 AM we were ​awoken with the national anthem. We had to roll-up our bedding and take it out and after that we were allowed to either stand or sit on the beds made of iron bars. A ​prison guard was making comments every 15 minutes:
"Do you see what's waiting for you here, you scum? Will you go to the square again, huh, animals?" – curse words and insults were unceasing."
Maxim's closed trial took place during the day in the jail itself. Under Part 1 of Article 23.34 – for violating the law on the organization and holding of mass events – he was given 15 days. After that, he was taken to the pre-trial detention center again.
"When they sent us to the detention center again, the greeting was tougher," – Maxim said. "There were two rows of men with assault rifles. A tin hangar; dogs, night. We had to run out one-by-one, half-bent staring at the ground. Everyone faces the wall. They push you but in a way that doesn't leave traces. This mostly damages you mentally. You were just living your life and then suddenly you find yourself in a movie about a concentration camp. This was surreal. People were shocked. It was hard to comprehend.
After that, we were sent to a concrete cell, then – to another search. You have to strip and squat again, hearing threats that the worst was yet to come. Just because they've got the order from the higher-ups.
I haven't eaten for almost four days. They don't care, and I need it for moral support more than anything. Humor, mostly dark, was also a big help.
The jail was scary. You are in an enclosed space, surrounded by armed people with trained dogs. They can do anything they want to you. And no one will find out. They said: pack-up your bedding quickly, or we'll send the dogs into your cell, you'll jump up to the ceiling. And they could've done it, and no one outside would've known."
"But we were lucky," – Maxim adds. "Compared to Minsk, we lived in a five-star resort, despite the psychological pressure."
Maxim said that on the fifth day, the attitude towards the detained people has changed. And in the evening, the people were released by the policemen "with shaky hands." Maxim spent five days out of fifteen in jail. He has to pay the state about 70 Belarusian rubles (ca. 27 US dollars) for his accommodation.
Upon his release, Maxim and his cellmates, as well as other detainees whose contacts they could find, appealed the court's decisions. Money that Maxim received in donations from sympathetic Belarusians went towards paying everyone's appeal fees.
Maxim thinks that now it is important to spread the information about the enforcers' abuses as much as possible.
"These people need to be tried and put behind bars. Some of them – for life."
"A normal person can't beat like that"
Nikolai Kachurets, 61, a cargo driver.
Despite his age, Nikolai was beaten, had his hair torn. He was then kept in a jail cell and denied medicine.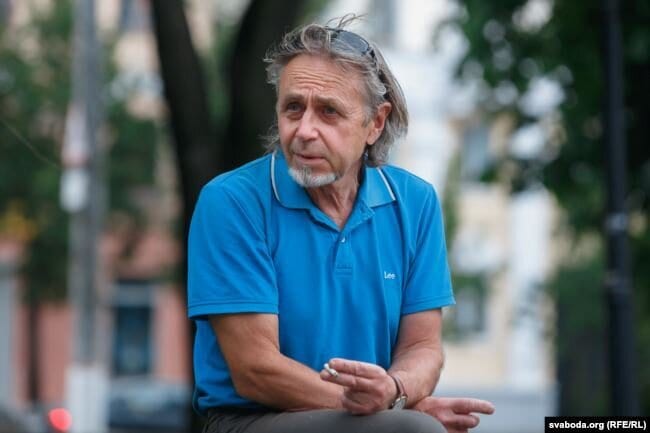 Two years ago, Nikolai quit smoking because he had a heart attack and now takes medicine. In recent weeks he has been smoking two packs a day to deal with stress.
"On 9 August, when I went outside I heard the cars honking. I didn't believe that people would come out but decided to take a walk and see what was going on. I took a white-red-white flag with me.
Near the square people told me that the riot police were dispersing and grabbing people. I unfurled the flag and raised it. There were about 50-60 people in our group. We went up to the "Brigantine" (a former cinema in Vitebsk where there were mass arrests for several days in a row – interviewer's remark).
The vans stopped near me. They (riot police) chased younger people. I grabbed one of them by the hand and that's when the fighting started. Another one rushed up to me. They restrained me and pulled me into a van. There I had an impression that they were going to kill me. They punched my head. The strikes were strong, it was obvious they were professionally trained.
One of the enforcers grabbed my hair. He shouted: "A hairy one, aren't you? Want changes? Take this!" He was beating me hard. A normal person can't beat like that. This is savagery, fascism. He was screaming and pulling my hair with both hands.
They shone me with a flashlight. I had a cut near my eye, my nose was bleeding. They continued beating me. Maybe I'm a bit confused. I didn't want to remember this, wanted only to survive. Then they pulled me by the hood and threw me into another van.
Then they were driving around the city for a long time, and took us to jail. For two or three more hours we were standing in the bus in the courtyard. They didn't let us go to the bathroom, shouted at us like we were animals. Only at 5 AM they took us to the cell."
For his evening stroll, Nikolai got 15 days in jail. He spent five of them behind bars, in places that people started calling a concentration camp.
"We were undressed, searched. There were insults, rudeness, humiliation. We were treated like criminals and murderers. All the cops wore masks and had no ID badges.
When they brought us to jail, I was the last to exit the police truck, I heard the dogs barking, the batons hitting the backs. I was really roughed up. My ribs hurt a lot, I thought I had a fracture. They pushed me because I couldn't run. We were ordered to look down at the ground. We were standing along the wall. People were being beaten. I squatted, the rest stood on their knees. A businessman who owned a shop was standing beside me. He said that he had had two leg surgeries and was unable to stand on the knees. He got beaten. They told us to answer all the orders with "Yes sir!" Otherwise, you got the baton.
There was no medical assistance. I had a heart attack and take a lot of pills. Every day I take medicines to lower blood pressure and cholesterol as well as a blood thinner. My friend learned where I was and brought me medicine, but they didn't give it to me. I asked about it every day. They gave me one pill on the fifth day when the attitude towards us changed and they started letting people go."
Nikolai said that they were afraid to release him because his eyes were black and his face was all blue and swollen. The cellmates pleaded "Let the old man go!" His friends passed him a mask and glasses. Nikolai was released with his face covered.
"I went to the ER, and got an X-ray and a CT scan done. The ribs weren't broken. The damage was external. They said there wasn't a subdural hematoma. The doctor sent the examination results to the prosecutor's office. An investigator interviewed me."
Nikolai said that he feels better and better every day.
"For the first few days after release, I was recuperating and browsing the internet. I cried because of what was going on. I feared the most that I would find out that everyone got scared and went into hiding
On Monday 17 August, Nikolai was among the 15 delegates who met with the bureaucrats in the regional administration. He was there as a witness and to give evidence of the harsh treatment of peaceful protesters.
"The bureaucrats claimed that the actions of the police prevented riots, they were afraid that people would start damaging pavement and benches. As a result, people were broken.
I can't remember such cruelty. We fought when we were young but there were certain principles. No one laid a hand on girls or senior people."
"It looked like some kidnapping"
Vladimir Bulawski, 31, musician, historian, civil activist.
Was badly beaten when he was arrested on election day. According to the doctor who performed the examination, his injuries were criminal.
"In the evening of 9 August after voting, I met with my friends in the city center. I wore a white-red-white flag as a ribbon on my arm. We already knew that there were arrests in Vitebsk, near Pobedy square. We were walking down Moskovski avenue towards the Zdoba coffee shop. I needed to use a restroom, so I suggested to my friends that we go inside the cafe. We didn't make it by literally 5-6 meters.
We saw a van and a police truck. We were just walking peacefully, not shouting anything, I didn't raise the flag. A man in a police uniform ran up to me from behind. The witnesses say he was a major. He didn't introduce himself, only said that I was under arrest and started strangling me with a baton. He forced me on the ground, kept strangling me, pressed my urine bladder with his knee, which made me wet myself.
He started shouting at me, telling me to stand up and go. At the same time, he hit me in the face and was still holding me to the ground. His colleagues ran up and the three of them started beating me with batons. I said that I would go. Because of the pain I was walking slowly, they constantly pushed me. They shoved me into the police truck with such force that I badly hit my head against the wall. In the police truck there were three of us in the holding cell designed for two. It was really stuffy.
During the arrest, my glasses were broken. I will wear them as they are until the major fixes them. Let it be seen.
Then they transferred me to another truck. They drove me around the city for several hours. There was no room in jail, so they continued driving. No one told us where we were taken, it looked like kidnapping. Later I learned that we were at the sports complex of the security department of the Pervomaisky district office of internal affairs.
One-by-one,we were led out of the truck and into the gym. They forced us to remove footwear and socks. We were told to stand on our knees with our hands behind our heads. I said that I have bad knees and they let me stay in a convenient position. There were about 20 masked policemen inside, the higher-ups didn't hide their faces.
There was a balcony above the gym. Some women stood there and laughed at the arrested people's behavior. There were 33 of us – mostly guys and one girl. The cops started beating two of the guys to scare the rest. They had to call an ambulance for one of them. A man that was with me in a police truck had problems with his prostate. They didn't let him go to the bathroom, just gave him a bottle. He had a heart attack in the gym until the ambulance arrived he got no medical assistance.
For about an hour the people were kept on their knees. It was forbidden to turn your head, change the positions of arms and legs. The beatings continued as well.
Only after 4 hours following my detention they allowed me to use the bathroom.
They let me go after 3 AM.
The next day I consulted the human rights advocates. My friend photographed my every injury, every picture had a time and a date. I went to the prosecutor's office and filed a complaint demanding that I be examined by the court medical expert and the officers who detained and beat me for no reason get punished.
At the trauma ward, the neurosurgeon and traumatologist recorded my injuries, did an X-ray of the foot and CT scan of the brain. I had had several head injuries, and I had a condition that exempted me from military service.
The reference document listed a hit to the right jaw, hematomas on the face and soft tissue around the left shoulder, knee damage, and a hit to the left foot.
The doctor immediately said that these injuries were criminal. They called the police from the trauma ward. An hour later the officers called me to find out the circumstances under which I was beaten."
On the evening of 10 August, Vladimir was detained for a second time while he was at a bus stop near Pobedy Square. According to him, the bus got cut off by a police truck and the cops started grabbing people. Vladimir wasn't beaten. They gave him a protocol that he disagreed with and let him go.
"They didn't believe me because I look different"
Sergei Mironenko, artist, 39.
Was put in jail because he "lives in the center, wears a kilt and has tattoos." After his release, the artist cut off his long hair in protest.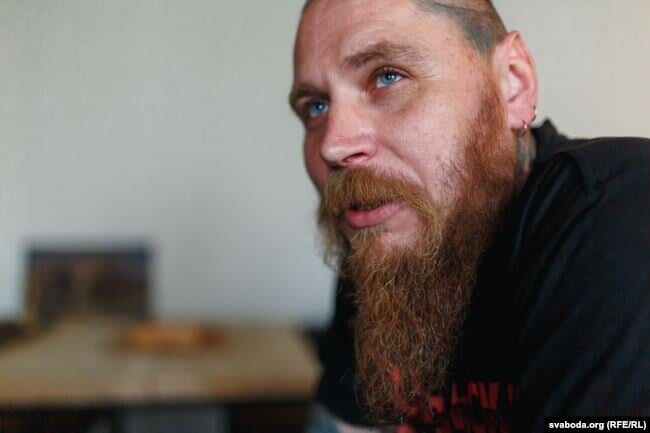 Sergei Mironenko, an artist from Vitebsk, lives near Pobedy Square. On the night of 9-10 August, he was looking after a small child. Then he went for a walk.
"I was arrested right away. They ran up from behind, grabbed my hands and led me into the police truck. There were six people detaining me because of how dangerous I look. I asked for the reason for my arrest, they replied that everything would be explained.
At the district office of internal affairs they said that I'm an extremist and a rabble-rouser, it's written on my face because I look like I do."
Sergei notes that he wanted to be different his whole life. For several years now people in Vitebsk recognize the artist by his looks – he is the only person in the city who wears a kilt. The look was complemented by long hair.
"I like the kilt. It makes me feel free. I like it. I'm an artist, I view the world in my own peculiar way. I make small performances on myself. Some people accept this image, some don't. They often look at me like I'm a freak, but that doesn't bother me.
At the police truck, they insulted me. Along the way, they wanted to raise my kilt with a baton to see whether I am a true Scotsman. The fabric is heavy, weighing almost 2 kilograms, so they couldn't raise it with a baton.
In jail, they put me in a corridor and forced me to undress. I stood near the wall, half-bent, my legs aligned with my shoulders. They shouted that my face looks Ukrainian. I replied that I'm Belarusian. But they kept trying to persuade me that I was Ukrainian. It was hard to stand. My back was tense, and I had had two spine injuries. I started shaking because it was hard for me to stand like that for more than five minutes. They said that otherwise they would put me in a position in which I wouldn't be able to stand at all.
In a separate room, they asked me questions about the circumstances of my arrest. They didn't believe me, said that given my looks, this was all a fairy tale. The police were also interested in how much I was paid to protest.
Everyone wanted to say that I'm a free Scotsman who came to fight for the freedom of Belarusians. And everything I achieved was an arrest."
Sergei got 10 days in jail.
"The trial was entirely based on the words of the officer who detained me. Allegedly I was walking in the crowd, shouting slogans, and waving my hands. I'm an apolitical person, but trying to prove my innocence was useless. I wrote that I disagreed with everything that I was accused of. I am only guilty of living in the city center and being outside. Everyone who pleaded guilty got a fine, the ones who disagreed had to spend time in jail This was a form of psychological pressure – they simply wanted to demonstrate that the authorities would show everyone how to behave."
After the trial, Sergei spent several days in jail.
"They took us from a detention center to the jail at midnight. I got into a cell at 6 AM. I never thought that I would have to be in such a place, that I would be treated like a prisoner with a life sentence.
There was a strict schedule in prison We were woken up at 6am and had to go to bed at 10 PM. In the morning and evening, the prison guards were making security rounds. The light was on 24/7. You had to either sit or stand the entire day. Enclosed space, no news. For a few days, there was a Bible reading on the radio. All of this was very hard to endure."
Sergei spent five days behind bars. A day after release, he shaved off his hair.
"Now, I am bald. This is an internal protest against what I've seen. I've dramatically changed my attitude towards the people who were supposed to protect us, as I thought before."