22 September 2020, 17:50 | Volha Kamiahina, TUT.BY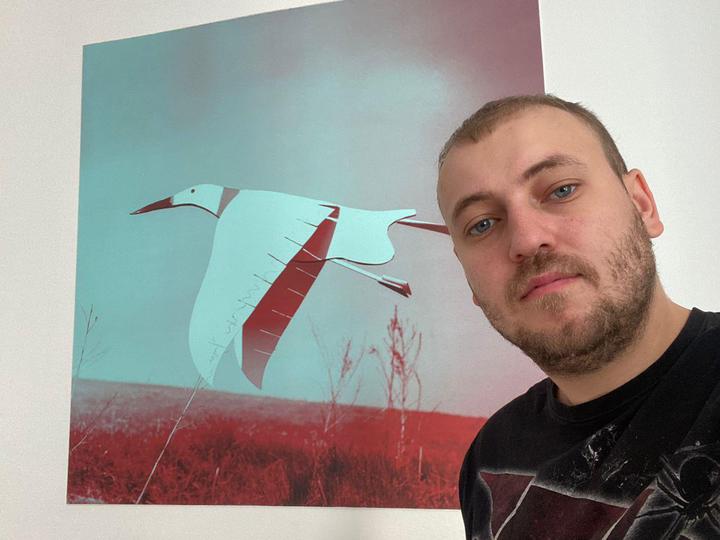 Do you remember Ivan Kolas, a district police officer from Homel? Once the protests sparked off, he was one of the first to quit his job. The officer then recorded a video message to his colleagues urging them not to resort to brute force against unarmed peaceful protesters, threw away his uniform and badge from the balcony, and left. Almost a month and a half later, TUT.BY found out where the ex-police officer is now and what has happened to him.
A few hours later, after the video was posted, Ivan escaped to Russia at night (as immediately after the video was published, his colleagues visited him, but he did not open the door and the police officers arranged a watch under his windows). From Russia, Ivan moved to Kyiv and today he lives and studies motion graphics design in Warsaw.
The ByChange project helped the former district police officer get a new profession. Ivan has already made a video to talk about his future work and new life.
At the moment, as Ivan himself admits, they are going through a rough patch – money is running out, so he has to figure out how to make a living. Ivan's wife was forced to flee the country too, and had to quit her assigned workplace, so now the family must pay back the state about five thousand dollars of her tuition fee (in Belarus, students who get a government scholarship are assigned to a job they are not allowed to quit for several years; otherwise, the tuition fee has to be refunded).
"The situation is not simple, I have been studying, I am unemployed… Of course, I am preoccupied," says Ivan. But he immediately adds, "If I could turn back time, I would have done the same." And he explains why.
I took him away so no one could see and said, "Run!"
In his August video message, which caused a lot of fuss, Ivan says it was a spontaneous and emotional decision.
"Like many other police officers, I was on duty at one of the polling stations in August. I saw how many people came to vote wearing white ribbons on their wrists. After the elections, I talked with the election commission members and they told me that about 90% voted for Tsikhanouskaya. If only our polling station was an exception! Once the polling stations were closed, I went back to my district internal affairs office and discussed it with my colleagues. They said that they had the same results," Ivan recalls.
Later that evening on 9 August, together with his colleagues from the Savetski District Department of Homel Internal Affairs, he was sent to the city center to reinforce the riot police forces already working there.
"At first we were told that there were some protests in the city, so we were to patrol near the park. We set off just as we were, all dressed up, in white shirts we had had to wear to the polling stations. Of course, I knew people were going to be out in the streets, but I did not think there would be so many of them. We were sent not to the park, but to Paustannia Square where the protesters linked their arms to make a human chain. No one then had any idea how events might unfold. There were just a few riot police officers, so if the protesters had tried to besiege then, I don't know how it easily might have gone. But even linked arm in arm, the people were not aggressive at all, they were chanting, 'The police are with the people!', the girls were talking to the officers explaining they did not want any violence or bloodshed."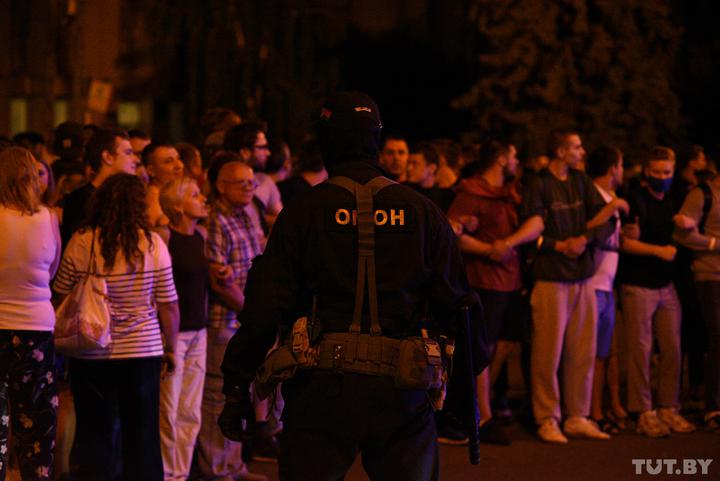 Ivan says they were ordered to break the chain, so they went behind the crowd, with the OMON riot police right in front. Some scuffles broke out between the protesters and the security forces and people began to be detained.
"I didn't have to detain anyone. And then I was handed over a young guy and told to take him to a police van… But I saw how he had been detained, I saw that he hadn't done anything wrong! I felt sorry, awkward, really embarrassed. So I took him away where no one could see, and just said, 'Run!'"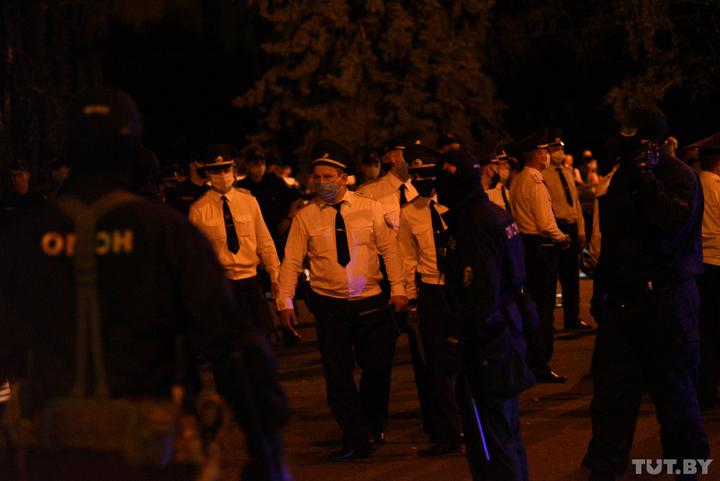 The officers seemed hypnotized
Ivan recalls that on the first night of protests, the detainees were treated normally in their department.
"I assume the people might have been beaten when detained, but not at our station. But on the 10th and 11th, it all went really hardcore… The people were taken to the assembly or sports halls, made to stand for hours facing the floor, with their hands tied. They asked to let them call their families, but they were not allowed. Not all, but some of my co-officers were beating the detainees. I still can't understand why. Ok, even if we assume that was for the sake of officers' safety, to prevent the detainees, who outnumbered us, from going on a rampage, it would have been enough just to ask them to face the wall, but not keep them with their heads down and wrists tied. I told my colleagues that wasn't right, it shouldn't be this way. The senior officers just ordered me to shut up."
When Ivan realized that he was not able to change anything, he made up his mind to try and help at least some. He loosened the handcuffs and allowed the detainees he was assigned to guard to lie down more comfortably. To another guy the officer sneaked in a phone to let him call his girlfriend he had proposed to right before being detained.
"They were not, as the guy said, at the rally at all! They were just dining in a cafe. And when they were leaving, a police van was going by, and so he was grabbed."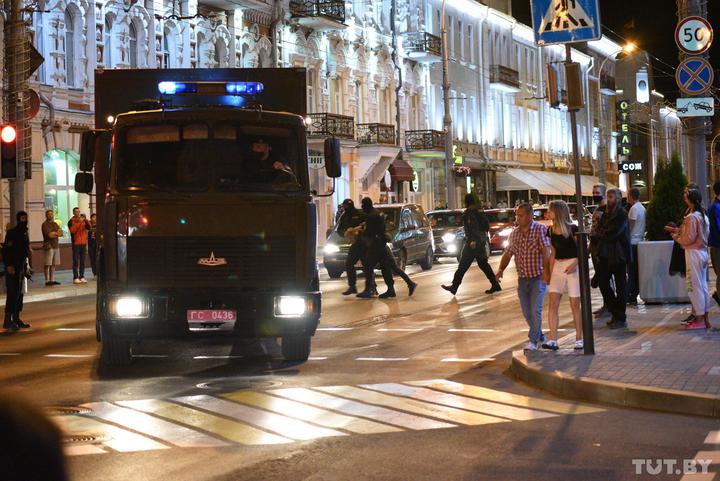 Why did police officers get so aggressive all of a sudden?

"I really don't know. I cannot find an answer. Those were not the same police officers I used to know before the elections. I had worked there for five years. We'd had moments, all sorts of things had happened, but I'd never ever seen such brutality and aggression."
Have you been ideologically brainwashed somehow? Another former officer told TUT.BY that, at least in his region, "the ideological propaganda was something like, if the current government loses, then each of us [police officers] will be hanging on the trees along the roads. So, you must protect it by all means and methods."
"I would not say that we were somehow brainwashed at our daily meetings. There was nothing like that. But those days in particular, something like that would happen – the senior officers would walk down the corridor and just drop some phrases like, 'Come on, those protesters are paid 150 euros!' and then it all went down to the subordinates. Those who can think critically are still able to draw their own conclusions, but the rest are just worked up by these phrases. I think that's the way it all started. My co-officers seemed hypnotized, under some wicked spell. They kept repeating just one thing – all those detained are our enemies. I was really doing my best, I was telling them – but look around! These are our neighbors, friends, our kids' godparents, these are our people! I told my colleagues that they were acting like fascists, that even an enemy cannot be treated this way! I hope I was heard by at least some of them, but unfortunately not by all, that's for sure."
There is always a choice to respond with, "I will not do this." And stay human
On 11 August, Ivan was assigned to a detention squad. He replied that he would not go, that he didn't see any offenses, any reason to detain people in the streets.
"After 12 August, some rumors of the dreadful atrocities against the detainees were already circulating. I know there were other officers in my department who shared my opinion, but they couldn't reaffirm it openly. Probably, my video message was intended for them, I wanted to support them, to set an example, to show that that was the right path to follow," says Ivan.
Now he admits he expected most of his colleagues to support him, to follow. But only a few quit as a result.
"I hope that my video message somehow touched those who stayed. After all, there is always a choice to respond with, 'I will not do this.' And stay human."
Ivan, of course, heard about the attitude of the high-ranking police authorities towards the officers who resigned – Interior Minister Yury Karaieu called them traitors.
"The most important thing is that I did not betray the people to whom I swore an oath. I didn't beat anyone, I know for sure that my conscience is clear. And let generals and colonels call me whatever they feel like."
What will you do next?
"Study and work here. We have a one-year visa. My wife and I miss home immensely and, of course, we would like to live in our country. But with this regime in Belarus, we are unlikely to return."