22 August 2020 | Charter97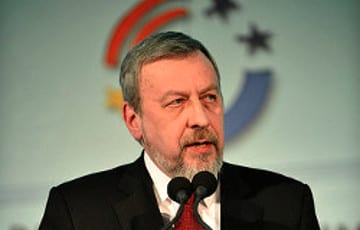 The politician warned about the intention of an accomplice in crimes of Lukashenko's regime, Makei (Minister of Foreign Affairs of Belarus).
The leader of the civil campaign "European Belarus" Andrei Sannikov sent a letter to to all the European Union Ministers of Foreign Affairs.
The politician has announced it on Facebook.
"Dear Friends,
I have found out by accident that Vladimir Makey, my former subordinate, has written you a pitiful letter asking not to touch their gang led by Lukashenka; to let them go on living in luxury; to kill totally innocent people with impunity with flashbangs in the chest and bullets in the back of the head; to rape adult men and tear open the wombs of girls in police vans; and to kick rubber clubs down the throats of teenagers.
He asks that they not be heavily punished for this, neither him nor his master, because they have not yet enjoyed all their perversions; not all eyes have been pushed blind into skulls; not all scrotums have been smashed with their elegant steel heels; not all mothers have yet been made to howl in despair at the sight of their disfigured children.
They haven't had enough yet, and ask you to put yourself in their place, and especially not to limit their financial opportunities. They very much need your cash to pay for their pleasures.
Once again: they use your money to pay for the physical annihilation of Belarusians and ask you not to limit their credit for this favorite occupation of theirs.
Likely, I would not appeal to you, dear friends, over such trivialities. Some of you I have known for a long time and worked with your ministries when Belarus was still free. Together, we tried to build a system of security in Europe which today, actively undermines Makey and his boss. I would not bother you over such trivialities, if this lying bastard did not start telling stories in his defense about some anonymous threats made against his eleven-year-old son. By his calculations, you should be taken in by sentiment and forgive these crimes. Only he has deliberately forgotten that ten years ago, he took the most direct part in an operation to kidnap my then three-year-old son and to make miserable his life and the life of Iryna Khalip, his mother and my wife.
He was chief of the Lukashenka Administration and direct organizer of all provocations against civilians, the direct executor of the dirtiest orders of his master.
Dear friends, I understand that due to your official position, you have to deal with this creature, although many of you have experienced a strong feeling of disgust. Now the situation is different. The serial criminal Makey does not represent the interests of either the Belarusian state or the Belarusian people.
He is an accomplice and perpetrator of the regime's crimes, who must definitely stand trial. You should no longer deal with him. Although, by his nature, he is an informer and could be useful as a witness in a trial against his boss.
Respectfully yours,
Amb. Andrei Sannikov
Bruno Kreisky Prize for Human Rights."