12 October 2020 | Infocenter Free Belarus 2020
12:17 pm Brest journalist Milana Kharitonova will stay in police custody until the trial. Yesterday Milana felt unwell in the police station.
12:21 pm An administrative case has been opened against journalist Ales Piletsky.
12:33 pm TurzinFM radio station resumes its work in "revolutionary mode" – now their portal posts about cultural resistance. The former hit parade of Belarusian-language music "Dozen hits" has now become the media platform of the Belarusian Cultural Solidarity Foundation.
12:36 pm The Kremlin commented on Lukashenko's conference with the political prisoners: "We welcome any contact, any inclusive process in the Belarusian society, especially those initiated by the (former) head of the state, (ex-) President of Belarus."
12:37 pm Lukashenko said that the government and other authorities should take up the workload, and the president should be relieved of the issues unrelated to the office.
12:45 pm Vadim Murashko, ophthalmologist, surgeon of the highest category with 25 years of work experience, who was detained yesterday, is released, reports Radio Free Europe/Radio Liberty (RFE/RL).
1:13 pm The Interior Ministry reports on the number of participants of yesterday's protests:
Total number in the country: about 11 thousand people.
In region centers: from 30 to 150 people.
Non-lethal weapons and riot control vehicles were used.
713 people arrested, 530 of them remain in police custody.
1:23 pm Mogilev State A.Kuleshov University student Sergey Yesaulenko was expelled from the university today. Just a month ago, he held a one-man protest at the ceremony commemorating the 18th anniversary of the Belarusian Republican Youth Union.
Today Sergey was informed of expulsion. Officially, the reason is "violation of internal rules".
1:24 pm Today, Yevgenia (Zhenya) Dolgaya, a journalist working for KYKY will be tried under an Administrative Code article on violating the legislation of organizing or holding of public events. On 9 October Yevgenia Dolgaya was detained in front of her 8-year-old daughter.
1:30 pm In the meantime, Belarusian State Economic University students held a protest rally at the main university building.
1:38 pm The pre-trial detention centers on Akrestsin Street and in Zhodzina are overcrowded – dozens of demonstrators, detained on Sunday, have been released with fines.
1:39 pm Foreign Ministers of 27 EU countries made the decision to impose sanctions against Alexander Lukashenko.
2:07 pm Hundreds of students joined a sit-in protest in the main building of Belarusian State University; Linguistic University students took to the streets with placards and songs.
2:18 pm The EU Council issued a statement: the EU will scale down bilateral cooperation with the Belarusian authorities at the central level, increase its support for the Belarusian people and civil society, and recalibrate its bilateral financial assistance accordingly.
2:22 pm Francysk Skaryna Gomel State University teacher Natalya Suslava was sentenced to arrest again, this time – for 10 days. She was detained on 11 October. She was charged with participating in an unauthorized event on 20 September.
2:44 pm Minsk. In the Stepyanka district, people are forming a solidarity chain along the Moscow Ring Road. Passing cars honk in support.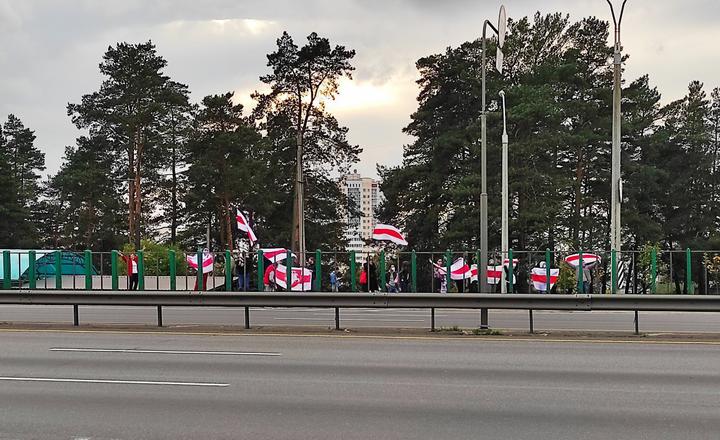 2:54 pm During the lunch break, the Academy of Science employees went out to protest against the violence against peaceful demonstrators.
2:55 pm Minsk. A witness tells that security officials detained a woman wearing a vest marked with "Press", who came to the pensioners' protest march.
3:09 pm Currently, pensioners are gathering to march on Independence Square. They are chanting "This is our city!" and anti-Lukashenko slogans. Many more people have gathered for the demonstration compared to last Monday.
3:26 pm BelaPAN journalists Marina Kharevich and Siarhei Lyudkevich, who covered the pensioners' demonstration, were detained in Grodno.
3:33 pm Other cities of Belarus are joining the pensioners' march. The column in Minsk numbers over 1,000 people.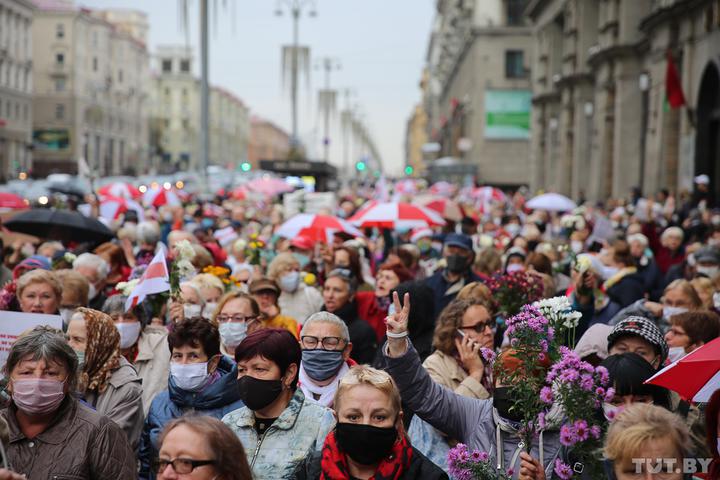 3:39 pm Sviatlana Tsikhanouskaya addressed all Belarusians with a statement, "We are not guilty of violence, we have never provoked it – and that is our strength. We continue to act peacefully and stand our ground. We demand negotiations on new elections.
We don't believe in dialogue at gunpoint. We must take responsibility and complete our plan: stop the violence, free political prisoners, and hold new elections."
3:59 pm In Minsk, elderly women are throwing flowers at the (OMON) riot police officers, who are watching them. Pensioners are bringing buns to students who protested in Minsk this morning.
4:16 pm The Interior Ministry says that the security forces will not leave the streets and will use live ammunition if necessary.
5:02 pm There are several thousand people at the Minsk pensioners' protest. The fearless Nina Bahinskaya has joined the march. People are chanting: "Get out, you and your riot police!" Pensioners are blocking riot police who are trying to enter the column of protesters.
5:05 pm In Grodno, the OMON arrests participants of the pensioners' protest. Elderly people are being dragged into prisoner transport vehicles.
In Brest, a large column of pensioners managed to gather despite threats from the police.
5:08 pm As planned, the pensioners reached Yakub Kolas Square. From there, the column moved toward the Academy of Sciences. Passing by Belarusian National Technical University, the participants chanted "Students, we are with you!"
Volunteers are accompanying the elderly protesters. Minsk residents are showing amazing solidarity. People are greeting the participants of the march and shouting thanks to them.
5:17 pm As the march continues, riot police are venting their anger by holding up pedestrians walking alone.
5:31 pm It turns out that the authorities are afraid even of pensioners. The roads are closed. Yandex's congestion rating is 8 out of 10.
5:50 pm In Minsk, police fired stun grenades into a column of elderly protesters. At least 5 explosions have been reported. Tear gas was also deployed. There are injuries. Ambulances arrived at the scene.
6:00 pm In spite of everything, the pensioners managed to drive out the security forces. The march participants plan to continue onward. The march has now been going on for over 3 hours.
6:00 pm Just as last week, retirees have gathered at the monument to Yakub Kolas in Minsk, holding flowers and signs.
6:15 pm Authorities searched the home of Gomel artist Maria Tulzhankovaya, who returned home last week from studying in Poland. Her laptop was seized. Tulzhankovaya's attorney stated that she will be charged with the crime of organizing or participating in mass unrest.
6:33 pm Maxim Znak told his attorneys about his meeting with Alexander Lukashenko at the KGB detention center. According to Znak, the meeting was not a negotiation, but an "exchange of views". Znak's attorneys also note that he has been transferred to another cell, and his conditions and ability to communicate with others have significantly worsened.
6:49 pm A trial was held in the matter of Coordination Council members Volha Shparagaya and Yulia Mitskevich, who were arrested on Friday. Both Shparagaya and Mitskevich were sentenced to 15 days in jail for participation in an unsanctioned mass event.
6:54 pm TUT.by readers report that riot police are at the Mogilevskaya metro station exit and checking some peoples' phones. So far, no one has been arrested.
6:55 pm Kupalautsy independent theater group is putting on a live performance of the famous play "Tuteyshya" ("Localand") by Yanka Kupala. It can be seen live on YouTube, starting at 7:00 pm Minsk time.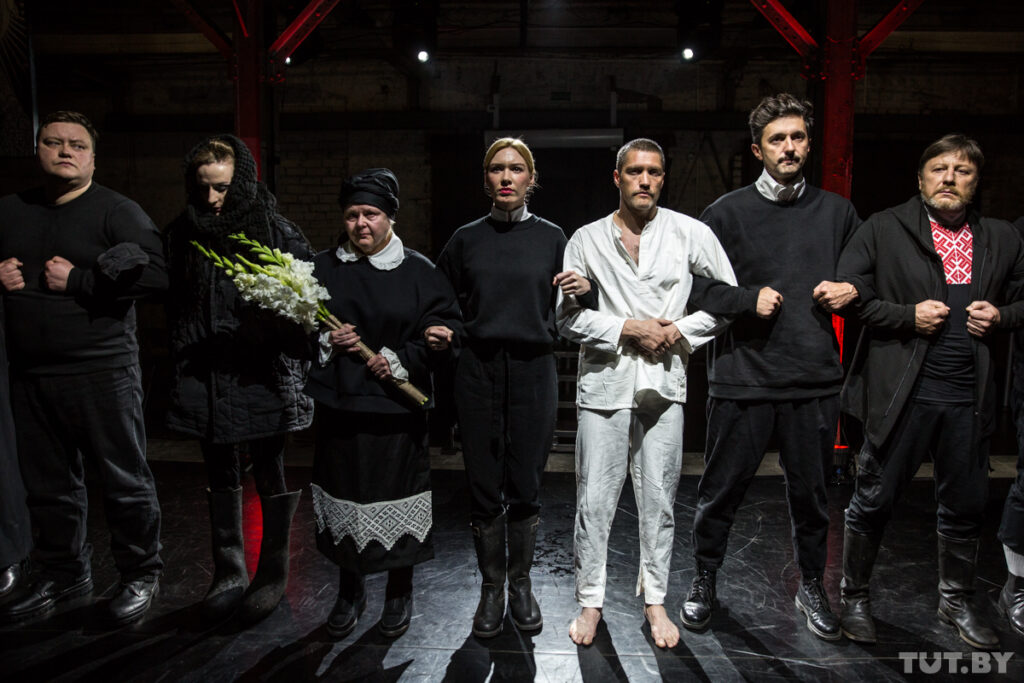 6:59 pm Riot police dispersed retirees participating in today's march near Hospital 1 in Minsk. Pops and bangs were heard, possibly from fireworks, and pepper spray was deployed. Several people have been arrested. The march went on for over 3 hours.
7:00 pm Following Grodno pensioners' march, seven participants were taken to the Lenin police station. Two detainees are in poor condition, and one of them has been taken to the hospital.
7:05 pm Residents of Osmolovka, Malinovka, Sukharevo, Uruchche, and other districts of Minsk have formed solidarity chains.
7:23 pm Sviatlana Tsikhanouskaya's official Telegram channel has published a post on an urgent meeting among representatives of the Tsikhanouskaya, Tsepkalo, and Babariko campaigns with the Coordination Council and BySol Fund.

Representatives reached an agreement on how to cooperate to achieve all of the goals of the Belarusian people:
1. Hold new, open elections.
2. Investigate crimes of violence against peaceful Belarusians.
3. Release political prisoners.
7:57 pm A demonstration is underway at the Minsk Opera Theater. People are waiving white-red-white flags and chanting "Long live Belarus!".
8:04 pm Lithuania is recalling six more diplomats from Belarus, Radio Free Europe reports.
8:05 pm TUT.by readers report that five minibuses carrying riot police have arrived at the Uruchcha metro station, where people were standing in a solidarity chain. Arrests are now underway.
8:13 pm Viktor Babaryka's attorneys have appealed the decision to keep him in custody, but the appeal was rejected by Judge Tatsiana Falkovskaya of the Minsk City Court. Babaryka is being held at the KGB detention center, despite the "dialogue" that allegedly took place between him and other political prisoners with Alexander Lukashenko, reports Euroradio.
8:15 pm BelaPAN's Grodno correspondents Marina Kharevich and Siarhei Liodkevich, who were arrested today during the retirees' protests, have been released without charge.
8:22 pm Minsk police confirmed that tear gas and flash bangs were used during today's retirees' march. According to the Interior Ministry, they were deployed in response to aggressive behavior from protesters.
8:33 pm A large solidarity chain has formed in the Loshitsa district in Minsk. According to eyewitnesses, people are blocking traffic in various neighborhoods around the city, including Timiryazeva St., Kuibysheva St., and Nezavisimosti Avenue.
8:43 pm Radio Free Europe reports that five vehicles carrying soldiers have left Interior Ministry troops military unit 3214 in Uruchcha, and are heading toward the city.
8:44 pm According to NEXTA's Telegram channel, protesters have blocked the Minsk Ring Road.
8:44 pm Riot police have dispersed protesters who were blocking Independence Avenue in Uruchche.
8:55 pm Nasha Niva reports arrests in Kamenaya Gorka in Minsk.
9:24 pm Minsk. People are burning tires on the road in Shabany district.
9:25 pm TUT.by readers report that sounds resembling shots was heard in Minsk's Serebryanka district.
9:43 pm Riot police are taking down barricades made of road signs and putting them into a prisoner transport vehicle in Kamenaya Gorka district. TUT.by readers also report hearing sounds resembling flash-bangs.

10:10 pm Another night of unrest in Minsk: the protesters have blocked traffic on Partizansky Avenue and Dzerzhinskogo Avenue.
10:23 pm Explosions from stun grenades are reported in Kamennaya Gorka Minsk district. Many people have been detained on Pritytskogo Street.
10:25 pm Riot police are also active in the suburbs of Minsk: at least one brutal arrest was caught on camera in Lebyazhy district. In Senitsa, about 50 protesters were able to escape the police and it seems that no one got arrested.
10:29 pm To prevent protesters from blocking the road, the military blocked it themselves by forming a chain.
10:30 pm People have blocked traffic on a major road near Mogilevskaya metro station.
10:33 pm The police are preventing people from gathering by shooting rubber bullets at them near Riga mall. Plainclothes police are snatching phones from people who try to film their actions.

There was an explosion. Protesters who were detained managed to escape from the police van.
10:38 pm In Pruzhany, a town of 18,000, people also gathered for a rally today.
10:39 pm Police are trying to disperse protesters near the Spektr shopping mall.
10:43 pm There are traffic jams in Kamennaya Gorka and Kuncevschina districts.
10:46 pm Protest rallies are taking place in Vitsebsk, Novogrudok, Homiel, and Lida.
10:46 pm Explosions were reported near Sportivnaya metro station.
10:52 pm In Zhdanovichi, thousands of locals participated in a rally.
10:53 pm Security officers have smashed up a car at Sportivnaya metro station.
10:54 pm Police keep bringing detainees to district police offices in Minsk. Ambulances are also arriving.
10:55 pm Local protest rallies are happening all over Minsk, and it is nearly impossible to report on every one of them.
10:58 pm Tires are burning on Kalvariyskaya Street, right across from Minsk regional police headquarters.
11:06 pm The Belarusian opposition has been shortlisted for the Sakharov Prize, one of the world's most prestigious human rights awards. Belarusians have received this high award twice.
In 2004, the Belarusian Association of Journalists received the prize, and in 2006 it was awarded to Aliaksandar MIlinkievic, who was nominated by leading opposition parties to run against Lukashenko in the presidential election.
11:14 pm Brutal arrests have been reported in Serebryanka, Sukharevo, Kamennaya Gorka and Uruchie districts in Minsk.
11:22 pm Cars have blocked a police truck near Skala shopping mall.
11:47 pm Protest activity in Minsk is subsiding, but in many districts police are still brutally arresting protesters.
11:52 pm Residents of Kaskad apartment complex in Minsk have pelted riot police with eggs.
11:55 pm Activists from Viasna human rights center have published 57 names of people who were detained today. The list is still being updated.
12:00 am Unknown people in a car used paintball guns to shoot at a solidarity chain near Vostok metro station.
12:17 am Ambulances keep arriving at district police offices, taking people away. It seems that violence on this scale hasn't been seen since mid-August.
12:24 am Evening rallies have ended. The exact number of detainees will be known tomorrow.