7 October 2020 | Infocenter Free Belarus 2020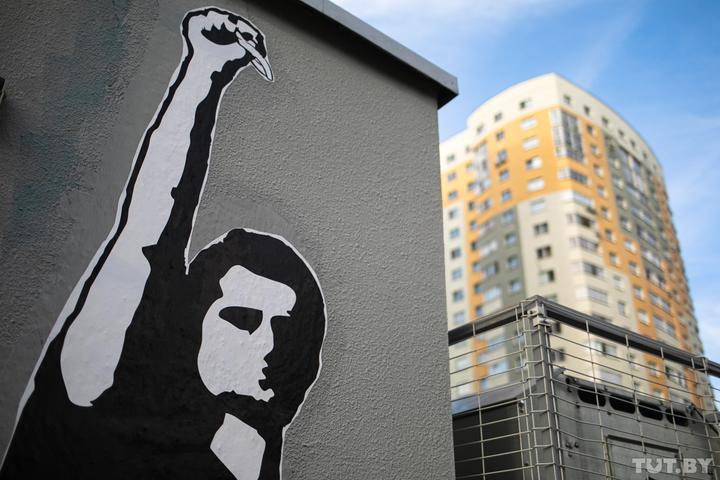 A new morning and a new day of protests begins.
7:30 am The mural with the "DJs of change" [two DJs who were arrested for turning on a song with the words "We want changes"] in the Minsk courtyard will soon be two months old. They paint it over, rip it off, but it returns back to where it belongs. One of the authors of the mural has anonymously shared some secrets of this unusual art object with TUT.BY.

The authors of the mural on the "Square of Changes" are friends who live in the same neighborhood. First, they wanted to "return" the DJs to the cinema building. But when they were drawing, the traffic police drove by and they had to run away.

However, the guys seem happy that it went this way – the mural found a new place on the playground of an apartment block and became the center of many events.
Without the residents, their active civic position and desire to live freely, there would have been no further history of the "Square of Changes." When asked why there are DJs on this mural and not other heroes of the protest like Maria Kalesnikava, the author gave a very simple answer: "Maria, Sviatlana, Viktar, Maksim and dozens of others are undoubtedly heroes, but DJs are heroes who come from common people, and even more so because they had gone against the very system they were working for. What these guys had done is very simple, pure and coming from the heart – no one could have organized it and paid them for it, and this is what makes them so important for all of us. This is the value of their action and image."
The mural first appeared on the morning of 12 August, after three terrible nights. It was the day when the girls in white gathered in the chain of solidarity at the Komarovsky market. Fear receded a bit, and injustice and cruelty defied explanation. Such a symbol was then necessary – to give people hope. It's scary when you're alone. But when there are lots of people like you, it warms you, empowers your actions.

Now, other residents of the neighborhood are repainting the mural. And this is how they do it: "Recently, we've read on one of the Telegram channels that in a war, symbols are worth more than resources. Now, we can see how many resources are being thrown into this fight against the symbols of new Belarus."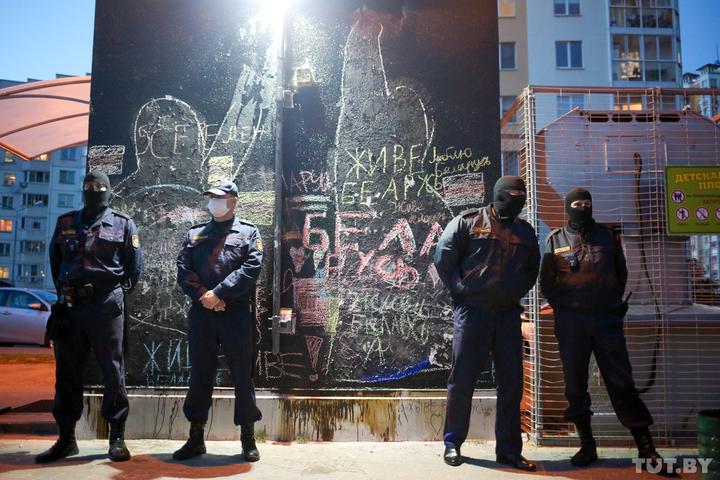 It appears that lots of resources have been spent just on fighting the drawing on the booth in one courtyard in Minsk. Its author says the image had to be restored more than a dozen times. It doesn't make him feel upset.
9:28 am The ambassadors of Latvia and Estonia have been recalled from Belarus for consultations and will leave Minsk in the days to come, reports TUT.BY with a reference to informed sources.
9:50 am As of 1 October, the gold and foreign exchange reserves of Belarus amounted to $7.321 billion – and have decreased to their lowest level since April 2019.
11:20 am The Ministry of Antimonopoly Regulation and Trade of the Republic of Belarus has extended state regulation of prices for buckwheat until 31 December 2020.

According to the document, the maximum additional charge above the manufacturer's (importer's) selling price for buckwheat is set at 10%. At the same time, the marginal maximum trade add-up should not exceed 25%.

11:45 am Sviatlana Tsikhanouskaya has once again called on the Belarusian authorities to start negotiations on a peaceful transfer of power through the mediation of the OSCE.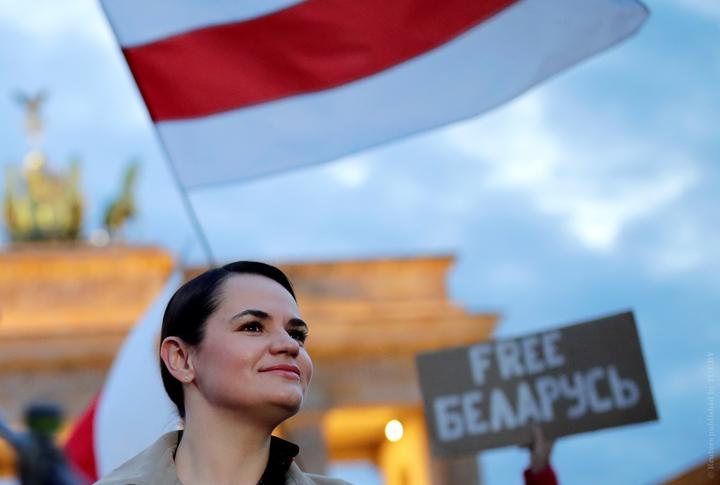 "Speaking here, I would like to urge you to show solidarity with Belarusian human rights defenders, athletes, workers, journalists, students who have fallen under the repressions of the Lukashenko regime. Publicity and support on your part is important for the Belarusian people. The best, most talented people of our country have become subject to repressions. This is about a famous basketball player, Yelena Leuchanka, who was sentenced to 15 days. This is about the journalists who are doing their job or who have come out to condemn violence. This is about human rights activists, such as Marya Rabkova, who provide legal assistance to those whose rights are violated.

This is about members of the Presidium of the Coordination Council: Maria Kalesnikava, who fearlessly thwarted the plans of the Belarusian special services, tearing her passport, and Maksim Znak, who taught Belarusians the legal methods of fighting the dictatorship. All these wonderful people have been persecuted for their civic position, for their thirst for truth, and faith in justice."
12:00 pm The son of the mayor of Vitsebsk, Vadim Zaryankin, served 13 days in the Zhodzina detention center for participating in a protest march.

12:01 pm Naftan employees recorded a video address in support of the Belarusian people. In their address, employees emphasize that they want to live in a country where "people are not tortured or beaten in the streets" for exercising their constitutional right to express their views, where peaceful protest is not a violation of law and where there is no prosecution for political beliefs, because the government "does not wage war against its citizens".

12:19 pm Sviatlana Tsikhanouskaya spoke at the French National Assembly. In her address to the French parliament, she thanked France for its support of the Belarusian people and for its willingness to help resolve the Belarusian crisis.

12:22 pm Some 800 Belarusian cultural workers signed an open letter against violence and falsifications. The document will be sent to the Belarusian and world media. The signatories demand new elections, the release of political prisoners, an end to repression, the abolition of any blacklists, reinstatement of all cultural workers dismissed for political views at their workplaces, investigation of all cases of violence and a new dialogue with society.

12:33 pm The chairman of the Minsk City Council, Andrei Bugrov, believes that "the use of above-ground transport in Minsk should be brought to a minimum", explaining the proposal as an alleged improvement of the welfare of Minsk residents.
12:35 pm Belarusian human rights activists have recognized an additional 20 people as political prisoners, bringing the total number of prisoners of conscience to 97 in Belarus as of 7 October.

12:38 pm Sviatlana Tsikhanouskaya commented on the recall of diplomats from Belarus: "In the past two months, the regime has made it clear that it has no intentions to communicate with the Belarusian people. The current authorities demonstrate their lack of willingness to build any foreign policy relations either. Diplomats are being thrown out of the country, the authorities accuse other countries of funding protests and concoct international conspiracy telephone calls. All these actions lead to the interruption of relations and contracts with Belarus. The regime has plunged itself into a foreign policy blockade."
12:49 pm State TV channel BT attempted to give an explanation as to why Belarus' neighboring countries had been referred to as former Soviet republics in the state TV news. The channel's political observer, Andrei Krivasheyev, explained why in some state Belarusian news reports, Lithuania, Poland and Ukraine were called "the former Polish People's Republic," "the former Soviet Lithuanian Republic," and "the former USSR".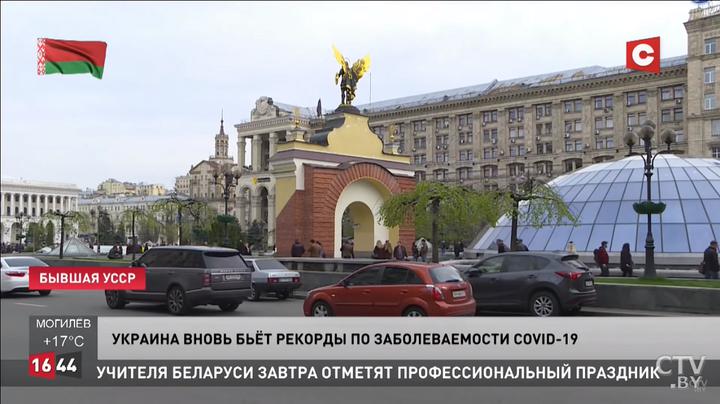 In his opinion, this "first of all highlighted our common and glorious past with Poland, Lithuania and Ukraine," and also "by using such nostalgic subtitles, the main Belarusian TV channels decided to reach out to our colleagues in the west and south. And judging by their harsh reaction, we were really heard."

12:55 pm Aleksander Kanevsky, the son of the political prisoner Tatiana Kanevskaya, has been released. He was detained on 22 September and charged with "violence against a policeman".

"This morning, Aleksander was released. It turned out, as far as I understand, that there is no longer a criminal case against him. He 'spent time' in the pre-trial detention center all these days," said Nikolai Kanevsky, Aleksander's father.

"I still cannot get hold of him as his phone was taken away."

1:10 pm Students from Minsk State Linguistic University have started their traditional protest.

1:18 pm The Kremlin made the following statement with regards to the participation of Sviatlana Tsikhanouskaya in the life of Belarus: "Ms. Tsikhanouskaya is not in Belarus. You can hardly say she is taking part in the life of Belarus. She stays in the territory of the European Union, she actively travels between the countries, she meets with various heads of states and governments, who, in their turn, consider the current head of Belarus illegitimate."

This statement was made by Dmitry Peskov, the press secretary of Vladimir Putin, who also added that no contact between the President of the Russian Federation and Tsikhanouskaya was planned.

1:44 pm A project to control CCTV cameras has appeared in Minsk. The project provides for the ability to tag cameras. The authors of the project urge everyone to take part and mark their own well-known CCTV cameras.

1:47 pm A hearing of the defense appeal against the extension of Viktar Babaryka's detention will take place today at 16:00, in the Tsentralny district court of Minsk. The appeal will be heard by Judge Gustyr.

1:50 pm MEPs sent an open letter to the leaders of Belarusian army: "You, representatives of the army and police are also Belarusians, you are the same as those who peacefully demand respect for their rights and fair elections on the streets of the country. You should protect civilians, including pregnant women and the elderly, not beat or attack them. This is a turning point in the history of Belarus, and you must make the right choice: either to become part of the coup and military junta organized by Lukashenko, or to take the side of history and support the peaceful Belarusian civil society, which simply demands respect for the rights of its people."

25 MEPs signed the appeal. An electronic version of the letter was sent to the Ministry of Defense of Belarus, and hardcopies were sent to the Ministry of Defense, the commands of the Air Force and Air Defense Forces, as well as to the Western and North-Western Operational Commands.

1:54 pm Flowers, a funeral wreath and posters in support of the dismissed associate professor Barkovsky, have been brought to the philosophy department of the Belarusian State University. An inscription in support of the detained student Dmitry Mazur can be seen on the pavement near the Belarusian State University of Informatics and Radioelectronics.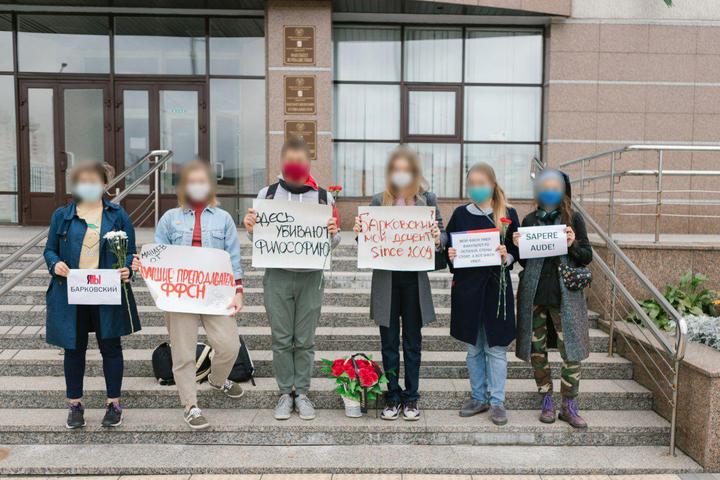 2:01 pm Minsk. Women are standing in a solidarity chain on Frunzenskaya street.
2:21 pm Hrodna resident Vladimir Rodchenko went down on his knees holding a photo of his 5-year-old daughter during a demonstration. His daughter had been injured in a car accident involving security services equipment during the early days of the protests. Following the accident, Rodchenko was detained and severely beaten by security police and had to be hospitalized for 10 days. Today, the court ordered him to pay a fine of 675 rubles.

2:37 pm In Minsk, utilities services have repainted benches from white and red to green for the fourth time. However, railings, other benches and verandas in deplorable condition requiring urgent painting are ignored.

2:40 pm Unidentified masked men dispersed a rally near the Belarusian State Academy of Arts.

2:55 pm Denis Nosov, a journalist from Vecherny Babruisk, has been released from a detention center.
3:04 pm Plainclothes policemen showed up at the protest event near the Academy of Arts. No one got detained as students managed to escape.
3:10 pm The lawyer of activist Eduard Palchys cannot get to see his client during his 10-day stay in the Akrestsina detention center. Palchys' family doubt if he is there at all, according to his wife's Facebook post.
3:19 pm Sviatlana Tsikhanouskaya gave a speech at the Bundestag: solving the political crisis in Belarus is the business of Belarusians, not Moscow. Putin can be involved in mediating the negotiations with Lukashenko, but only together with leaders of other countries, she said.
3:24 pm The Ministry of Internal Affairs admitted that SMS messages about "participating in unauthorized events" might have been sent to random people. The Ministry announced that it will continue to send these messages as necessary.
3:32 pm The Lithuanian authorities have blocked the issuance of funding to Belarus under the EU cross-border cooperation program. One of the frozen payments amounts to USD 3 million. The decision was taken immediately after the aggravation of the political situation in Belarus.
3:38 pm The battery plant in Brest will be launched in January, in spite of city residents having protested against it for several years. Lukashenko did not keep his word given before the election: there will be no local referendum to decide on the matter.
3:43 pm Bobr.by photojournalist Yury Komissarov was sentenced to 7 days of detention for "participating in unauthorized events."
3:59 pm The Free Association of Athletes of Belarus sent a letter about the repressions against athletes to the International Olympic Committee.
4:16 pm In one of the districts in Minsk, students displayed a white-red-white flag; a bus with policemen arrived, people fled. There is no information about detentions.
4:30 pm In Verkhnedvinsk, a criminal case for libel was opened against a man. He wrote that the local precinct police officer had detained people with children and had been to Minsk to suppress the protests.
4:47 pm Sviatlana Tsikhanouskaya is wanted in Russia, RIA Novosti reports. According to TASS, a criminal case against Tsikhanouskaya has been opened in Belarus, but since this search is international, she is wanted in Russia as well.
5:10 pm According to by.tribuna.com, Gennady Savilov, ex-Chairman of the Belarus Ice Hockey Federation, lost his position after refusing to participate in a pro-Lukashenko rally.
5:30 pm A court fined a Hrodna resident 675 Belarusian rubles (USD 258) – he kneeled by the regional executive committee building, holding a photo of the five-year-old girl who got wounded during the protests.
5:31 pm A few dozen ladies with white-red-white umbrellas held a solidarity rally in Minsk.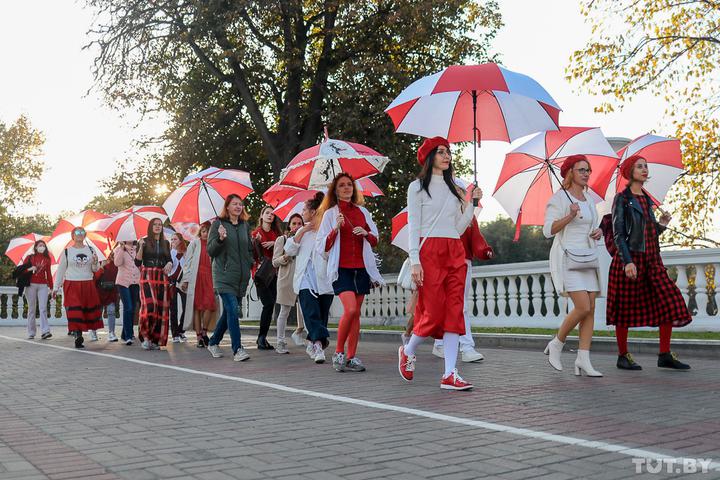 5:32 pm In several places in Minsk, people formed solidarity chains.
5:49 pm Judge Yulya Gustyr ruled to keep Viktar Babaryka in custody, rejecting his lawyer's complaint.
5:54 pm The Belarusian State University's Philosophy and Social Sciences Department's alumni protested in solidarity with the dismissed faculty members.
6:10 pm A group of women in red were marching along Independence avenue, drawing attention. The "We are Just Taking a Walk" rally, named after Nina Bahinskaya's defiant response to a riot policeman, has become a tradition.
6:25 pm Women from the Social Democratic Party of Germany held a rally at the Bundestag. They held portraits of Belarusian women who were arrested for participating in protests and expressing their opinions, including Svetlana Alexievich, Nina Bahinskaya, and Liliya Vlasova.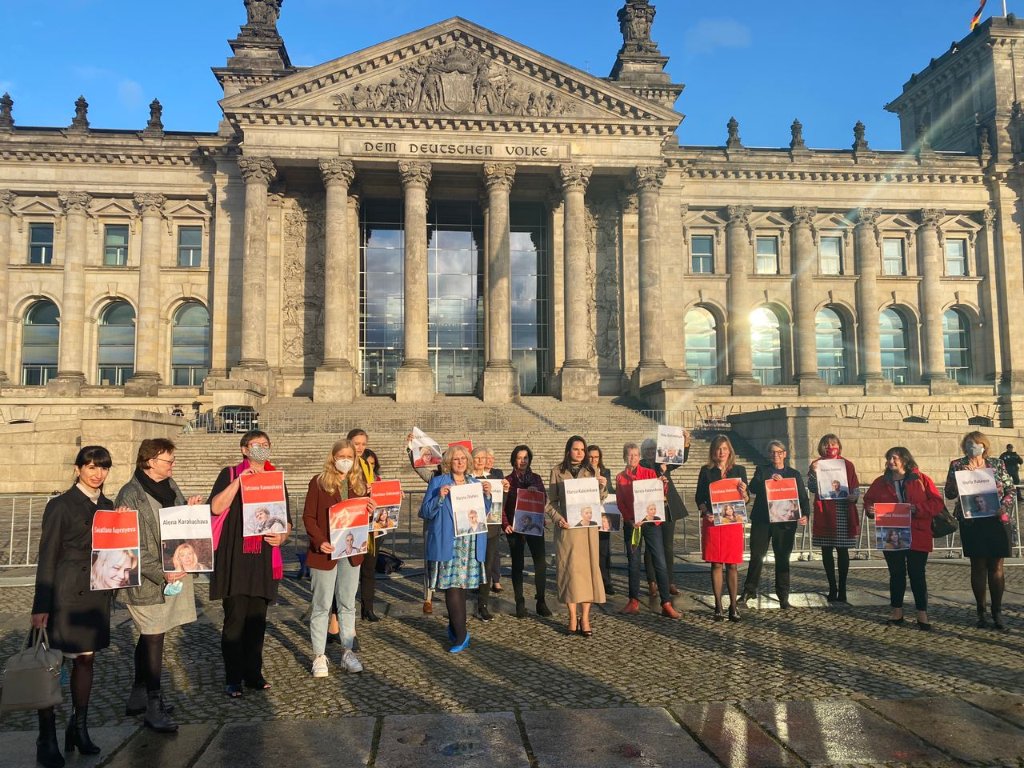 Sviatlana Tsikhanouskaya also took part, holding up a photo of Maria Kalesnikava.
6:29 pm Pavel Latushka participated in a group video call with representatives of the Belarusian diaspora in the US, Germany, France, Israel, Australia and a number of other countries.
During the call, Latushka suggested the following:
Initiate and maintain communication with national parliament representatives, the European Parliament, and Foreign Ministries to boost the reaction to mass human rights violations in Belarus.
Make appointments with Belarusian ambassadors and urge them to give direct comments on murders and violence against Belarusian citizens.
Push to create information centers about Belarus abroad.
Set up pages on social media to provide an alternative to official media channels.
Assist in investigations of crimes committed against peaceful citizens.
6:36 pm Roman Protasevich, who until recently served as editor-in-chief at NEXTA, and Stepan Putilo, its creator, are also on the wanted list of the Russian Ministry of Internal Affairs.
6:39 pm The Belarusian Ministry of Foreign Affairs has announced that priority for re-accreditation will be given to foreign journalists who are citizens of countries where foreign media are registered. Previously issued credentials expired on 2 October. More than 70 reporters have already applied for the new ones.
6:43 pm According to an Interfax source, Tsikhanouskaya's inclusion on the wanted list in Russia is a technicality stemming from the conditions of the alliance between Russia and Belarus.
There is no criminal case against Ms. Tsikhanouskaya in Russia. This probably also explains why Mr. Tsepkalo and Mr. Protasevich were also wanted by the Russian police. The Belarusian Ministry of Internal Affairs has so far declined to comment.
7:27 pm Meanwhile, students of the Belarusian State Medical University have formed a solidarity chain.
7:41 pm A rally and march in support of Lukashenko started at the Independence square in Minsk. Participants sang the song "Invisible Battle" at the walls of the Ministry of Internal Affairs. The lyrics glorify the never-ending and dangerous work of the police.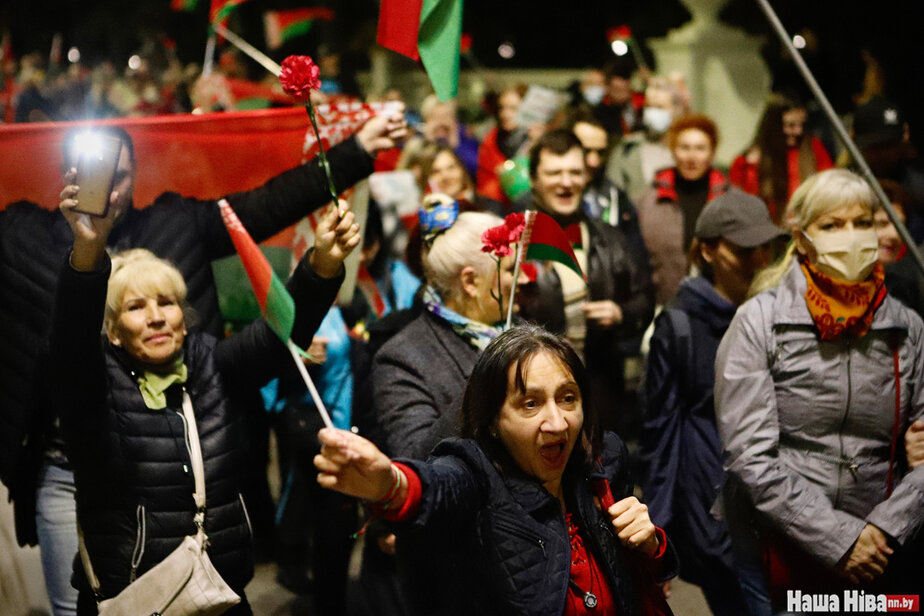 8:11 pm Vitaly Shklyarov, who was arrested in Belarus, has not been forgotten, and the US government is doing everything possible to secure his release, said US Senator Jack Reed.

Shklyarov, a Washington-based political columnist with dual citizenship in Belarus and the United States, was arrested in late July in Homel, while visiting his elderly parents. He is accused of organizing public order disruptions.
8:16 pm The pro-government rally has reached the end of its planned route, which is Victory Square. According to TUT.BY, the rally had been followed by a grey van along the way.
8:25 pm In an exclusive interview with Belsat, Sviatlana Tsikhanouskaya commented on the news of her name on a wanted criminals list in Russia. She also disclosed some details of the meeting with Angela Merkel.
Germany offered to help mediate the political conflict and promised to help those who are currently being persecuted. However, according to Tsikhanouskaya, the success of the protests depends primarily on Belarusians themselves. "For our struggle, every person who wants freedom for their country is important," she stressed.
8:29 pm The International Olympic Committee is investigating statements made by Belarusian athletes who suffered from political repression after the election. "We will deepen our investigation to find out whether the NOC of Belarus has fulfilled its obligations under the Olympic Charter."
8:43 pm Metropolitan Archbishop Veniamin, who is the head of the Belarusian Orthodox Church, presented church awards to the former Health Minister and current head of the Hrodna Region Executive Committee Uladzimir Karanik, Minister of Culture Yury Bondar, and Russian ambassador Dmitry Mezentsev.
9:05 pm About 10 people who participated in a neighborhood rally in the Uruchcha district in Minsk have been detained, Radio Svaboda reports.
30 minutes before the arrests, a chain of people holding white-red-white flags were standing along Hintauta Street. The demonstrators tried to scatter when security forces in olive green uniforms arrived, but they were followed and some got detained.
9:20 pm Today, the first McDonald's was opened in Hrodna. Soon after, local residents installed a white-red-white flag on its roof with the help of a drone.
10:00 pm Tomorrow, the court will consider the case of stripping TUT.by, the largest independent publication in Belarus, of its media status. The hearing at the Economic Court of Minsk will start at 10:00.
The status has been already suspended after the Ministry of Information's order. TUT.BY reporters working in the field may now be considered by the authorities as protesters.
10:10 pm Belarusian rock legend Sergey Mikhalok has released a video in which he condemns the arrests of athletes. According to him, the country should be proud of the athletes, and not the OMON (riot police). He also noted that it is the OMON and the current authorities who have created "a situation which forces normal people to leave the country".
10:32 pm The political crisis in Belarus is unlikely to be resolved in the near future, which poses further risks to the country's economy. Such is the conclusion reached by S&P analysts in a report on sovereign credit ratings of Belarus.
10:59 pm The Lithuanian Foreign Minister has commented on Russia's decision to put Sviatlana Tsikhanouskaya on the wanted list: "Svetlana #Tsikhanouskaya insists to hold dialogue with #Russia. Instead, Russia issues warrant for her arrest. Strange, they really don't know her whereabouts? Interrogation for them is the only known form of dialogue?" he tweeted.