19 October 2020 | Infocenter Free Belarus 2020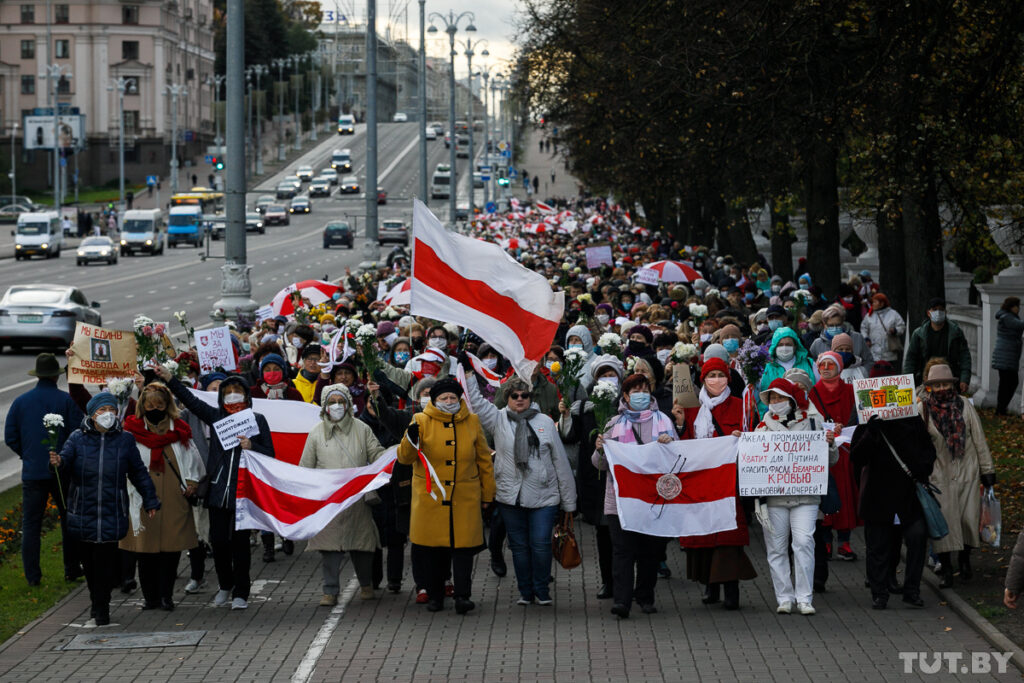 Good morning, the 72nd day of the protests begins.
8:00 am The situation at the Belarusian border with the EU countries remains difficult.
According to the State Border Committee, at 8 am there were more than 730 heavy trucks accumulated on the Lithuanian border.
More than 200 trucks await their turn at two points on the border with Poland.
There are also queues in the Latvian direction of more than 150 trucks.
8:20 am Riot police are ready to use firearms in the event of an attack on law enforcement officers or attempts to use special equipment against them.
This statement was made by the Minsk City OMON Department commander Dzmitry Balaba.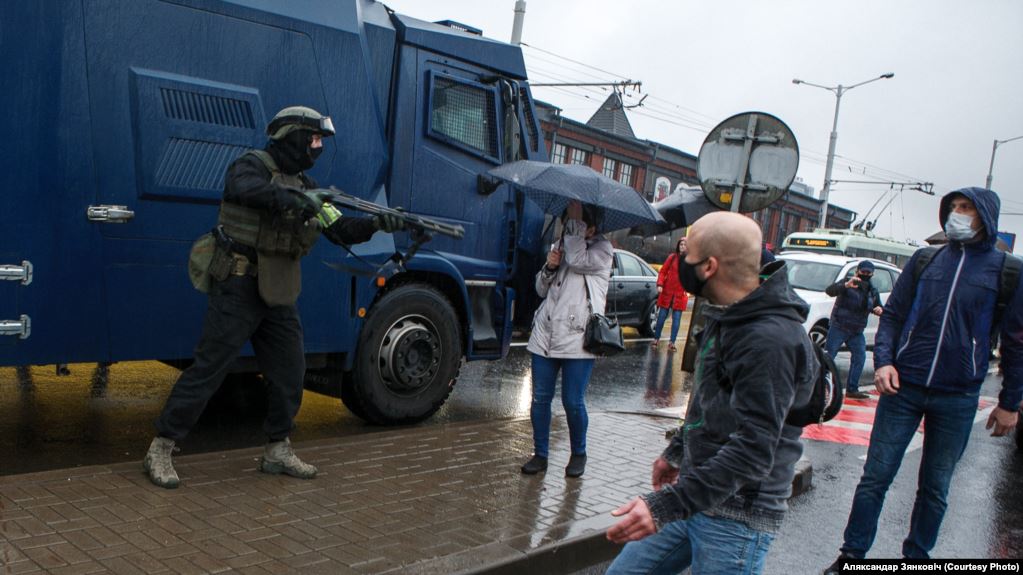 "As policemen, we will, of course, use all other possible methods before using firearms. But if it proves necessary, of course, we will do it," BelaPAN quotes Balaba.
"Those who work for Belarusian Internal Affairs institutions have rather broad powers today, including use of firearms," he noted.
8:30 am The Minsk authorities have estimated the total losses from the ongoing protests against the results of the presidential elections since 9 August at 900,000 Belarusian rubles (about USD 350,000).
The Minsk prosecutor Oleg Lavrukhin said this on TV on Sunday.
8:58 am The famous Belarusian swimmer, Aliaksandra Herasimenia, who recently became the head of the Belarusian Sport Solidarity Foundation, says that the government repression of athletes can lead to the death of world-class sports in Belarus.
"We are not only athletes, first of all we are citizens. Arbitrariness and police violence in our country cannot leave us indifferent. Therefore, we express our opinion. But if this continues, sports in Belarus will soon be completely destroyed," Herasimenia said on the Belarusian Sport Solidarity Foundation Facebook page.
"Successful athletes who have won medals at the World and European Championships are now under pressure. They are threatened and they cannot continue training," she said.
Herasimenia herself has left the country for Vilnius. Aliaksandra explains her decision by saying that this was the only way she could help both athletes and the country.
10:00 am Political scientist and writer for Novaya Gazeta, Vitaly Shklyarov, was released from the pre-trial detention center under the personal guarantee of political scientist Yuri Voskresensky.
Shklyarov's lawyer, Anton Gashinsky, confirmed the information.
10:39 am The Coordination Council press service informs that Maria Kalesnikava's lawyer, Illia Salei has been placed under house arrest.
10:59 am A group of 16 Vitsebsk healthcare workers recorded a video message in which they demanded the release of healthcare workers and other citizens "detained for political reasons and during peaceful protests", as well as to "stop persecuting opinion and speech different from the official doctrines."
"We are tired of humiliation, of insults addressed to us, of lies told on state television channels," the appeal says. "Now we are being detained, persecuted for our thoughts, our beliefs and our views. Our friends, our wives and husbands, our parents and our children are also persecuted together with us. Our Belarusian people are persecuted. Brutal detentions, searches in apartments, prosecutions, beatings in police departments, pre-trial detention centers and temporary detention facilities – all this has happened, and all this continues before our eyes."
In addition to that, doctors spoke about the problem of ignoring COVID-19, falsifying statistics, failure to take the necessary anti-epidemic measures on time, which led to "a high level of morbidity and mortality". The same problem, they said, is observed now, during the second wave of the coronavirus pandemic.
"We refuse to listen to open lies and keep silent. We disapprove of the security forces bullying peaceful people, beating and killing them. We are against violence against all citizens of the Republic of Belarus," the appeal underlines.
Doctors also demand "the prosecution of employees of the Ministry of Internal Affairs who have exceeded their powers".
At the end of their address, they chanted "Long Live Belarus!" while holding a large white-red-white flag.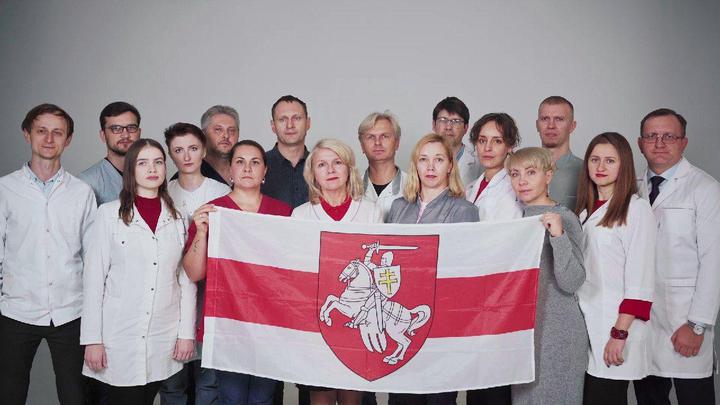 12:10 pm The Ministry of Internal Affairs produced the following statistics on yesterday's protests:
According to their calculation, around 8,000 people attended the protests all over the country: 7,000 in Minsk and "from 10 to 100 people" in regional centers;
Specialized equipment was used in Minsk and "the most disobedient participants of the protests" were detained;
280 people were detained, including 215 in Minsk. 237 people, who were detained yesterday, are still in custody.
12:25 pm According to Oleg Lavrukhin, the representative of the Ministry for Emergencies of Belarus, the protests have caused damage to the Minsk city budget and utilities companies. The total amount is about 900,000 Belarusian rubles. That amount includes 27,000 rubles spent on dismantling white-red-white flags.
12:45 pm A solidarity rally is taking place in the Minsk State Linguistic University.
1:00 pm The trial of Darya Spevak, Vadim Zamirovsky and Vsevolod Zarubin, the journalists detained on Friday, is about to begin. Everyone is charged with violations under two administrative law articles. The articles are participation in unauthorized events and disobeying a police officer.
1:05 pm On 19 October, the Zavodskoy District Court of Minsk found a 66-year-old resident of Minsk, Sergei Kuznetsov, guilty under the article "resisting a police officer" and sentenced him to one and a half years of house arrest. The pensioner was accused of threatening riot police with a knife when they broke down the door to his apartment.
1:13 pm A column of buses guarded by the police is moving toward Independence Square in Minsk. It has been reported earlier that pensioners who are ex-security forces officers are being taken to Minsk from different cities for a pro-government rally.
1:25 pm A member of the Presidium of the Coordination Council, Liliya Vlasova, has been freed. Yuri Voskresensky announced this news in his interview with TUT.BY.
According to him, the measure of her restraint was changed to house arrest. She left the KGB detention center on Friday evening. Voskresensky says that he met her and took her home.
1:40 pm Two ladies with flowers have been detained on the street in Vitsebsk. They are accused of "stealing the flowers from the flowerbed".
1:45 pm Onliner journalist Darya Spevak has been sentenced to 13 days of detention.
1:55 pm A small column of people in military uniform with red and green flags is moving along Gorodskoi Val. Eyewitnesses reported that they saw several buses used to, supposedly, bring the protesters to Minsk. Buses were parked at different points and people were forced to walk to the place where the rally should start, apparently to create the illusion of a voluntary rally.
2:00 pm Meanwhile, several hundred people gathered near the Red Church for a protest march of pensioners. This time it is called the "March of Wisdom". Pensioners shout, "Karaieu on trial!", "Lukashenko in a prisoner transporter!", and are holding white-red-white flags with symbols and posters with the words "Fair Elections".
2:10 pm Around a hundred students staged a protest in the main building of the Belarusian State University. The students are protesting against the violence on the streets and a new order on withdrawal of students' scholarships in case of failure to attend ten hours of studies. The protesters also express their solidarity with the detained students. The young men and women were supported by passing teachers clapping and the students shouted, "Thank you!" in response.
2:15 pm State media is present at the March of Wisdom but the participants do not allow them to film.
2:18 pm The civil protesters' rally and the pro-government rally have both met on Independence Avenue. The March of Wisdom participants greeted the former security forces officials with shouts of "Shame!"
2:20 pm Around 20 protesters have formed a solidarity chain near the Academy of Arts in Minsk.
2:26 pm Nezalezhnasti Avenue has been blocked by the riot police.
2:29 pm Nina Bahinskaya also takes part in the March of Wisdom.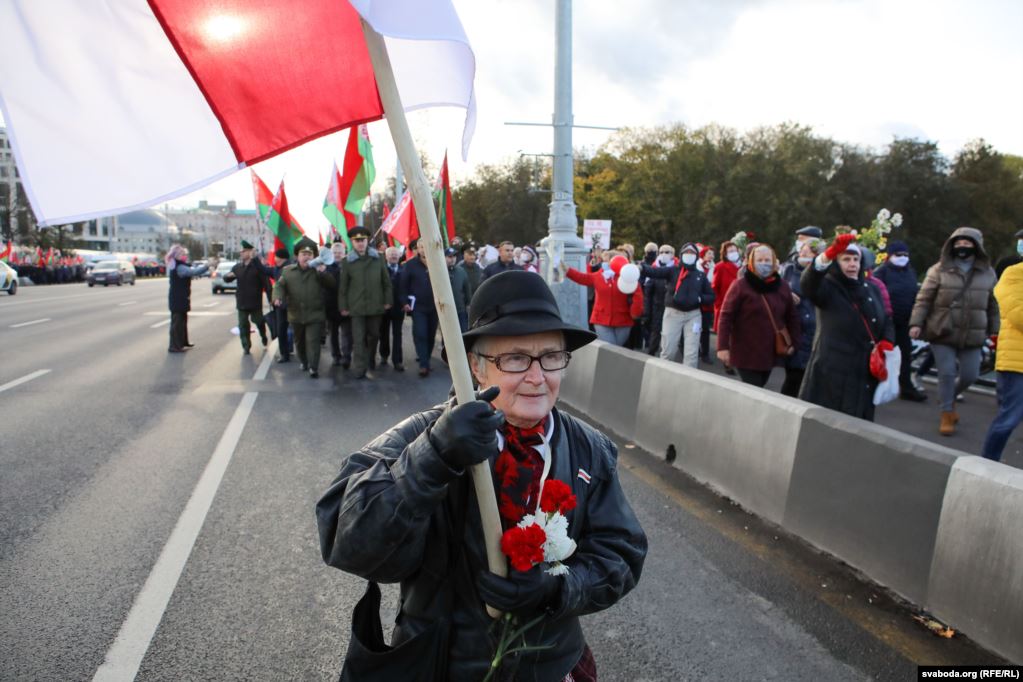 2:35 pm The Coordination Council commented on the change in the preventive measure for Liliya Vlasova and Illia Salei. In a message on their Telegram channel, the Coordination Council emphasized that "changing the measure of restraint to house arrest cannot be construed as release because they still remain political prisoners."
2:40 pm A column of protesters is walking along Independence Avenue. The Third March of Pensioners is more massive than the two previous ones. Several thousand people are taking part, as reported by @euroradio correspondents.
2:46 pm "Why did you come today?" was a question asked of a pro-government rally participant. "Monday is the most beautiful day," was his answer. According to him, they have also gathered on Nezalezhnasti Square to hear Lukashenko's speech.
2:49 pm Students of the Minsk State Pedagogical University, as well as the Philosophy and Social Sciences Department and the Journalism Department of the Belarusian State University, participated in a solidarity action.
2:55 pm The March of Pensioners is also taking place in Hrodna. "Plainclothes men" are watching the protesters. A police bus with no number plates is parked next to their route near the regional executive committee, and a police car is parked near the "Chyrvonaya Zviazda" cinema.
3:01 pm Wargaming, the developer of the popular game World of Tanks, has moved about 200-300 employees to its Kiev office, IT news source AIN.ua reports, citing anonymous sources.
It is yet unknown whether the move is long-term or permanent, or if the employees will eventually return to Minsk, the article says. It is also reported that the company plans to move about 500 more employees to Vilnius together with their families.
3:03 pm In Minsk, participants of the retirees' march saw buses and men, some in military uniforms, near the Officers' Club. The retirees chanted, "Shame on you!", "How much does your conscience cost?", and the men responded with obscene gestures.
3:06 pm The participants of the pro-government rally in Minsk are demanding that opposition leaders "stop terrorizing society".
3:11 pm At the retirees' march, people thanked Nina Bahinskaya and gave her a pin as a gift.
3:12 pm TUT.BY and BelaPAN photographer Vadim Zamirovsky was found guilty of participating in unauthorized rallies and disobeying police, and sentenced to 15 days in jail.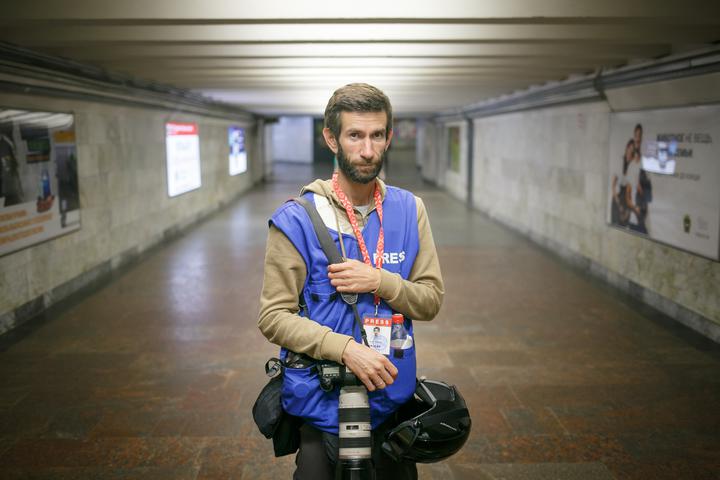 Zamirovsky was detained while covering a student protest rally on 17 October.
3:20 pm At the pro-government rally, the participants have finished speaking in an open mic format. The column is heading towards Victory Square to lay flowers.
3:22 pm ❗️ In Svetlahorsk, three retirees (a man and two women) who participated in the March of Wisdom were detained. In the women's case, the police only took down their personal information, but the man was taken to the district police station.
3:23 pm The retirees brought "baked goods for our grandchildren" and tea to the March of Wisdom to keep themselves and others warm. Can you imagine that just a week ago, the police used pepper spray and stun grenades against these people?
3:30 pm Students holding posters with words of gratitude in both Russian and Belarusian are greeting the crowd of retirees on Nezavisimosti Avenue.
3:34 pm ❗️ Lukashenka's chief hitman, Dzmitry Paulyuchienka, is taking part in the pro-government rally. Paulyuchienka is a key suspect in murdering and torturing Luashenka's major opponents in the 90s, including Yury Zakharenka, the former Interior Minister, and opposition journalist Dzmitry Zavadski.
3:42 pm In Hrodna, the retirees' march is over. No one was detained today.
3:48 pm In Minsk, a young man decided to test people's feelings of solidarity. At first, he held a white-red-white flag and stood on the shoulder of the Minsk Ring Road. Passing drivers were honking constantly. However, when he changed to the official red-green flag, the answer was silence.
3:59 pm Near the bridge across the Svislach River in Minsk, the pro-Lukashenka rally caught up with the protesters (which is not surprising, because the pro-government rally participants are much younger). The pro-government rally then continued marching along traffic lanes, chanting, "For Belarus!"
A few men in uniforms are heading the pro-Lukashenka crowd.
4:04 pm Some participants of the pro-government rally in Minsk headed to the buses that were parked at Victory Square immediately after laying flowers at the monument. Others started walking away in small groups.
The pro-Lukashenka rally is now over.
4:03 pm In Minsk, road police cordoned off a stretch of Nezavisimosti Avenue leading to Victory Square.
4:08 pm In Brest, a crowd of retirees is marching along city streets. They are chanting, "Minsk, we are with you!"
4:11 pm The court sentenced Vladimir Zarubin, a reporter for TUT.BY and BelaPAN, to 15 days in jail.
4:15 pm "Our grandmas are the best!" Hrodna residents expressed their support for the participants of the March of Wisdom. Today, retirees in a number of Belarusian cities took to the streets.
4:16 pm The column of retirees has reached Yakub Kolas Square, chanting, "Long Live Belarus!"
4:35 pm The March of Wisdom ended at Yakub Kolas Square. The retirees laid flowers at the monument, sang the song "Mury" ("Walls") and headed home.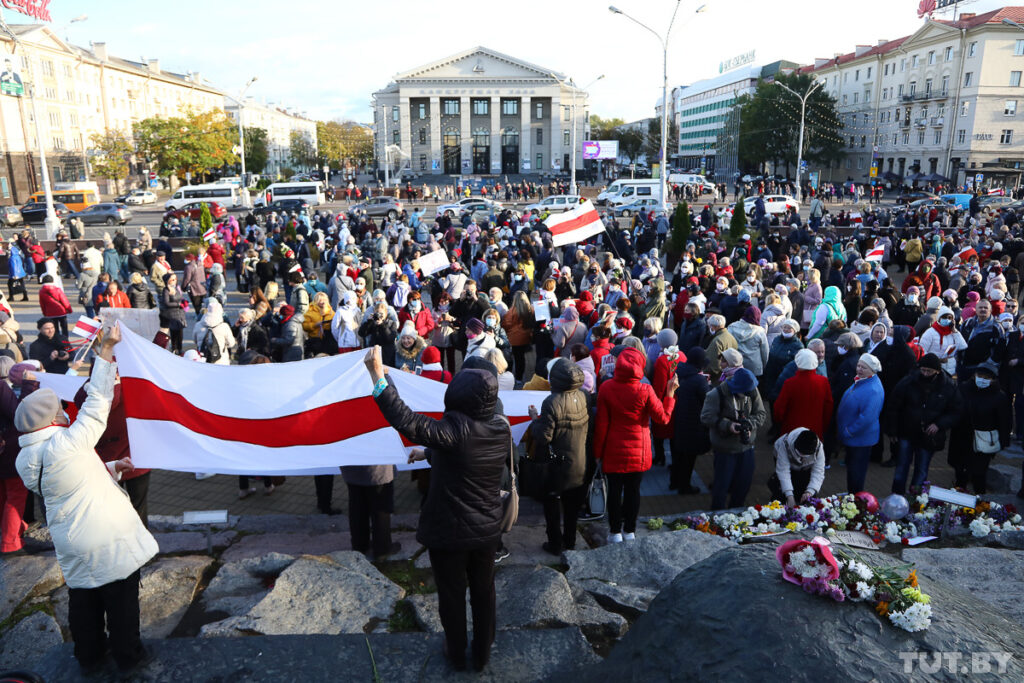 4:42 pm In Brest, participants of the retirees' march gathered at the court building to support 63-year-old Yelena Gnauk, who is on trial today. There are 6 police officers on patrol nearby, watching closely.
4:47 pm Buses are taking home the participants of the pro-government rally. Judging by the stickers on one of the vehicles, it had come from Homel.
4:51 pm Sviatlana Tsikhanouskaya talked to miners and workers of the Belaruskali plant. Founders of the BySol charity fund Andrey Strizhak, Aliaksandr Podgorny and Yaroslav Likhachevsky were also present during the video call.
Tsikhanouskaya thanked those who were on strike and expressed hope that their bravery will become an inspiration for others. She also emphasized that all the information on violations of the law in the plant are being noted in sanction lists.
5:01 pm Artyom Mayorov, reporter for Belarusians and the Market newspaper, has been sentenced to 15 days in jail. He was detained at a student rally.
5:10 pm Yuri Korzun, a miner from Salihorsk who was due to be released yesterday, was sentenced to 15 more days in jail today.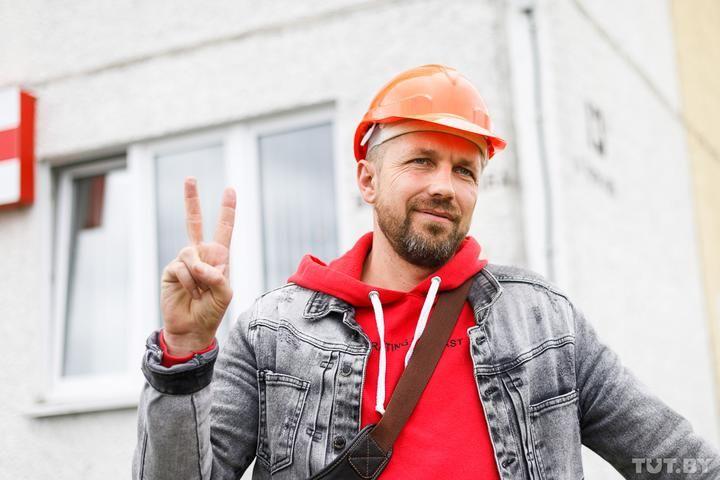 To recap, on 10 September, Korzun chained himself up at the depth of 300m (384ft) and refused to leave the mine to protest against election fraud and political repressions.
5:21 pm Sviatlana Tsikhanouskaya and Aliaksandra Herasimenia met with members of the Swiss parliament in Vilnius. They discussed the following:
Ways for Switzerland to support the people of Belarus and participate in negotiations on ending the political crisis.
Assistance for Belarusian athletes.
The detention and prosecution of Natalie Herrsche, the Swiss-Belarusian dual citizen who was arrested in Minsk on 19 September.
5:25 pm The Golos platform has finished polling Belarusian citizens on constitutional amendments suggested by the current authorities. In just 6 days of the poll, 460,000 people took part in it, with 99% voting against adopting the reform before new elections were held.
5:39 pm ⚡️ Right after the March of Wisdom, police arrested a young woman who was helping drive elderly participants home.
5:40 pm Sviatlana Tsikhanouskaya announced a working visit to Poland. There, she will meet with:
Prime Minister Mateusz Morawiecki and head of the presidential administration Krzysztof Szczerski.
Security service officers who refused to carry out unlawful orders for the current regime and had to leave Belarus.
Ambassadors of Canada and the Netherlands, and representatives of the Coordination Council.
Tsikhanouskaya is also planning to deliver a speech at the event marking the beginning of a new academic year at the College of Europe and at the presentation of the updated Kalinowski program at the University of Warsaw.
6:05 pm Belsat journalist Ales Lyubyanchuk was sentenced to 15 days in jail. This is his second administrative detention in recent days.
6:08 pm Komsolovskaya Pravda v Belarusi journalist Volha Shilak was fined 162 Belarusian rubles.
6:12 pm It has been reported that two young people carrying white-red-white flags were violently arrested at the pro-government march today.
6:14 pm A former ideologist for the Brest City Executive Committee was just sentenced to 15 days in jail with her husband for participating in a protest. This is remarkable, because ideologists are generally considered to be a pro-Lukashenko stronghold.
6:21 pm A criminal case has been filed against well-known Lida activist Vitold Ashkur for organizing activities that seriously violate social order. This was reported on Facebook by journalist Volha Bykovskaya. Previously, Ashkur spent 30 days in administrative detention. He will spend his fiftieth birthday behind bars.

6:26 pm Belarusian chess champion Vladislav Kovalev refused to play in the Belarusian championship and signed a letter from athletes making demands to authorities. Kovalev's colleagues, Evgeniy Podolchenko and Vitaly Meribanov, also refused to play.
6:40 pm Currently, about 20 businessmen and around 70 companies belonging to them are being added to a new draft of the economic sanctions list. The list includes those financing Alexander Lukashenko and members of his family. The list will be expanded. Contents of the list will not be revealed until it is adopted by international bodies. This was reported by the artistic director of the Belarus Free Theatrе Nikolai Khalezin on his Telegram channel.

7:44 pm Tadeusz Kondrusiewicz met with Vatican State Secretary Cardinal Pietro Parolin. The representative of the Holy See stated that the Vatican will make every effort to see the Belarusian Archbishop return home.
7:47 pm Arrested journalists Vadim Zamirovsky, Darya Spevak, Artyom Maiorva, Ales Lyubenchuk and Vsevolod Zarubin were all tried by a single judge, Elena Zhivitsa. Spevak was sentenced to 13 days of detention, and her colleagues to 15 days.

8:17 pm The front page of one of Belarus's most popular media outlets, Onliner, is just a black screen. Editor-in-chief Nikolai Kozlovich stated that this is a sign of protest against the arrests of journalists who were simply doing their jobs.
8:24 pm A criminal case has been opened in Hrodna for insulting a high-ranking police officer. Searches are underway, and peoples' phones and devices are being seized.

8:25 pm Denis Yakshtas, a journalist from Homel publication Silnye Novosti, was fined 540 Belarusian rubles after 15 days of detention. He is currently not in custody.

8:28 pm Traditional local evening protests and shows of solidarity are now underway in Belarus.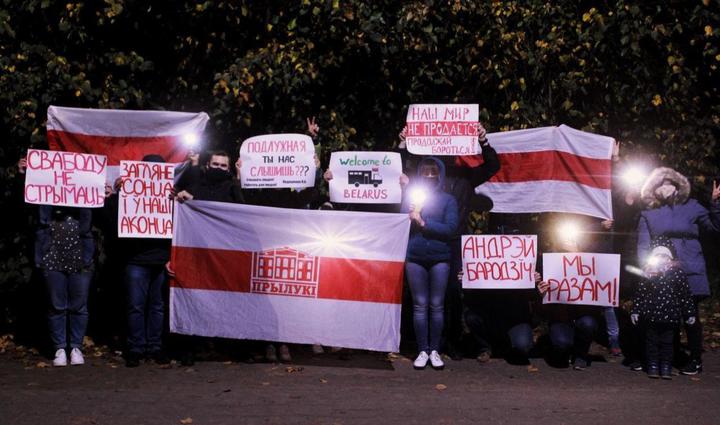 8:36 pm Over 50 attorneys have signed a message demanding and end to pressure on their colleagues.
9:00 pm Sviatlana Tsikhanouskaya held an online meeting with Belarusians who are traveling to the Czech Republic for treatment for injuries sustained during protests. Her advisor on international affairs, Franak Viačorka, also took part in the meeting, as did the head of the Athletes' Solidarity Fund, Aliaksandra Herasimenia. The leader of the Belarusian nation expressed support for those who were injured, saying, "You are our heroes."
9:45 pm In a video of an altercation between people who had come to cut down white-red-white ribbons and those who had hung them up, one of the people cutting the ribbons bore a striking resemblance to the head of the Belarusian Hockey Federation Dzmitry Baskov. If that is indeed Baskov, we can all be inspired by his career, spending his time exactly as any sports official should.
9:58 pm A demonstration in Saint Petersburg in support of Belarus has been going on for 72 days straight!

10:03 pm 63-year-old retired Brest attorney Yelena Gnauk has not been released after 15 days in jail and a five-day hunger strike. First, a new trial was held, and the record was sent back for revision. Next, Gnauk was sent to the police station to gather her belongings. She has not left. Her current whereabouts are unknown.
10:10 pm The EU is changing its process for imposing sanctions over human rights violations. Now, the European Commission will adopt sanctions instead of the European Council, and the process for this will become easier. One of the reasons for this change was Cyprus's blocking sanctions against Belarus.
10:25 pm 460,000 Belarusians used the Golos platform to vote against constitutional amendments on Lukashenko's terms. 99% of votes cast were against the amendments.
10:33 pm At least 19 individuals were arrested around Belarus today for participating in protests, according to Viasna Human Rights Center.