Another day of protests and demonstrations by Belarusian people has begun. They continue to push for the right of self determination, to choose their future and for guaranteed freedoms and liberties at no risk of being detained and prosecuted.
Continuous strikes are ongoing at the major industrial enterprises of the country, including Minsk Tractor Works' plant, manufacturer of heavy off-road vehicles Minsk Wheel Tractor Plant, major potash producer Belaruskali, and others.
The people are raising funds to support workers on strike, but pro-government forces are not ready to step back. The management of Minsk Wheel Tractor Plant threatens its employees with fines for lost profits, striking miners of Belaruskali might lose their social benefits, 2 workers of Minsk Automobile Plant have been forced to resign, and the leader of the strike have been summoned to the Investigative Committee. Despite all the risks, more enterprises are joining the strikes.
Their main demands are dismissal of Lukashenko, new fair elections, cessation of violence from law enforcement agencies and impartial investigation of violent acts already committed and punishment of those responsible.
8:00 am A new message from Sviatlana Tsikhanouskaya has appeared online. Svetlana has addressed the workers on strike, "You are the symbol of new, free Belarus […] A force which can change and is already changing the future of our country. Country, which he [Lukashenka] wants to steal from us. As he has already stolen our votes and crippled our brothers, sister, husbands, and children." Tsikhanouskaya called the people to unite and not stop the protest. "Leave fear to dictatorship […] I ask you to continue and broaden the strikes […] We will make the government sitting in their castles to hear our voices, which they've stolen from us."
8:05 am Earlier today, the US Department of State published a press statement supporting the aspirations of the Belarusian people.
"The United States supports free and fair elections that reflect the will of the Belarusian people as a matter of principle. The August 9 elections did not meet that standard. Belarus, like the United States, is a member of the OSCE, which upholds those standards. We urge the government of Belarus to accept the OSCE chairmanship's offer to facilitate dialogue and engage all stakeholders. We support international efforts to independently look into Belarus' electoral irregularities, the human rights abuses surrounding the election, and the crackdown that has followed." – stated the Secretary of State, Michael R. Pompeo
8:40 am This morning a strike at "Hrodnazhilstroy" (one of the biggest and oldest building enterprises in Belarus) commenced. Workers conducted a secret poll on the strike and say it was supported by a majority of 1950 for with 638 votes against.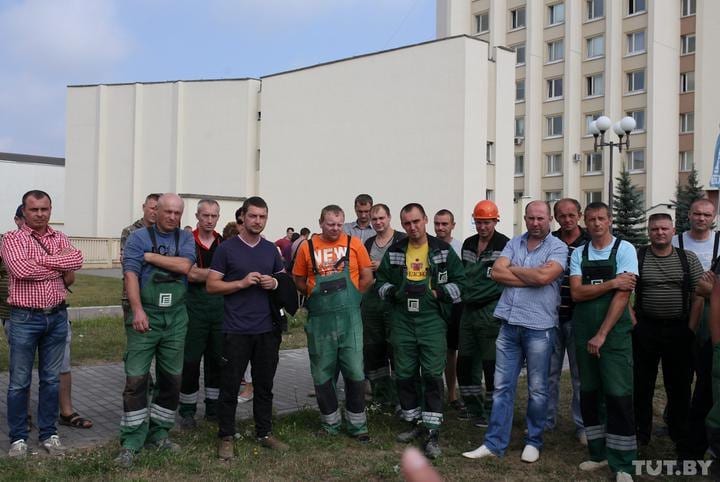 9:00 am Belsat published an anonymous interview with a doctor in Minsk. The emergency room anesthesiologist is sure that many of the people beaten by OMON (riot police) may suffer disabilities for a prolonged period of time and confirmed some of the scariest stories told by victims of police brutality.
"On the 9th and 10th (of August) majority of patients had bruises and eye traumas, caused by the use of flashbang grenades by the police. Ears were strongly damaged. Also, rubber bullets caused damage to the most unprotected places, like eyes. I know one person who's lost sight in one eye… The bullets had been hitting the trachea, chest, intestines, had pierced peoples' bowels. But after the 9th and 10th we started getting patients from Akrescina and Zhodzina detention wards. [that was much scarier]""We now have a patient who was raped by a baton. This is a fact I can confirm. He is now receiving treatment in our facility. This is true."
9:55 am Maksim Znak, a lawyer and member of the Coordination Committee has come to the State Investigative Committee building. He was met by a crowd chanting "one for all and all for one". Maxim has asked not to wait for him near the building as interrogation may take ]a long time: "Interrogation may take even 8 hours" he said.
Yesterday a criminal case on the creation of the Coordination Committee under article 361 of the Criminal Code (calls for actions threatening to National security of the Republic of Belarus) and three out of seven members of Coordination Committee were summoned to the Investigative Committee.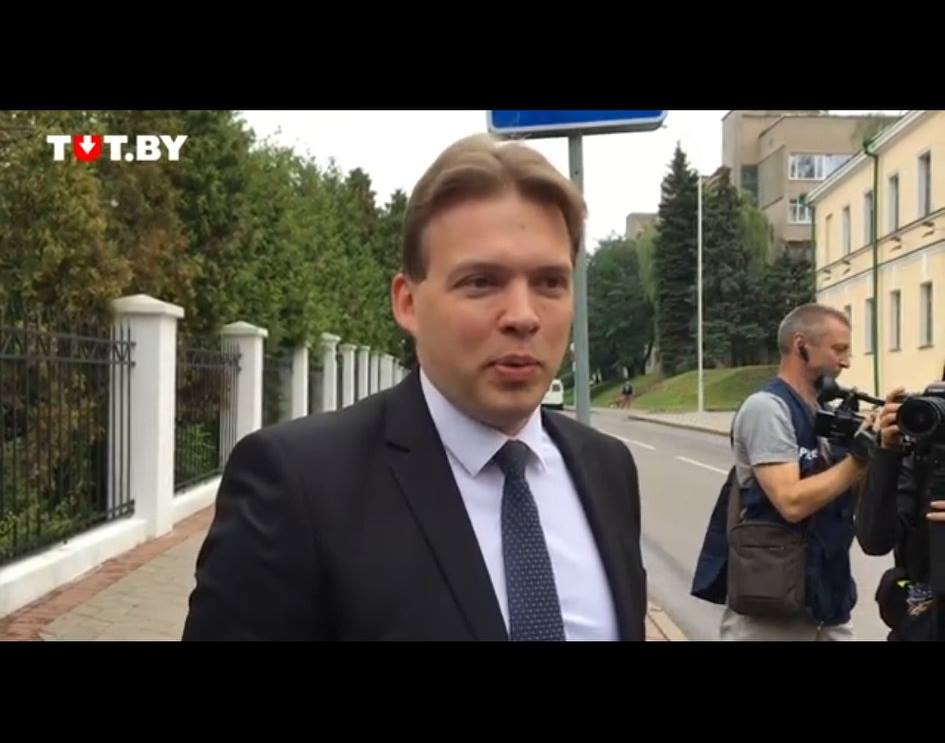 10:19 am Valery Gramada, acting director of Kupalauski theater in Minsk, has confirmed that the theater won't open its season from August 21st and goes on hold. The reason for hold is simple according to him: "Impossibility to organize the performance".
We remind you, that director of Kupalauski theater, former Minister of Culture and acting member of Coordination Committee, Pavel Latushka, has been dismissed after supporting the peaceful protest, which happened after presidential elections and called for the resignation of the current minister of internal affairs Yury Karaev and everyone responsible for cruel treatment of the detainees.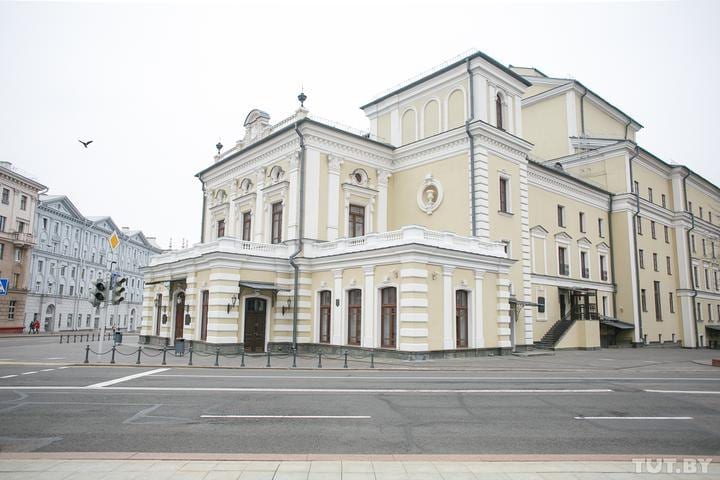 10:30 am At the opening of Belarusian Currency and Stock Exchange, a new fall of Belarusian rouble was recorded.
10:35 am Minister of Sports and Tourism of Belarus Siarhei Kavalchuk released an official statement to the workers of his sector. Kavalchuk asks to keep cool-headed and not to let the emotions take over so as not to "squander" what has been done in the country for "sport, physical culture, tourism and improvement of the nation's health".
In the meantime, new evidence of victims having suffered during the disperse of peaceful demonstrations keeps appearing. One of them told TUT.BY, that some of the detained were marked with white paint on their clothes and hair and that those people were beaten with particular cruelty.
10:51 am Belaruskali's strike committee wrote on social networks that the head of the strikers Dzmitry Kudelevech had been captured by KGB but managed to escape. Supposedly, he is now in Ukraine.
10:56 am Minsk Tractor Works strike committee representative and member of Coordination Committee Siarhei Dyleuski arrived at the Investigative Committee for interrogation.
11:00 am Words of gratitude and support continue to appear under the message by Pavel Liber, department director in EPAM, the biggest IT-company in Belarus. In his message, Pavel "confessed" that he took part in the creation of a platform for alternative vote count at the 2020 election called "Golos", thanks to which the supporters of changes could mathematically prove falsification of presidential elections in Belarus. (Previously the authors of the project had remained anonymous)
"Today we have enough data to say: The presidential election was fully and completely falsified […] We have seen cases of falsification on each 3rd polling station. A new, clean and transparent, presidential election should take place in Belarus."
11:22 am "Technical problems" of the Belarussian Printing House have affected another newspaper. For several days they couldn't print "Komsomolskaya Pravda in Belarus", but today "Nardonaya Volia" wasn't printed either. "They said, the equipment had broken," – told the newspaper's assistant chief editor Marina Koktysh
11:28 am Speaker of both chambers of current Belarussian parliament Natallia Kachanava and Uladzimir Andrejchanka have sent an appeal to the leaders of parliaments of all EU states.
The main idea of the message is that Lukashenko has triumphed the elections with stunning victory and all messages going out of the country are complete fakes: all the rallies – only to support Lukashenko, who has received over 80% of the votes, no facts of mass protest, violence, abuse and atrocities whatsoever.
11:50 am Valery Tsapkala has answered journalists' questions at today's press conference in Warsaw.
Tsapkala has noted that it is important to sustain good relations both with Moscow and with the EU.
"We think that we have to keep everything good we have in relations with Russia […] Russia is our main partner in the politics, economy and social relations," – said Tsapkala.
"We are obliged to build good relations with all of our neighbor countries, three of which are members of the European Union. And we are obliged to regard Germany, the UK, the USA, Canada as important sources of investment and know-how. We should be open to anyone and treat (partners – Ed.) not on "either-or" but rather on "as well as" terms", – he stated.
Valery also reported that he is in touch with Sviatlana Tsikhanouskaya and urged the West to acknowledge her election. "Even though she hasn't reported herself as elected president, we urge western countries to acknowledge her as a legally elected president" – noted the politician.
11:20 am Member of the Coordination Council, Pavel Latushka, announced that he hasn't been summoned to the Investigative Committee for today.
11:50 am Maksim Znak, lawyer and member of the Coordination Council, left the building of the Investigative Committee after being questioned. He said that everything was fine, he had provided the Committee with all the necessary explanations and was going to continue his work.
12:00 pm A post from a MAZ (Minsk Automobile Plant) employee has appeared on social media, saying: "Myself and eight of my colleagues have been summarily dismissed from the plant in an attempt to halt the protests."
12:09 pm Vadim Devyatovsky, the chairman of the Belarusian Athletics Federation, posted on Facebook, "Lukashenko is not my President". Previously, Devyatovsky was a high profile Lukashenka supporter.
12:35 pm At Novopolotsk oil refinery, OJSC «Naftan», the previously announced strike from August 29th has been temporarily canceled. The workers are still demanding Lukashenko's resignation, however. Three and a half thousand employees, out of a workforce of ten thousand, have signed an open appeal to the government. Their main demands remain the same:
The resignation of Lukashenko and the Central Election Committee (CEC)
Stop violence against civilians
An investigation into all incidents of violence and abuse of power
New, fair elections
12:44 pm Sviatlana Tsikhanouskaya held a press conference in Vilnius (Lithuania), where she once again confirmed her position on the main topical issues:
«The elections must be held anew, honestly and transparently.»
"Every citizen of Belarus has the right not to be beaten in the street, the right not to end up in prison without trial, and the right to open and fair elections."
In response to a question about returning to Belarus, Tsikhanouskaya said that she really wants to return and will definitely do so, as soon as she feels it's safe.»
When asked about possible participation in new elections, Tsikhanouskaya said that this issue is "not on the agenda" yet, because "first, these new elections need to be arranged.»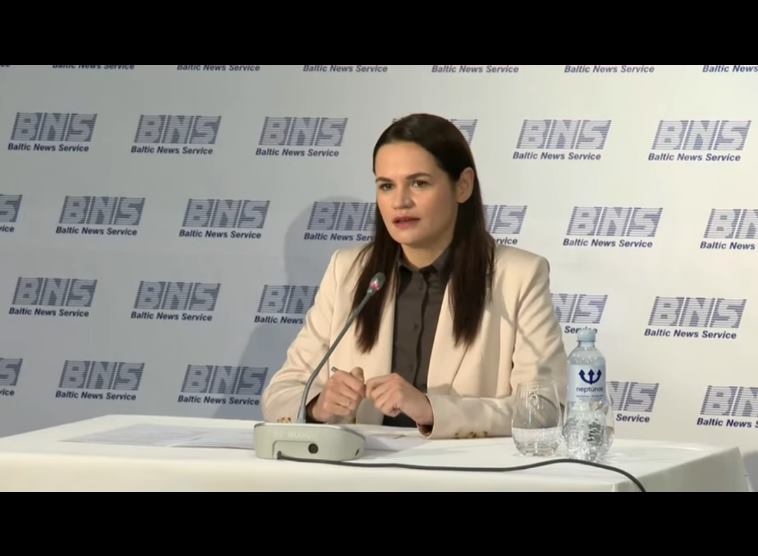 1 pm The State Border Forces of Ukraine are currently employing additional forces on their border with Belarus.
"At the moment, we are protecting the border with Belarus in medium security mode, since the situation in this country is quite unsettling," said Andrei Demchenko, the speaker of the State Border Forces in an interview published today for RBC Ukraine. "When the escalation of the situation in Belarus began, we raised the security level accordingly,» he specified.
1:15 pm The Belarusian Orthodox Church has issued an official statement on the events related to the protests. The church is a subdivision of the Moscow Patriarchate and for many years has held a pro-government and pro-Russian position in Belarus, although some clergymen did not agree with it. But today the church has condemned the violence.
"The Church strongly condemns all forms of violence and expresses the hope that the relevant authorities will investigate all egregious cases of violence. Fulfilling the Savior's commandment about peacemaking (Matt. 5:9), we call for an early restoration of peace, unity and mutual understanding," the statement reads.
At the same time, the Belarusian Orthodox Church called on the clergy not to become involved in the political life of society.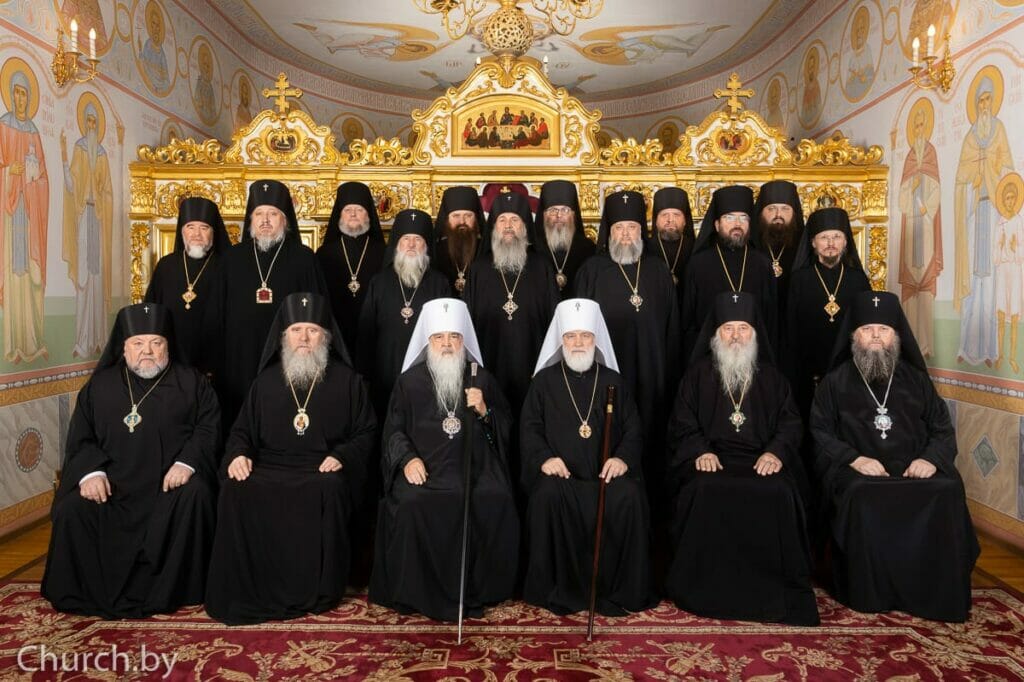 1:30 pm Alexander Konyuk, Prosecutor General of Belarus, accused protest organizers of non-compliance with the procedure for holding mass events. Meanwhile, the prosecutor's office continues to ignore the overwhelming evidence of documented mass torture used by the security forces against unarmed civilians.
2:30 pm The Ministry of Industry of Belarus admitted that strikes have disrupted the work of state enterprises, and factories are trying to recruit strikebreakers to counteract this impact. "Organizations working under the system of the Ministry of Industry need additional labor," the Ministry said. Earlier, Sviatlana Tsikhanouskaya underlined the effectiveness of strikes as a way to put pressure on the authorities. In her morning appeal, Svetlana called on workers to "continue and expand strikes, in order to make the government sitting in their ivory towers hear the voices which they've tried to silence.»
3 pm About 3,600 employees (36%) of the public corporation and major Belarusian oil refinery, Naftan, have signed up to the opposition's political demands, said the chairman of the Belarusian Independent Trade Union, Maxim Poznyakov.
3:05 pm Alexander Lukashenko confirmed that Russian journalists are now working for state TV and radio channels. He said that they were 2 to 3 small groups «from the most advanced television». Those Russians have replaced journalists who resigned from the Belarusian State TV recently.
3:10 pm Lukashenko also spoke about the situation in the Kupala Theatre, where the director (recently fired) had supported the protesters, and the actors claimed their readiness to resign in his support.
Lukashenko said that he had «granted freedom» to the actors, and he would not prevent them from leaving for Europe or the USA, if they so desire. He also added that while the state had previously subsidized the Arts, there will now be "full freedom and market relations". «That's what they've asked for and that's what they'll get", threatened Lukashenko.
3:15 pm Sergei Dylevsky, head of the Minsk Tractor Works strike committee, left the Investigative Committee's building. Dylevsky reported that he was interrogated as a witness in a criminal case regarding "inciting threats to national security" (punishment for which can be two to five years of imprisonment).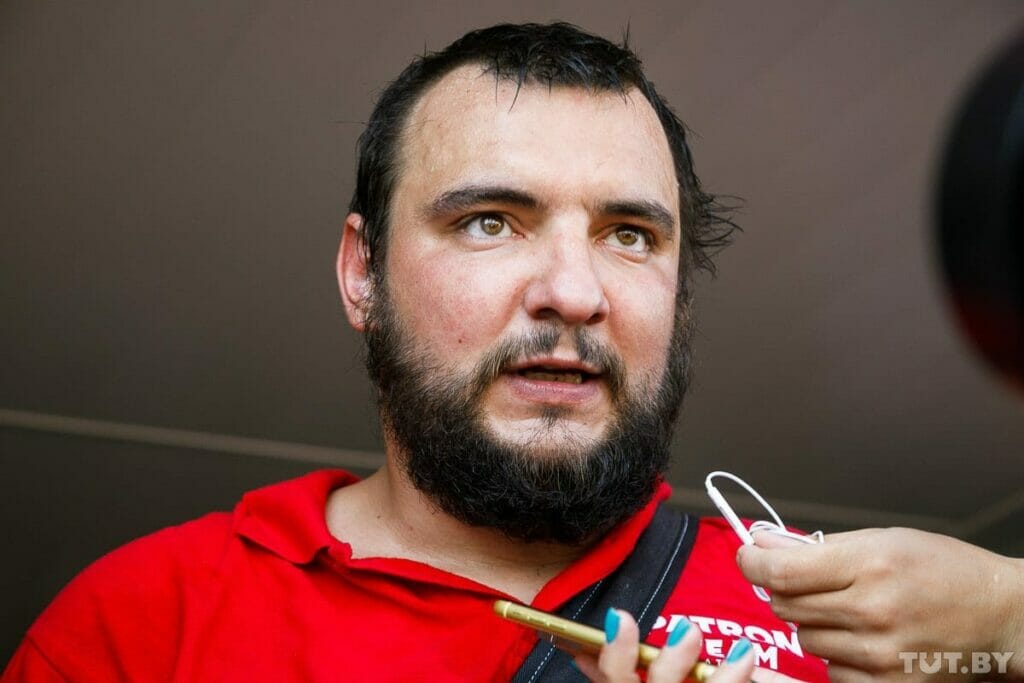 3:20 pm The BBC reported that Vladimir Putin has discussed the situation in Belarus with the Security Council and once again emphasized that there be no foreign interference in the affairs of Belarus.
3:30 pm Nasha Niva reported limited access to the online platforms Golos and Zubr.in in Belarus. Both resources are involved in collecting evidence that the presidential elections were fraudulent.
3:35 pm Lukashenko has accused Poland, Lithuania, and the United States of being behind protests in Belarus. During his visit to a large agricultural holding today, Lukashenko unexpectedly announced that «multiple foreign powers are threatening Belarus». Poland is apparently threatening to invade from the West, to «cut off» the Grodno region. Another danger is Lithuania, where Svetlana Tikhanovskaya is in exile. He later accused the United States of directing the protests, saying the Americans want to "turn Belarus against Russia".This is a remarkable about-face from Lukashenko, considering that shortly before the election, on August 9, he accused Russia of attempts to destabilize the situation in Belarus. He even claimed that Russia had sent three hundred private soldiers to infiltrate the country.
3:40 pm Large-scale tactical military exercises in the west of Belarus from 28 to 31 August, the Ministry of Defense of the Republic of Belarus announced.
4:05 pm Some of the currency exchange points in Minsk are reported to have run out of foreign currency. The exchange rates have soared; the Belarusian ruble keeps falling.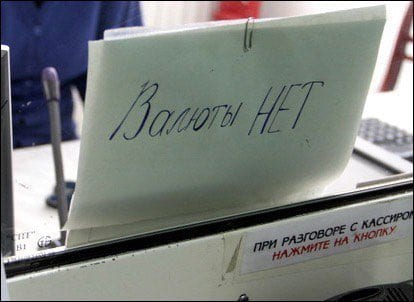 4:15 pm TUT.BY reported that two more members of the Belaruskali strike committee couldn't be reached by phone or other means of communication. The members are married couple, Alesya and Vladimir Loginovs, and were last heard from this morning. Yesterday, KGB officials detained two other strike leaders, Dmitry Kudelevich and Maxim Filatovich. Kudelevich managed to escape through a window and is thought to have fled to Ukraine.
4:50 pm Pavel Latushka, diplomat and former Minister of Culture of the Republic of Belarus, who was recently dismissed from the position of Director of the Kupala Theater due to his support for the protests, appeared live on Radio Svaboda (Radio Free Europe/Radio Liberty).The main points:
The elections were fraudulent and new ones must be held
The point of no return has been passed, most of all in the hearts and souls of the Belarusians
People are traumatised by political crises and police violence
When asked whether he was willing to run for President or the Prime Minister's position in the new elections, Latushka replied that this couldn't be discussed until the crisis has been resolved.
5:20 pm Multinational media company, Viber, is considering a possible decrease in investment in the country. In the first four days of the protests, the state blocked the internet. This created serious problems for the Viber messenger service in particular. Moreover, two of the company's employees were detained for no reason. "They weren't even among the protesters", said the company's Director General.
5:25 pm The lawyer representing Vlad Sokolvsky informed TUT.BY that he has been arrested again. Sokolovsky is the DJ who was arrested for playing a popular protest song calling for change during a city event before the election. The reason for the new detention is unknown.
5:35 pm Almost half (668) of the employees of Grodnoenergo, the largest energy company in the west of the country, petitioned the authorities with the following political demands:
Respect the constitutional rights of citizens
Hold new elections
Prohibit the police from using weapons against civilians
Punish those responsible for the violence
Free all political prisoners
5:40 pm In Minsk, people are starting to line up in a so-called «Chain of Repentance». A human chain will stretch from Kurapaty (a mass burial site of those shot during Stalin's repressions) to the now infamous Akrescina detention centre, where protesters have been imprisoned.
6:38 pm The regime is launching a brutal crackdown on the striking workers. According to the strike committee of Belaruskalii, the names of two of its members who have disappeared, spouses Alesya and Vladimir Loginov, were found on the detainee list of the Soligorsk police office.
6:54 pm The Voice platform has published a report calculating and analysing the results of the presidential elections in the Republic of Belarus.
7:47 pm Lukashenko has promised to fire all the striking miners and replace them with Ukrainians. "There are tons of them — unemployed," he says. According to Belarusian journalist Franac Viacorka, Lukashenko is risking a lot by attacking Ukraine, and demonizing Ukraine's Revolution of Dignity. Many Belarusians actually sympathize with Ukraine. Viacorca goes on to say, «Loyal Russians came instead of striking Belarusian TV journalists. Loyal Ukrainians will come instead of striking Salihorsk miners. Only 9.5 million more Belarusians have to be replaced by loyal foreigners, and then Lukashenko can sleep peacefully!»
8:00 pm Instead of meeting the Coordination Council and negotiating the peaceful transition, Lukashenko has decided to meet the OMON riot police who were intimidating and torturing the protesters last week. Lukashenko promised to "solve" the situation in the country in the coming days. The violence that OMON inflicted on the people remains the number one talking point in Belarus. Hundreds are injured and being tortured. Some of them will live with disabilities their entire lives. Some of them are recovering after surgery and can not speak. Some are still missing.
8:14 pm Protests continue both in Minsk and the provinces. Drivers are honking and blocking roads in downtown Minsk. Meanwhile, activists are forming a human chain from Kurapaty to Akrescina prison, where many of last week's atrocities took place. Kurapaty is an important landmark in Belarusian history. Between 1937 and 1941, it was the site of mass executions of the Belarusian people by members of Stalin's secret police (NKVD). People want to highlight the similarities between Stalin's and Lukashenko's crimes.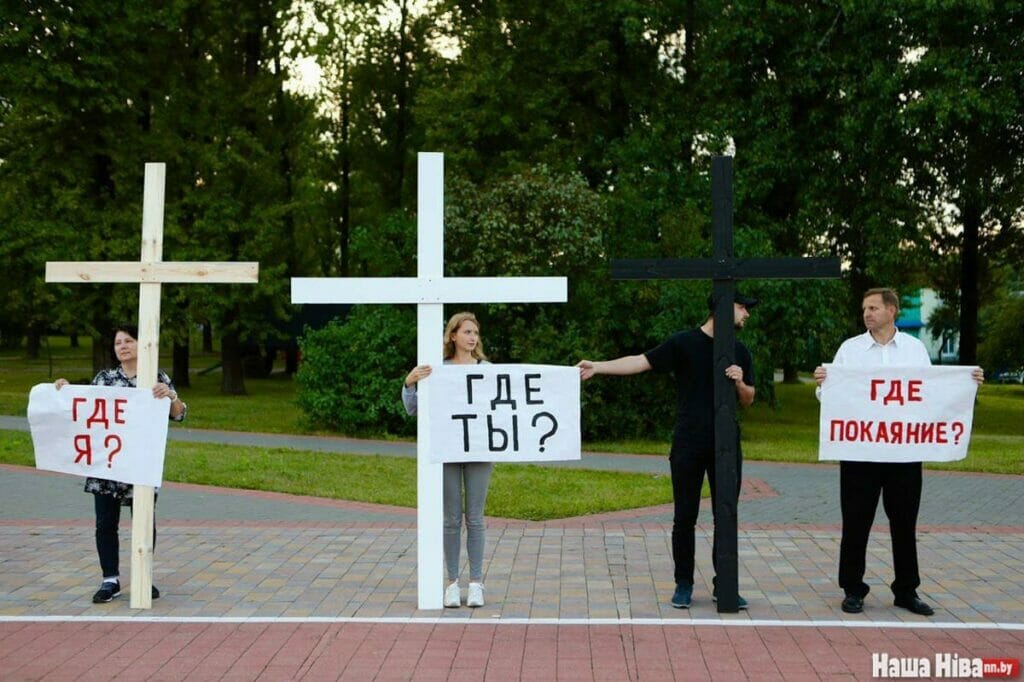 8:18 pm Vadim Devyatovski, head of the Belarus Athletic Federation, spoke to Tribuna.com about his public Facebook post. He stated: "My previous stance was a wrong one. I have been betraying myself. This matter is extremely important to me. The statement I made on Facebook is my actual opinion. No, my account was not hacked. Now everything seems crystal clear, and when I posted it, I felt greatly relieved. Why did I do it? Because it is the truth. Please believe me: the post reflects my genuine view of things." It should be noted that Devyatovski was a high profile Lukashenko supporter. In a further twist, state owned channel STV very promptly reported that Devyatovski was allegedly having a nervous breakdown in hospital and he was pressured into making the statement.
8:23 pm The president has stated that he, together with the government, merely assisted Sviatlana Tsikhanouskaya to leave the country. He said: "We did it at her own request. She is an ordinary woman who loves her children. She was abandoned in the middle of smoldering ruins and is still trying to fuel the fire. She is being deceived and confused by the [Lithuanian] Ministry of Foreign Affairs and the special services, so now she's started releasing statements. This is just one more source of unrest. It is impossible to list all of them, because they are everywhere – from America to Warsaw". [Source: BelTA]
8:30 pm Facebook, YouTube, and Telegram are flooded with low-quality propaganda against Tsikhanouskaya. They offer money to independent TG-channels if they post it.
8:45 pm Today, opposition member and lawyer Maxim Znak filed a complaint with the Supreme Court of Belarus, seeking to invalidate the election results. The campaign staff of Victor Babariko have collected 25 folders with evidence of election fraud. Znak also appeared before the State Investigative Committee.
9:00 pm The members of the Mozyr Oil Refinery sports team published a video statement accusing the government of vote rigging in the presidential elections:"We are not alcoholics, drug addicts, sheep, dumb teenagers or worthless people! We have a decent income and social benefits. We love Belarus and our native language [….] our votes were stolen. This injustice is eating away at us, and it cannot be forgiven. We want change! We are the youth, and this is our future. You don't get to decide for us!"
9:15 pm Two Russian journalists (working for Radio Svaboda ) have been detained in Minsk. Yulia Vishnevetskaya and Andrey Kiselev are currently being interrogated. Also, a reporter for Belsat TV Jauhien Merkis, has been arrested. The editorial team of Radio Svaboda notes that the journalists' press credentials were issued by the Belarusian Ministry of Foreign Affairs.The government continues to ban many foreign journalists from entering the country, citing their lack of credentials.
9:16 pm Authorities are organizing pro-Lukashenka rally same time. Cars are driving around Minsk with Russian and Belarus official flags.
9:17 pm The above-mentioned Russian journalists, Yulia Vishnevetskaya and Andrey Kiselev, are facing deportation from Belarus. They will be banned from entering the country for the next five years. Reporter of Current Time, Veniamin Trubachev, is being deported to Ukraine. Other reporters have also been detained in Minsk. @USAGMgov @RFERLPress
9:23 pm Another member of the strike committee of the Belaruskalii Plant, Pavel Sechko, is reported missing. During a phone call made earlier, he said that some people were talking to him. When asked if they were representatives of the security forces, he answered: "Not exactly. I will call you later". After a while, he messaged back saying that he was taking a break and he would be in touch later. At the moment, his phone number is unavailable.
9:54 pm Thousands of flashlights in Independence Square. People are singing.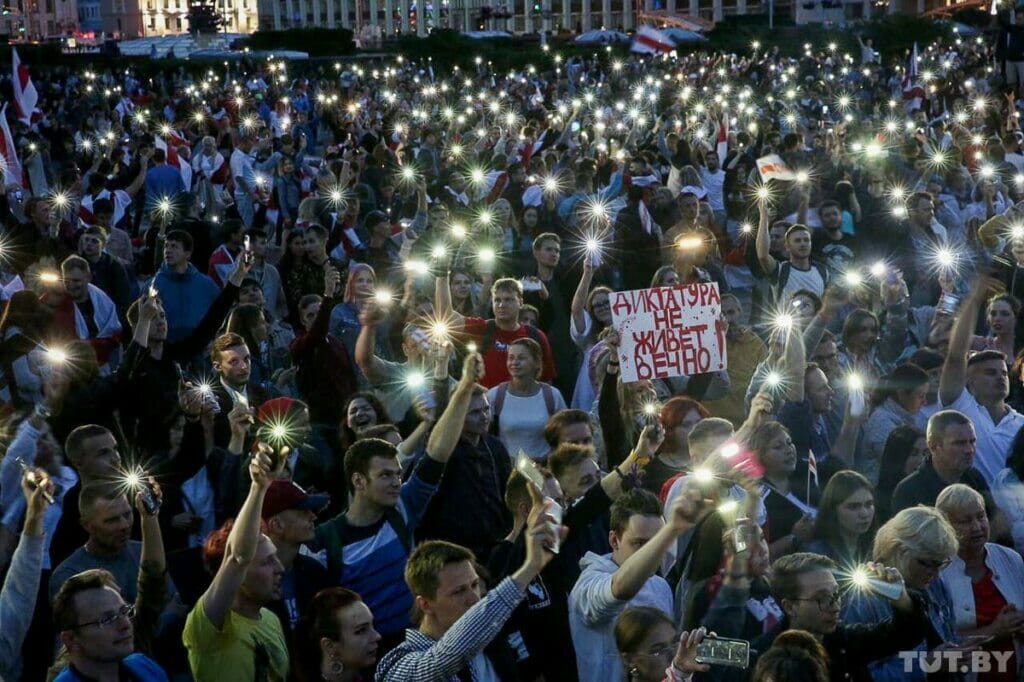 10:00 pm RIA Novosti posted some statistics from the Ministry of Internal Affairs. As of today, 46 criminal cases have been initiated against protesters for alleged violence against the police. There isn't yet a single case against any members of OMON (the riot police) for assault and torture of protesters, even though the Ministry of Internal Affairs has also reported that the total number of the detained during the first days of the protests was over 6 700 people, and according to the numerous witness accounts in independent media reports, most of them were tortured and abused.
10:10 pm The "[Human] Chain of Repentance" demonstration ended in Kurapaty [area on the outskirts of Minsk where a vast number of people were executed by the Soviet secret police between 1937 and 1941]. Protesters ended the rally with a prayer for the release of political prisoners led by the pastor of the Minsk Protestant Church. Several thousand people took part in the event.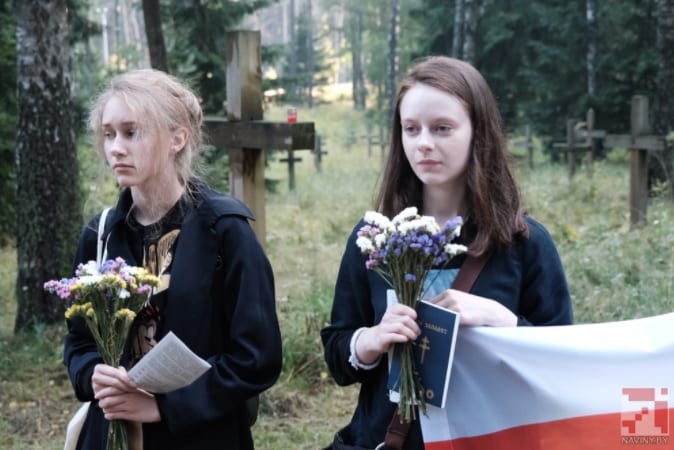 10:20 pm Today's rally on Independence Square in Minsk amassed about ten thousand people.
10:40 pm Svetlana Tikhanovskaya, in her exclusive interview with Belsat, said she believes that the crisis in Belarus must be resolved without any outside interference. She also said that she wasn't going to run for president in case of new elections.Earlier this month, Svetlana Tikhanovskaya was forced to leave the country because of threats from the authorities.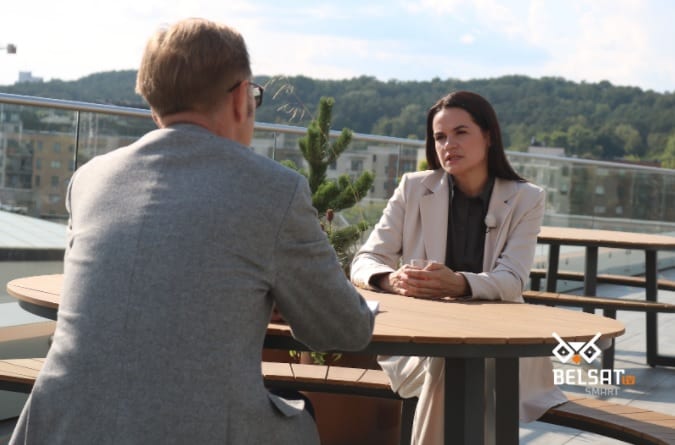 10:50 pm The head Miner' Union of Ukraine said the Ukrainians will never become strikebreakers and wished Belarusians to defend their rights. This was his response to Lukashenko threatening strikers at Belaruskali to hire Ukrainian miners.
11:05 pm BBC reports that people cannot access the website of the Radio Liberty in Belarus. Telecommunication provider MTS responded that the site had been blocked by the decision of the Ministry of Information.In general, there have been reported 73 Internet sites that cannot be accessed from inside the country. The list includes:
Euroradio – international radio station
Belsat – a Polish free-to-air satellite television channel aimed at Belarus.
Tribuna – sports website supporting the opposition
Golos – a platform collecting evidence of fraudulent elections
Zubr – elections' monitoring website
AFN – the broadcast service operated by the United States Armed Forces
UDF – website of the United Democratic Forces of Belarus
Virtualbrest – informational portal of Brest
Vkurier – informational portal of Vitebsk
11:10 pm Journalists of the Russian office of "Radio Liberty" have been released today. Yulia Vishnevetskaya and Andrei Kiselev were detained in Minsk on Friday at the entrance of the Minsk Tractor Works plant. They were recording a video of the volunteers distributing leaflets among the plant workers.Upon the release, they've been deported and prohibited to entry into the country for five years
11:45 pm A member of Belaruskali strike committee, earlier detained Pavel Sechko, is said to be released. "He is at home with the family. The health is Ok. He sounds well", – says the message on the committee's Telegram channel.