18 October 2020 | Infocenter Free Belarus 2020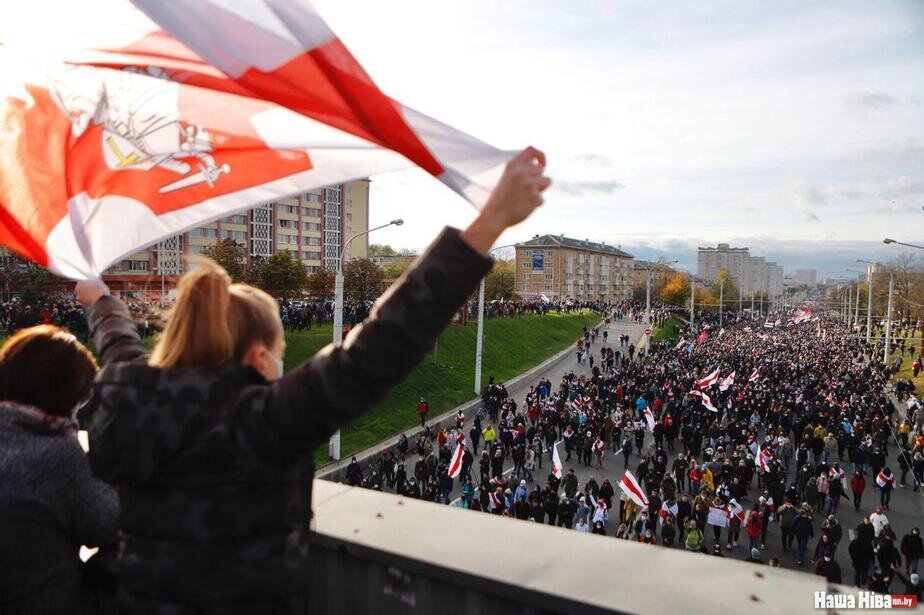 7:50 am The Partisans' March is taking place today. Protesters continue to peacefully demand the execution of three requirements of the People's Ultimatum: Lukashenko's resignation, freedom for political prisoners and the investigation of crimes against civilians committed by the security forces.
7:51 am A white-red-white flag the size of a multi-storey building (36x71m) is displayed in the residential complex Cascade in Minsk.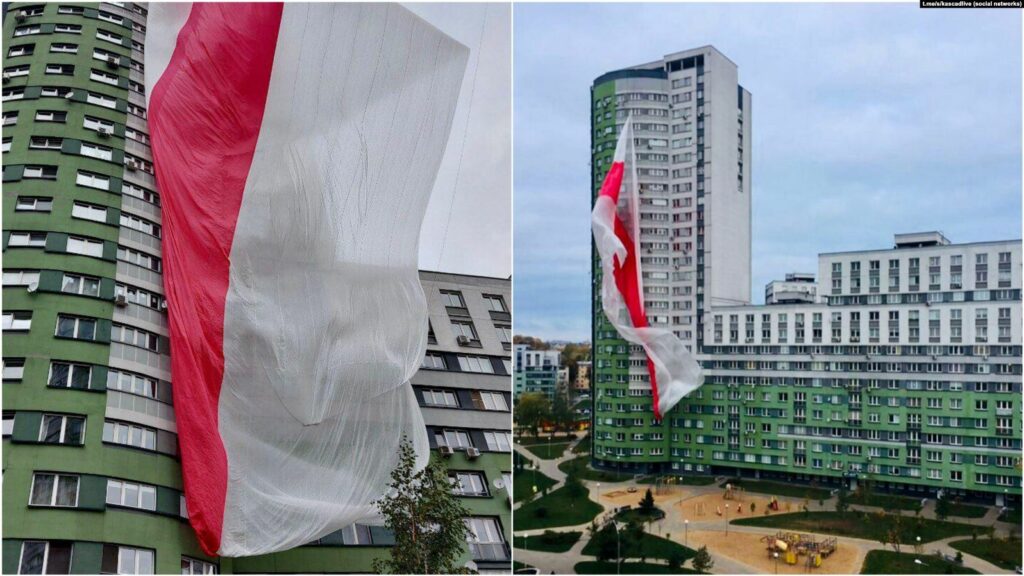 8:06 am Minsk. In the Uskhod district of Minsk, the main road was blocked with the slogan: "Pass on if you support arrests and abuse". A Radio Svaboda reader reports this news.
8:58 am Sviatlana Tsikhanouskaya addressed Belarusians today: "The fact that Illia Salei is at home and not in a pre-trial detention centre is good news. It is the result of our peaceful pressure on the regime.
"We have put forward the People's Ultimatum demanding that Lukashenko accept his resignation, that the violence ends and that all political prisoners be released. Let us continue to voice our demands in a peaceful and persistent way – it is working. We will stop only when every political prisoner is released, when the security forces begin to protect the Belarusian people and when the law and fair elections return to Belarus.
"Until that happens, we will continue to protest. Today, at the Partisans' March, Belarusians will once again show what solidarity is. I support everyone who joins this March."
9:05 am Radio Svaboda readers are sending in their pictures. It is Sunday and Minsk is again filled with military specialised equipment, which can be seen on Partisan Avenue, Aerodromnaya Street and Filatau Street.
9:10 am Dzianis Yakshtas, the "Motsnye Naviny" journalist, has not been freed today following his 15 days of detention.
A new administrative case has been initiated against him and he will continue to remain in custody at the pre-trial detention centre until the next trial.
9:14 am A Belsat reader informs that the military has started putting fencing up around the Stele (Minsk Hero City Obelisk), regardless of the fact that the March is not planned to take place near the monument.
9:25 am A basketball match of solidarity with Belarusians took place in St. Petersburg. The Pavel Sevyarynets team scored a draw against the Mikalai Statkevich team.
9:39 am The police are searching for the administrators of the "Pinsk for living" Telegram chat. On 16 October, the properties of 4 Pinsk residents were searched and their property items were inventoried by the police.
9:43 am The Ministry of Internal Affairs of Belarus informs that 58 people have been detained, allegedly, for violating the legislation on mass gatherings in Belarus on 17 October.
Thus, according to the information available on 17 October, at least 14,609 people have been detained in the country since the start of the protests against the falsification of election results.
10:01 am Early this morning, Smarhon residents are marching with white-red-white flags and singing the "Mury" song, as reported by Nasha Niva readers.
12:05 pm A group of Belarusian programmers has developed a new mobile application for monitoring representatives of security forces.
https://silovik.tk/ is an interactive map of the location of Belarusian security forces. Anyone can easily add information about who, where and what they saw.
"I would very much like it to help our common cause. This can help someone avoid an unwanted meeting or, conversely, allow this meeting to take place if desired," the author of the application writes.
12:20 pm Oktyabrskaya Square in Minsk is covered with metal fences, with security officers along the perimeter. Many of them have stickers of the official flag on their helmets.
The parking lot on the side of the Palace of the Republic is fenced with a red ribbon. At least 20-30 security officers are under the canopy of the palace, with some resting on benches.
12:40 pm Readers of independent media report that many police vans, buses, military equipment, OMON riot police and police officers are in different districts of Minsk.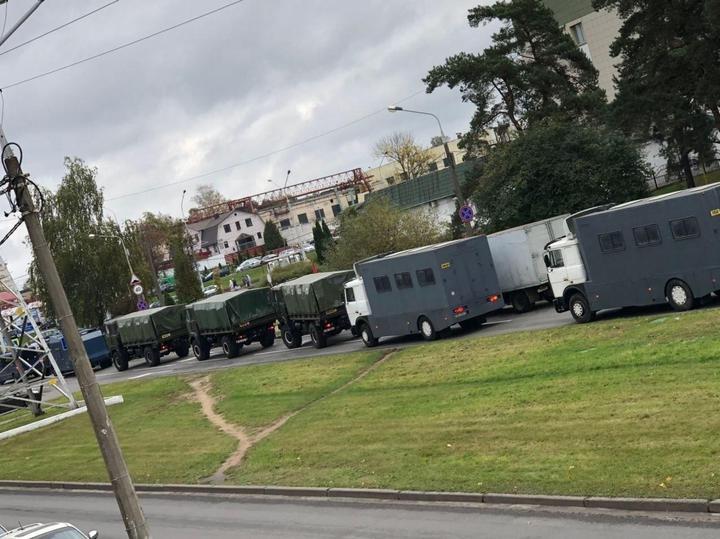 1:00 pm The Gallery shopping centre in Niamiha is closed all day today. Two shops next to it, "Kommunarka" and "Ramonak", are open "for technical reasons" from 2:00 pm to 5:00 pm.
1:20 pm The Minsk metro reported that at 1:15 p.m., "in order to ensure the safety of passengers", the metro stations Lenin Square, Oktyabrskaya, Kupalovskaya, Niamiha, Pervomaiskaya and Proletarskaya were closed for entry and exit.
1:45 pm Mobile internet is being traditionally turned off in Minsk. Telegram channel Nexta posts a request to residents of houses adjacent to the route of the March to remove passwords from their WiFI routers.
2:00 pm Current situation in the centre of Minsk:
Oktyabrskaya Square is fenced and security officers are on duty all around the square.
There are about a dozen units of special equipment, including a water cannon, next to the Presidential Administration building.
Independence Square is surrounded by metal fences and police buses are parked near the Government House.
Law enforcement officers are on duty in front of the KGB building on Dzerzhinsky Square.
Traffic on Komsomolskaya Street is restricted.
On Independence Avenue, security forces are blocking the passages to some yards and control the streets leading to the avenue.
2:15 pm The first detentions happened near the Partizanskaya metro station: security officers rushed across the road after young people.
2:25 pm Participants of the Minsk protest rally are gathering in small groups of three or four people along Partizansky Avenue. Cars are honking in support.
Several police vans are driving along Partizansky Prospekt towards Lenin Street.
2:30 pm Home internet in Minsk also works poorly. VPN helps to get access to Telegram, but intermittently, reports @motolkohelp.
2:35 pm In Mahiliou, security officers are traditionally on duty in the city centre.
There are vans and buses, with policemen, parked outside state institutions. Witnesses report that law enforcement officers are inside the buildings as well. Protesters have not yet gathered in a single column. People are reported walking in the city centre without symbols, in small groups.
2:40 pm People are gathering and moving towards Partizansky Avenue from all over Minsk. The media reports that so far there are about 1,000 people in the column at the Prospekt and people are chanting, "Long live Belarus!"
2:50 pm The column of protesters on Partizansky Avenue has grown to about 5,000 people. People are walking along the road.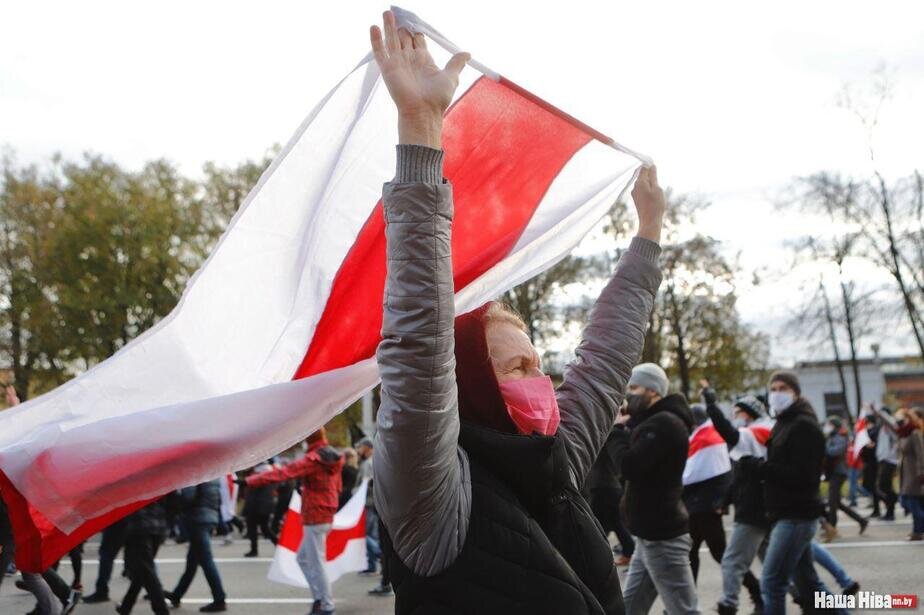 2:52 pm Groups of people are constantly moving along Sverdlov Street towards Partizansky Avenue. The traffic on the avenue has been blocked. On Independence Avenue, all the turns towards Partyzansky are controlled by security officers.
2:55 pm More than 10 people were detained near the Dynamo stadium in Minsk. A listener of @euroradio, who has been detained there, was able to call the media from the police van where he is now.
3:00 pm The column of protesters carrying flags is moving along Partizansky Avenue, chanting slogans.
3:09 pm Telegram channel @motolkohelp reports that the M4 Highway is blocked at the entrance to Minsk. This highway turns into Partizansky Avenue, which is where the protesters are currently walking.
3:10 pm @Nashaniva correspondents estimate the number of protesters today in tens of thousands; there certainly is a sea of people out in the streets today.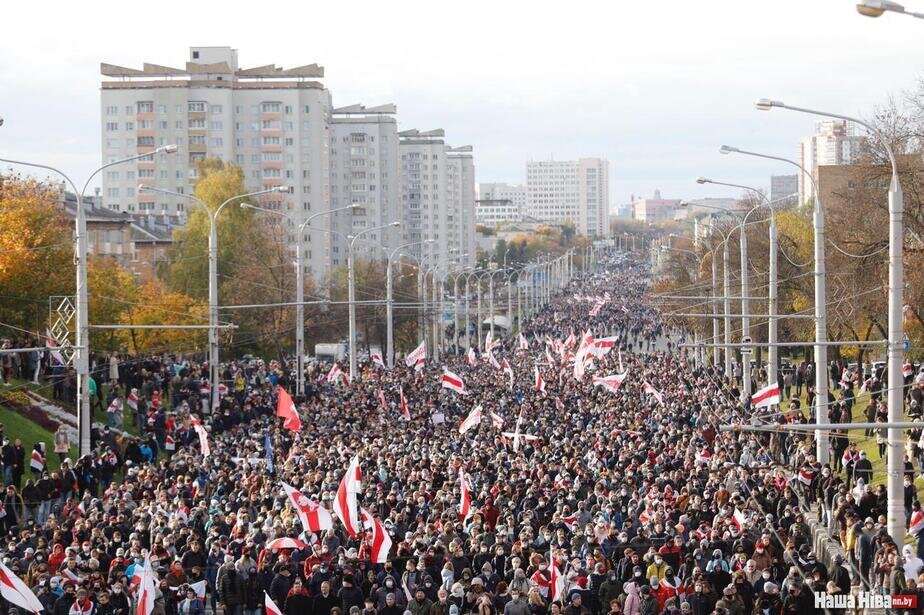 3:12 pm Detentions have started on Partizansky Avenue.
3:15 pm The Cyber Partisans have started fighting the Internet blockade in Belarus. They prepared a link to proxy servers, which allows Belarusians to use the Telegram app while the Internet is partially blocked by the authorities.
3:18 pm TUT.BY readers spotted several armoured vehicles with assault barriers and vehicles with barbed wire at the "Belarus" department store. The vehicles drove towards the Moscow Ring Road.
3:22 pm Metro stations Kupalovskaya, Oktryabrskaya, and Lenin Square were reopened.
3:27 pm Minsk. A few minutes ago, unknown people in civilian clothing came to TUT.BY journalist Yana Siyonikhina's home. They demanded that she open the door and hand over Scherbakova's passport. Neither Siyonikhina nor her boyfriend who lives with her knew anyone named Scherbakova. The apartment owner's name is different. After Siyonikhina refused to open the door for the strangers, they left saying: "We will make a call then…" It's possible that they will attempt to break the door. The lawyer is already on his way.
3:28 pm Among the protesters, journalists spotted Gennady Bykov, one of the former leaders of the independent labour movement. He said he came to the demonstration today, outraged by the security forces' statement that they would use weapons against the people. Bykov took part in many worker demonstrations in the 90s. Later, he led the Free Trade Union.
3:30 pm An armoured personnel carrier with security officials was spotted in one of the courtyards on Partizansky Avenue.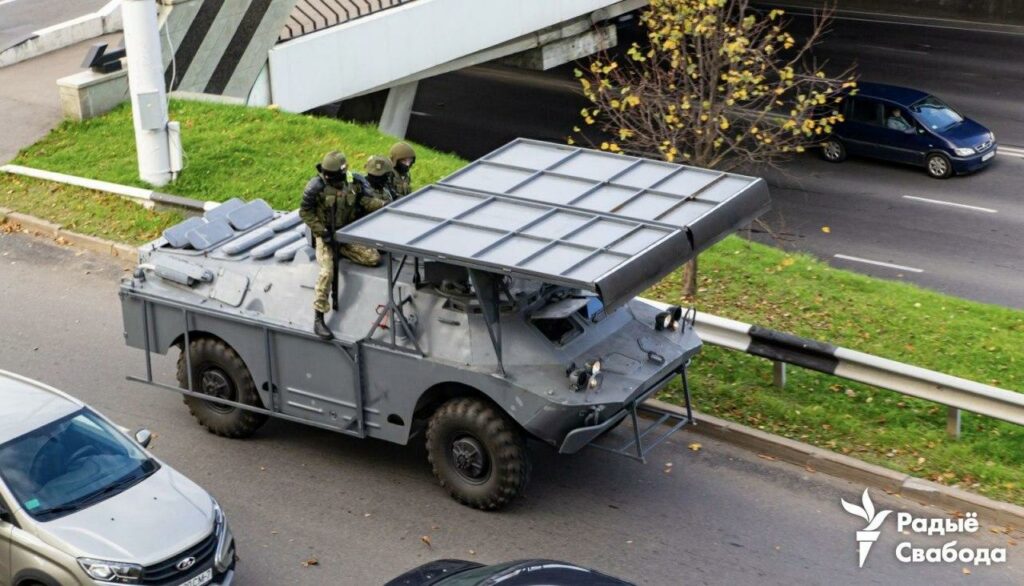 3:36 pm KYKY.org readers write: "A police round-up near 19 Partizansky Avenue, 10 people taken."
3:39 pm The front end of the protester column reached the bridge near the Belarus department store. People are chanting: "Let's wait!", and are waiting for the end of the column to catch up.
3:40 pm A few minutes ago, TUT.BY readers spotted a column of drummers at the very beginning of Partizansky Avenue. They are trying to catch up with the main protester group.
3:46 pm Security forces seized a group of people. They were standing arm in arm against the wall of a house; they were gassed and grabbed by five men. People are washing their eyes. People living in the house are throwing down water bottles.
3:50 pm The front end of the column reached the "Belarus" department store near the Partizanskaya metro station.
3:52 pm The traditional Ministry of Internal Affairs warning about violating the legislation of public events is played from the "Belarus" department store loudspeakers. People meet the warning with whistles and shouts: "Join us!" – addressing those who are watching the demonstration from the windows. They also chant: "You are incredible." The column is stretched from the department store to Vaneev Square, and is now moving towards Avtozavodskaya metro station.
3:53 pm A small column has formed in Brest; people are walking down Sovetskaya Street and chanting: "Long live Belarus!"
3:57 pm A few dozen people formed a column on Sovetskaya Street in Homel. OMON riot police met them at the intersection with Irininskaya Street. Individual arrests are reported.
4:00 pm Detentions continue at the beginning of Partizansky Avenue. Unknown individuals in balaclavas randomly grab people walking along the sidewalk.
4:03 pm Minsk. The security forces blocked off Partizansky Avenue a few blocks away from Avtozavodskaya metro station. They have assault barrier vehicles, water cannons and shields.
Barbed wire across the road can be seen too.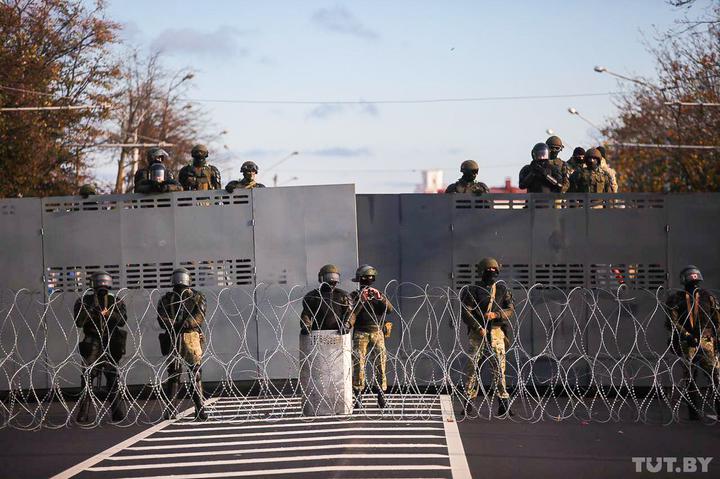 4:06 pm People come running from Kuleshov Street; the dispersal seems to have started there.
4:07 pm The front of the column has reached the security forces cordon. One man came close to the cordon, and was detained. Water cannons are there too. The protesters decided to turn around and go into the opposite direction.
4:08 pm A large column of military vehicles is moving along Independence Avenue.
4:10 pm The entrance to Minsk is blocked at the Mahiliou Highway. Traffic police are stopping all drivers and asking them to show their documents; a huge traffic jam has formed.
4:14 pm The protester column in Minsk is walking back along Partizansky Avenue; now people are back at the "Belarus" department store. Several minibuses with security forces came to meet the column from the city centre; they got stuck among the protesters, turned around and left. Near the department store, claps can be heard, but what it is, no one knows so far.
4:17 pm The Minsk Novosti Agency reports on their Telegram channel that another three metro stations have been closed at the start and end of the Avtozavodskaya metro line: Traktorny Zavod, Partizanskaya, and Avtozavodskaya. Proletraskaya and Pervomaiskaya remain closed. Meanwhile the previously closed stations Oktyabrskaya, Niamiha, and Kupalovskaya are working normally again.
4:22 pm A clash between the protesters and security forces broke out at the "Belarus" department store. Eyewitnesses are sending videos of stun grenades exploding.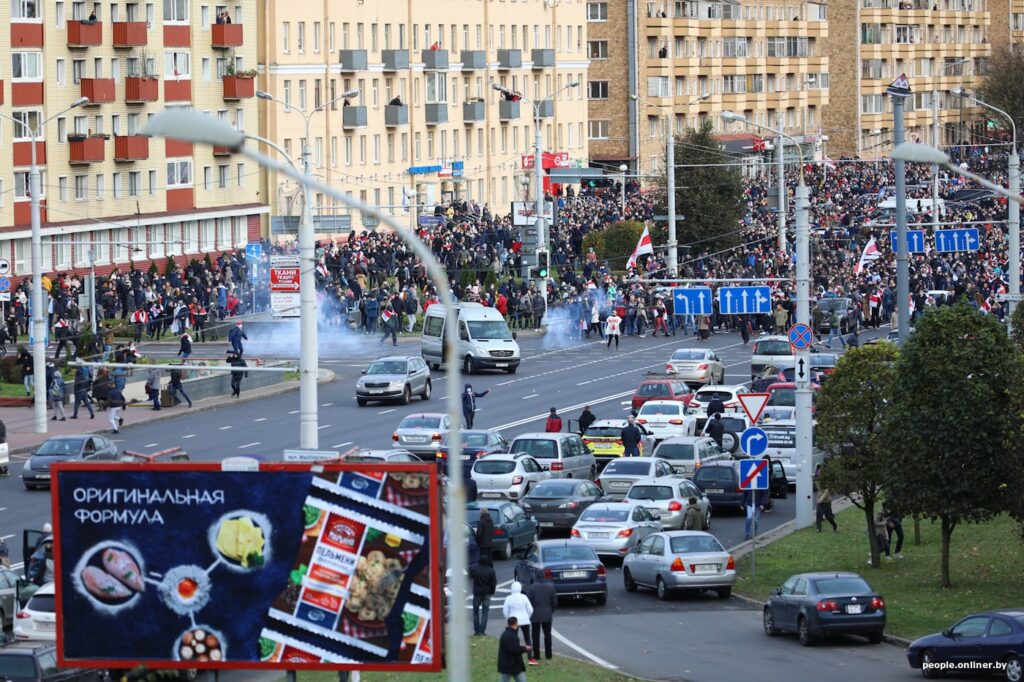 4:25 pm In Brest, around 100 people are walking up and down Sovetskaya Street. So far, there have been no detentions.
4:28 pm Partizansky Avenue has been opened for traffic; now cars are moving behind the column, which is going towards the Proletarskaya metro station.
4:33 pm Now, in the Motovelozavod district, there are so many security officials that their cars occupy three lanes out of four.
4:34 pm Eyewitnesses report that people are gathering at the Hippo supermarket in Homel. OMON riot police and other people, who appear to be plainclothes police, are also there. Currently, at least ten detentions are known to have taken place. Among the detainees is the city activist Valery Slepukhin.
4:35 pm About 15 prisoner transporters and 10 minibuses drove from Partizansky Avenue to Proletarskaya Street.
4:44 pm The protester column has reached Vaneev Square. Most of the column turned towards Serebryanka; some of the people began to disperse.
4:49 pm The Partisans' March participants are asking drivers to drive at 20 km/h with their emergency stop signals on, so as not to allow the security forces to quickly relocate their vehicles.
4:55 pm Minsk police told RIA Novosti that security officials fired rubber bullets into the air several times, as the demonstrators allegedly threw stones at them.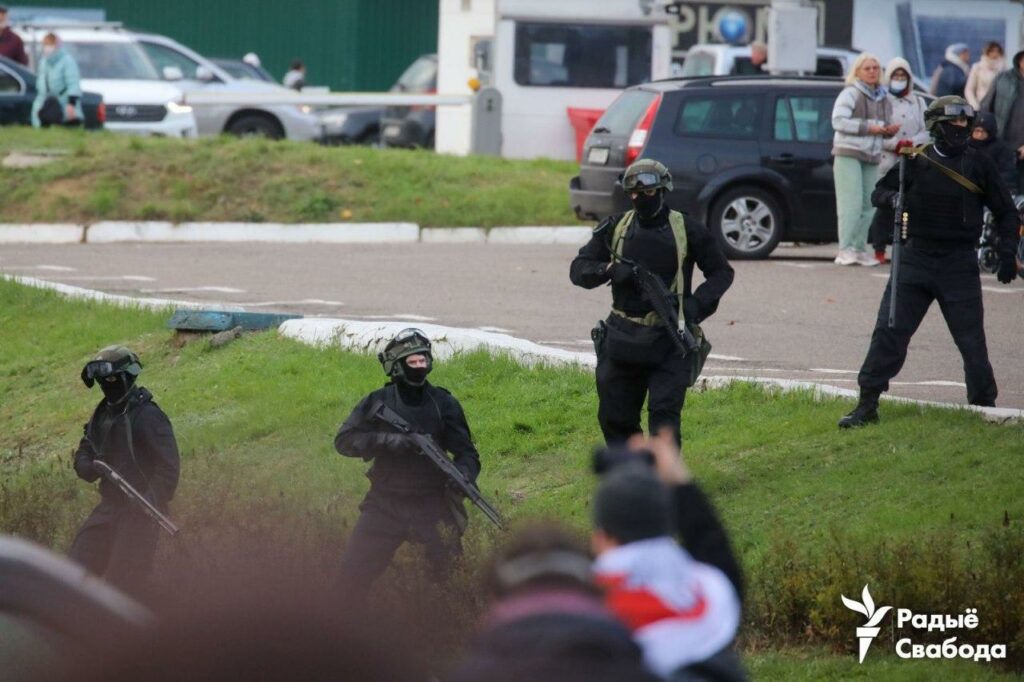 4:58 pm The traffic is being blocked on the path of the protester column. People report prisoner transporters and water cannons are in the streets adjacent to the march.
5:03 pm The protester column is already in the Serebryanka neighbourhood, near the Vostochny bus station.
5:04 pm Telegram channel @motolkohelp reports that assault barrier vehicles are positioned at the intersection of Plekhanov Street and Rokossovsky Street, which the protester column is approaching.
5:07 pm A column of prisoner transporters, military vehicles, and water cannons is moving along Partizansky Avenue towards its start.
5:08 pm Photojournalist for Binokl and Brestskaya Gazeta Roman Chmel and freelance correspondent for Brestskaya Gazeta Maksim Khlebets were detained in Brest.
5:12 pm @belsat reports that the march is coming to an end. People are heading into the city's courtyards.
5:18 pm Individual detentions have started on Partizansky Avenue.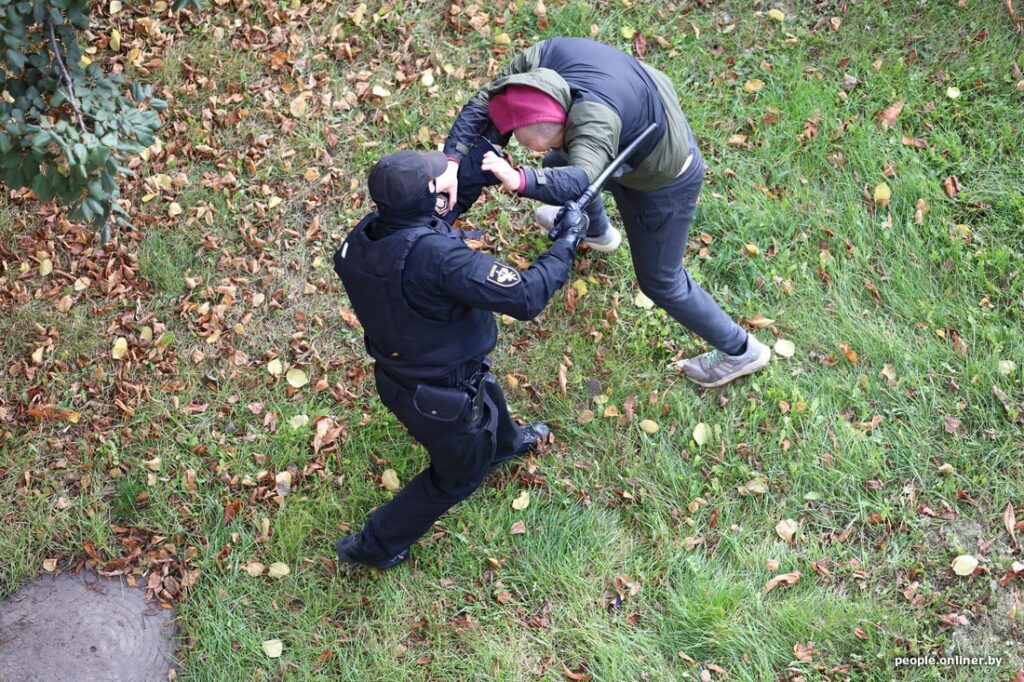 5:21 pm Onliner readers filmed a shot fired from the window of a minibus without licence plates.
5:30 pm All Minsk metro stations have been reopened.
5:45 pm Today's great march has come to an end. A lot of vehicles and security forces gathered in the Malinin neighbourhood. People walked away in small groups.
5:48 pm Near the Chizhovskoye reservoir, security forces are detaining protesters who have not yet returned home after today's march.
5:50 pm Nina Bahinskaya participated in today's march too.
5:55 pm Telegram channel @motolkohelp reports that mobile Internet is available again.
5:57 pm Maksim Khoroshin, the co-owner of "Pervy Tsvetnoy" flower shop who was tortured by police, has left Belarus with his family "for rehabilitation". However, he promised to return in a few weeks.
6:06 pm According to un-registered human rights centre Viasna, over 50 people were arrested today. The list continues to be updated.
6:18 pm At 1:15 pm today, "in order to ensure passenger safety," the entrances and exits to Lenin Square, Oktyabrskaya, Kupalovskaya, Niamiha, Pervomaiskaya, and Proletarskaya metro stations were closed.
Lenin Square reopened at 3:15 pm on the side of the train station, as did Oktyabrskaya, Kupalovskaya, and Niamiha. Traktorniy Zavod, Partiszaskaya, and Avtozavodskaya stations closed.
6:19 pm "Lukashenko, you're a fascist!" is the new protest slogan in Minsk.
6:38 pm 🗣 TODAY IS THE LAST DAY TO VOTE AGAINST THE CONSTITUTIONAL AMENDMENTS!
400,000 Belarusians have already expressed their views.
This is yet another record in independent, modern Belarus – never have so many people taken part in a constitutional debate.
The main requirement for voting on the Golos platform remains the same – first, hold new elections, replace the members of the Electoral Commission with entirely new members, and restore legality to the electoral system – and only then, deal with any changes to the Constitution.
6:59 pm According to un-registered human rights centre Viasna, 90 people were arrested today. The list has been published.
7:49 pm Sviatlana Tsikhanouskaya, Maria Kalesnikava and Veronika Tsepkalo have been nominated for the 2021 Nobel Peace Prize.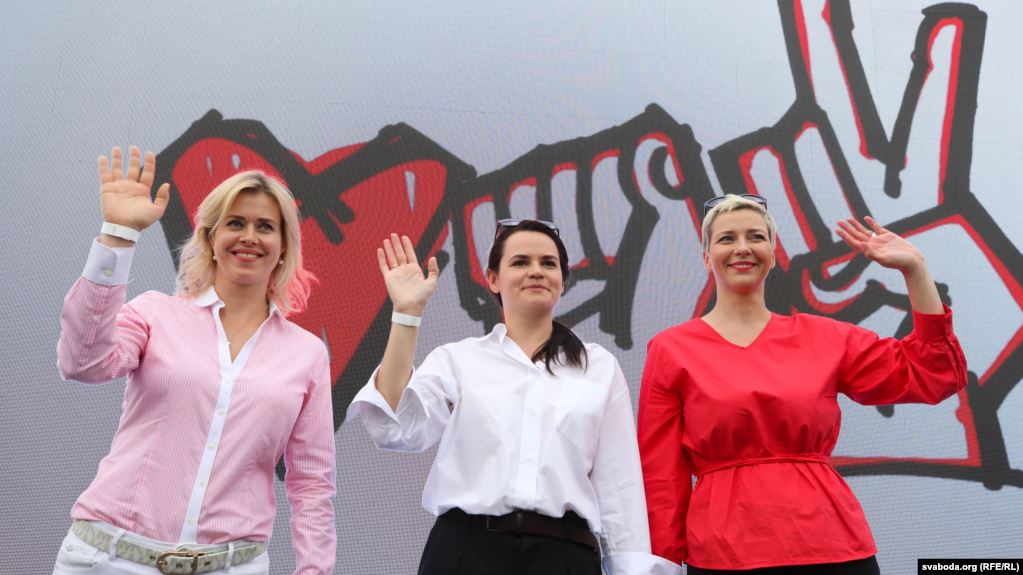 Norwegian MP Geir Toskedal spoke about the nomination in Oslo, stating, "These three women played a key role in the fight against the totalitarian regime in Belarus. For this, they deserve the Nobel Peace Prize."
8:00 pm People have gathered once again for a Sunday march in Brest and Baranovichy. In Zhabinka, they are dancing in a circle on the square.
9:20 pm On 18 October in Mahiliou, residents did not protest in a march. Rather, they took part in "partisan sorties".
Mahiliou's residents no longer gather in the city centre as the OMON riot police have been there for 11 Sundays in a row.
9:52 pm Brest journalists Raman Khmel and Maksim Khlyabets have been sentenced to three days' detention for an administrative offence.
Today, the operator of Belsat, Ales Lyubyanchuk (article 23.4) and Belorusy i Rynok newspaper journalist Artyom Maiorov were both arrested. Silnyh Novosti journalist Denis Yakshtas, of Gomel, was released after two weeks of detention.
Darya Spevak, Vadim Zamirovsky and Vsevolod Zarubin have been held in a detention centre since yesterday.
22:05 pm The head of the Main Directorate for Combating Organised Crime and Corruption, Mikalai Karpiankou, spoke about the rallies and protests on Glavniy Efir on Belarus 1 television station, stating, "The only people still going out are street thugs, the most radical factions; they are being paid off with money, and in some cases, drugs and alcohol."