6 October 2020 | Infocenter Free Belarus 2020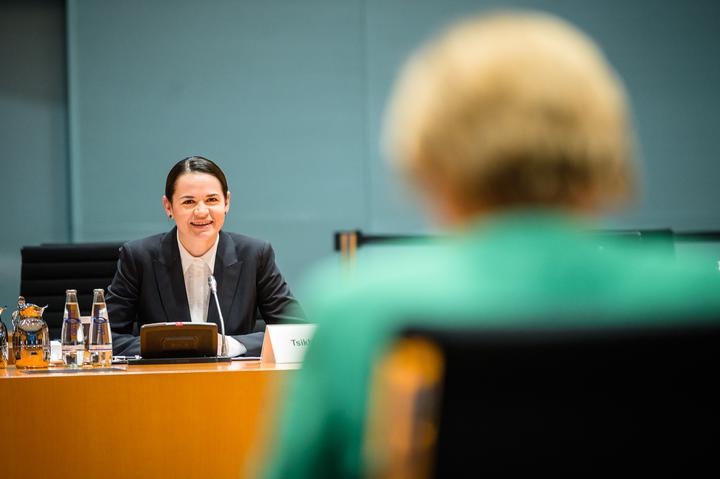 A new morning and a new day of protests begins.
Yesterday, the Polish and Lithuanian ambassadors left the country, and the German ambassador is leaving today. Moreover, the ambassador of Belarus to Latvia was recalled and stripped of his diplomatic rank after meeting the Belarusian community in Latvia and talking about Sviatlana Tsikhanouskaya's victory in the presidential election.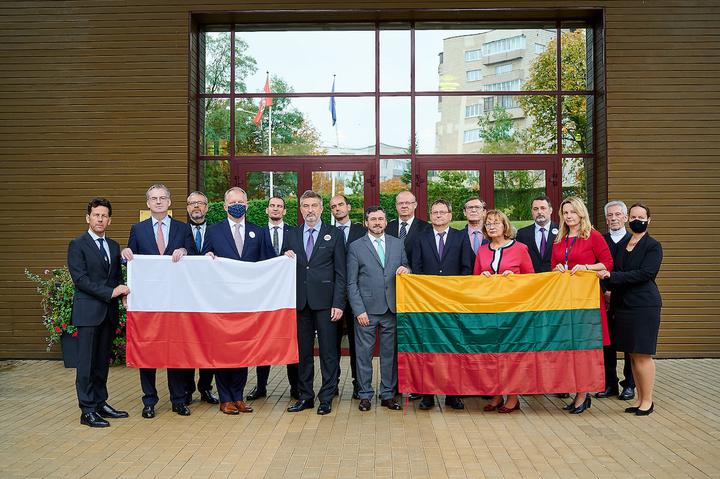 But no one can take away power from the ordinary people. After last night, new white-red-white flags appeared all over the city: on houses, around sports fields, and even in the hands of pedestrians in road signs.
In Vitsebsk, a wall was painted with a new version of Marc Chagall's painting, "The Promenade", with Nina Bahinskaya: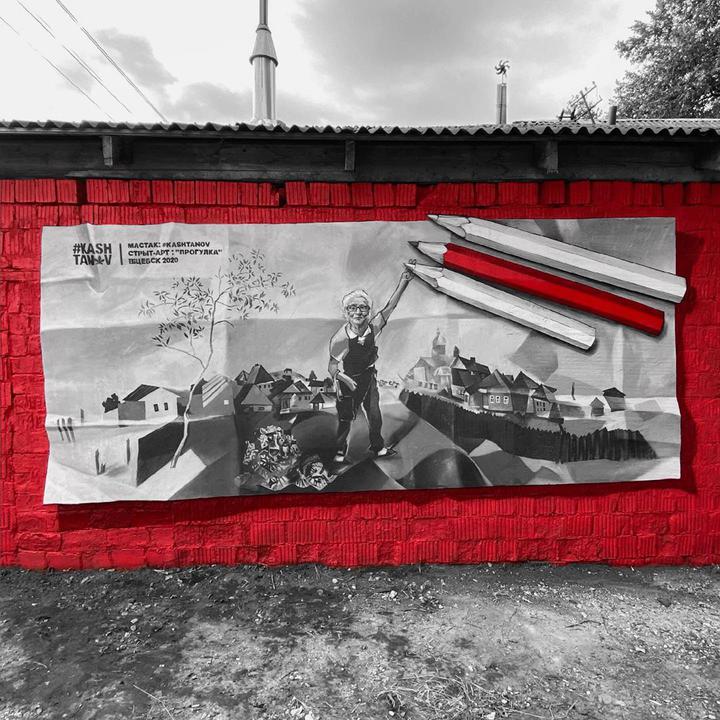 10:30 am Utility workers have already begun to tear down white-red-white flags in Minsk.
11:30 am Sviatlana Tsikhanouskaya held a press briefing with German and international journalists. Here are her answers to the main questions:
Can you be sure that Putin will not repeat the 2014 scenario?
Sviatlana Tsikhanouskaya: At the moment, I cannot be sure of anything. However, I call for dialogue. This is the 21st century, we are civilized people – there is no need for war and blood. It's much easier to sit down and talk. The protests are not controlled from abroad. Nor are they controlled from Russia. A couple of months ago, Lukashenko accused my husband and other people of being coordinated by Russia. Now he has changed his mind and blames Europe.
The thing is, Lukashenko does not understand his people. He does not want to listen to their will. If Lukashenko really wants to know who is to blame, he should look in the mirror.
What will happen to Lukashenko? Will he just leave, be put on trial, or are there other options?
I have two views on this: as a person and as a national leader. I cannot forgive him as a person. However, as a national leader, I must make a decision that will influence the fate of the country. There are different opinions on this matter. Many want him to be put on trial. But I think most will just let him go if he leaves us alone. I think the issue requires dialogue.
What is your role and how do you see your own political future?
I insist on my transitional role. I'm not sure I see a political future for myself (laughs). I didn't want this role for myself. I don't think I will stay in politics after the new election: all of this is too much for me. However, if everything is alright in the country, and one doesn't need to fear for oneself and their loved ones every day, being a politician is probably easier then. I don't know, I've never been one (laughs).
Do you think strikes are still possible, or have they run their course?
Of course they are possible. Right after the election, workers left factories, and the regime got scared. Lukashenko got scared. Because of this, he began to pressure the workers, and, of course, people were afraid of reprisals against themselves and their families. But I know that the workers have not forgiven the violence after the election – and the strikes have changed. Now there are Italian strikes [where workers attend to their workplaces but don't do anything – Translator's note] and self-organized groups in the workplaces. Perhaps they are not so visible, but last week I talked with the workers and I know for sure: their protest continues.
12:10 pm Today at 7 pm, Viktar Babaryka's team will show a video message from Maria Kalesnikava.
12:23 pm Today, Lukashenko discussed the development of the woodworking and pulp and paper industry, touching upon the topic of reforms: "These are reforms – we need to develop and, most importantly, deepen production based on wood resources." This essentially means deforestation.
12:30 pm The Guardian published a 20-minute video on the protests in Belarus: "Three Belarusian filmmakers have recorded the personal stories of those who found themselves in the midst of political unrest."
12:51 pm 2019 Belarusian Athlete of the Year and world freestyle champion Aliaksandra Ramanouskaya was officially fired for absenteeism, the head coach of the national team, Nikolai Kozeko, says. But in fact, Aliaksandra had a force majeure situation – her father suffered a stroke. There was no one to take him to the hospital but Aliaksandra herself. She called in and explained, but no one in the Republic Centre of Olympic Preparation listened.
Earlier, she signed an athletes' letter demanding the authorities end violence and hold a new election. She also joined the Free Association of Athletes of Belarus. Aliaksandra also took part in the video messages to sports officials in which athletes spoke against pressure on athletes for their civic position.
12:55 pm A white-red-white flag was hung up at the Belaruskali 4th Mining Department in Salihorsk.
1:00 pm Aleksandr Tykun, a teacher at the Belarusian State University and a member of the legendary KVN ("Club of the Funny and Inventive People" – Ed.) team, was sentenced to 12 days in jail.
Since Monday (5 October), the rules for receiving parcels have changed in the temporary detention facility and the central police station on Akrestsina Street – now, parcels can be delivered only on Thursdays, says Irina, Aleksandr's wife. Her husband was the first affected by the changes: "Unfortunately, even medicines cannot be delivered. Sasha is hypertensive and he has to take medicine daily for life. Yesterday, we were unable to send his medication in, even with a doctor's recommendation."
1:07 pm Vitaly and Vladislav Kuznechik from Vitsebsk, who jumped over the fence of the Swedish embassy to ask for political asylum on 11 September, still live on the territory of the diplomatic mission. It has been almost a month now.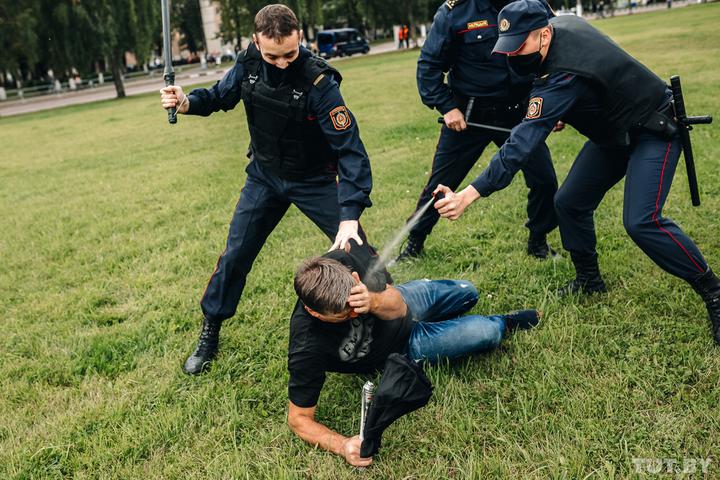 1:19 pm In Hrodna, the authorities did not allow protesters to hold a meeting in Kolozhsky Park even though the space was previously dedicated to public events.
1:20 pm Belaruskali miner Yury Korzun, who had handcuffed himself in the mine in protest, was sentenced to 15 days of imprisonment.
1:21 pm Minsk State Linguistic University students went out to protest and sang the song "Grai".
1:37 pm Today, 6 October, the trial of the "Strong News" editor Anna Yakshtas took place in Homel. She was found guilty of participating in unauthorized mass events.
Anna pleaded not guilty.
1:49 pm The department head of the Republican Scientific and Practical Center for Pediatric Oncology was fined 675 Belarusian rubles (258 USD) for participation in a protest action.
2:19 pm Yesterday, police informants came to the Cascade residential complex to tear down the white-red-white symbols. When local residents tried to stop them, they saw that the unknown individuals came with a support group composed of security officials in balaclavas. The locals responded by egging the uninvited guests.
2:26 pm The Belarusian State University Physics Department administration has forbidden students from sitting at the entrance and drinking tea.
2:28 pm Human rights activists failed to find out what the Prosecutor's Office is doing about the information about tortures in Akrestsina detention center. The Prosecutor's Office refused to report on the investigation of torture cases in the detention facility and police station, explaining that "this data is considered official information of limited distribution".
2:58 pm The District Emergency Department fined the chairman of the Dzerzhinsky Street Society. The locals are certain that this is related to the neighborhood's white-red-white illumination.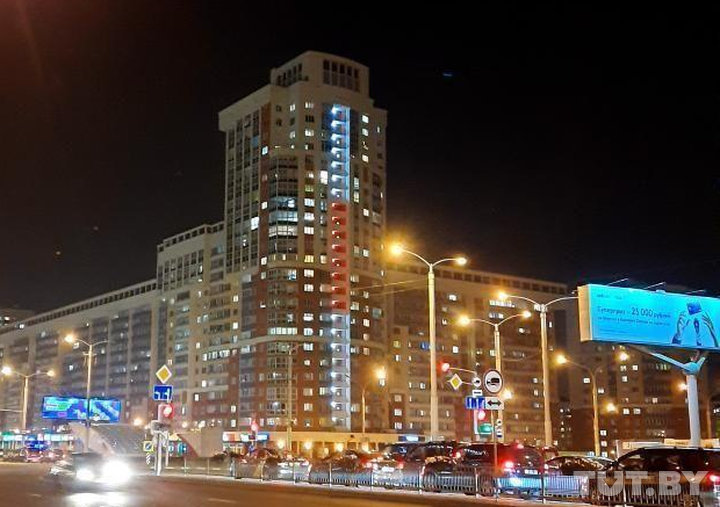 3:05 pm Minsk street musicians have gathered to express support for their colleagues, BSB cover band, who were arrested on 26 September while performing in an underground crossing on Yakuba Kolasa Street. The members were sentenced to between 10 and 13 days in jail.
3:15 pm Sviatlana Tsikhanouskaya is heading to a meeting with Angela Merkel. They will discuss Germany's participation in organizing a new election in Belarus.
3:30 pm Popular stage and film actor Pavel Kharlanchuk, famous for his work at Kupalovsky Theater, was fined 405 Belarusian rubles ($155) for "violation of the procedure for organizing and holding mass events".
3:35 pm Belarusian State University of Informatics and Radioelectronics students are holding a sit-in protest once again. They are applauding and chanting, "Long live TUT.BY!"
3:40 pm "Silnye Novosti" journalist Nadezhda Puzhinskaya was sentenced to 14 days in jail today, while environmentalist Denis Kobrusev will spend 15 days in custody. Police suspected him to be the admin of the "Homel Peremen" ("Homel of Changes") Telegram channel. Riot police searched his home and confiscated all the electronic devices.
3:50 pm Ukraine will join sanctions against Belarus, but it is not planning to limit the economic partnership between the two countries in order not to "make it worse for Belarus". According to Ministry of Foreign Affairs representative Dmitry Kuleba, the sanctions will be first and foremost political.
3:57 pm Unidentified people in masks are filming the sit-in protest at the Belarusian State University of Informatics and Radioelectronics. The students are lightly mocking them and making jokes.
4:20 pm Michael Goltsev, former Belarusian envoy in Bialystok, was fired by the Ministry of Foreign Affairs for publishing the actual results of the presidential elections.
4:25 pm Marina Dubina, head of "Ecodom" NGO, was detained in the center of Minsk by unknown individuals.
4:55 pm Belarusian State Academy of Arts students have gathered at the entrance to the building to protest police brutality and the arrests of students.
5:15 pm A letter was sent to the editorial office of TUT.BY, allegedly written by the head of the education department of the Partizansky district of Minsk. It asks for information about graduates who went to study abroad and, in particular, where they are working and how they found a job.
5:20 pm Germany has recalled its ambassador from Minsk for consultations.
5:25 pm The meeting between Sviatlana Tsikhanouskaya and Angela Merkel is over. During the conversation, Ms. Tsikhanouskaya told the Chancellor that peaceful protests in Belarus continue, and the number of political prisoners is, in turn, growing. She stressed that the protests are not a fight against Russia or Europe, but a consequence of an internal crisis in the country. The main goal of the people is to stop the violence and hold new elections.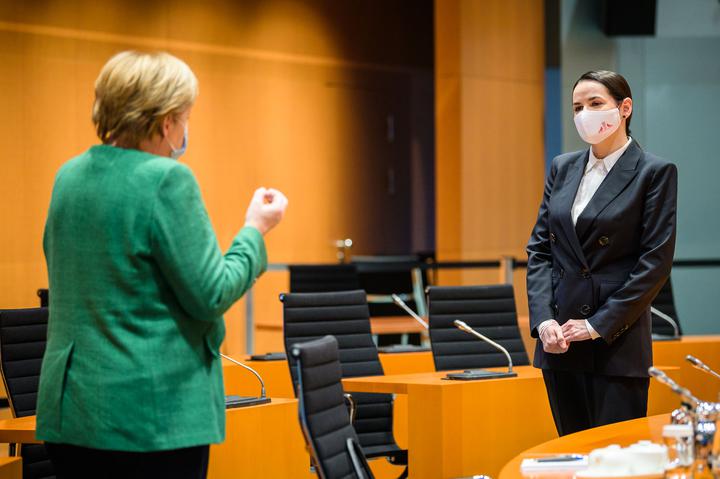 5:45 pm On their Telegram channel, hacker group Cyber Partisans have announced that their next target is the banking system. They are planning to launch a trojan that invades ATMs. They urge all Belarusians to withdraw cash from their accounts, take back their deposits from state-owned banks, and "empty currency exchange offices" before 5 pm on Friday.
5:50 pm Belarusian State Medical University professor Artem Ziatikov handed in his notice today. He states that he was asked to do so. Earlier, Mr. Ziatikov participated in making a video in support of students who are protesting violence.
5:45 pm The human rights center "Viasna", deprived of its legal status by the Belarusian authorities, has recorded more than 500 cases of violence against people who ended up in the isolation detention center and the law offenders center on Akrestsina Street in Minsk. However, not a single case has been brought against the perpetrators and abusers. In his interview with TUT.BY, the human rights activist Valentin Stefanovich explained why he believes that the verification of beatings and abuse will not produce any results, how many cases were brought against the protesters, and what could happen if no legal assessment of the events of 9-11 August is conducted.
5:56 pm An environmental activist, lawyer and executive director of the public association "Ecodom", Marina Dubina, was detained in the building of the cultural center "Korpus" in Minsk.
One of the witnesses to the detention told TUT.BY that at 3:50 pm, he was standing at the entrance to Building No. 6 at 22 Kuibyshev Street. At some point, he heard Marina scream from the entrance control post in the building. He then saw a masked man in civilian clothing dragging Marina to a car, and the young lady was screaming for help.
The details of the detention are being investigated.
6:00 pm On Tuesday, the German ambassador to Belarus, Manfred Huterer, temporarily left Minsk for Germany. A TASS correspondent received this information from a source in the German Ministry of Foreign Affairs which said, "The ambassador left Minsk today to hold talks in Berlin."
Germany does not consider the elections in Belarus democratic and does not recognize their results.
6:01 pm ⚡️ "Girl Power Belarus" Telegram channel announced that a Global Women's March will take place on Saturday, 10 October 2020 (the 10th of the 10th!).
This Saturday, our friends from Poland, USA, Hungary, Belgium, Great Britain, Austria, New Zealand, Denmark, Cyprus, Canada, Lithuania and Germany will walk with us. The list of countries is being supplemented.
This march is to lift the spirits of our brave, incredible women! Denounce violence and war! And to express solidarity with the entire people of Belarus who, for the last two months, have been tirelessly fighting the dictatorship that has seized power!
7:11 pm Viktar Babaryka's headquarters published Maria Kalesnikava's appeal, recorded in case of her arrest.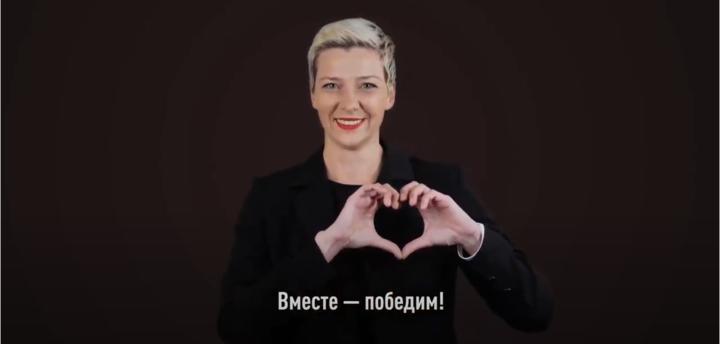 In her appeal, Maria announced that a new group would be registered with the aim of bringing a return to the 1994 Constitution to nationwide discussion. Maria also mentioned the registration of a new party.
7:48 pm Belarusian courtyards have turned into independent cultural centers. Musical concerts are held in Zolotaya Gorka, Osmolovka, Brilevichi, and on Ponomarenko Street this evening in Minsk.
8:14 pm A press conference with the national Freestyle team head coach, Nikolai Kozeko, and Freestyle world champion, Aliaksandra Ramanouskaya, is taking place in the TUT.BY office.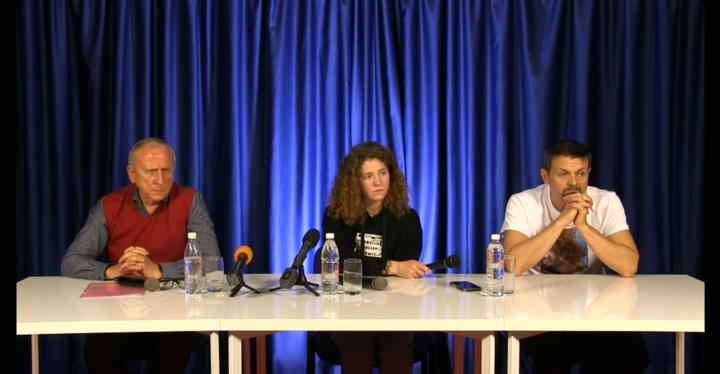 The press conference is moderated by sports journalist Sergei Shchurko, who was previously detained for 15 days for participating in protest actions.
8:34 pm Sviatlana Tsikhanouskaya's Telegram channel reported that she held a briefing with the leaders of the Christian Democratic Union of Germany and the Christian Social Union in Bavaria. They presented Sviatlana with a fragment of the Berlin Wall as a gift.
8:46 pm The protocols on the detention of the journalists Marina Molchanova, Alesya Latinskaya, Denis Nosov and Yuri Komissarov on 4 October in Babruisk, have been sent back for revision, as reported by the Belarusian Association of Journalists.
Latinskaya was released from the temporary detention center. Molchanova was discharged from the hospital. Nosov and Komissarov are still in the pre-trial detention facility. Nosov's home was searched.
17 journalists were detained nationwide while reporting on Sunday's protests.
9:31 pm "The EU sanctions against Belarusian officials are just the first step," said Paul Ziemiak, Secretary General of the Christian Democratic Union party, in his interview with Die Welt.
"In my interview today with Die Welt, I made it clear: men and women in Belarus are courageously fighting for the rights and values ​​which are taken for granted in the rest of Europe," Ziemiak wrote on his Facebook page. "After more than two decades of Lukashenko's rule, people deserve to be backed by the EU with its decisive voice and to support them in their fight for democratic values. The sanctions approved last week are only the first step. The pressure on the Lukashenko regime must remain high. Elections falsifiers have no right to become the winners."
9:52 pm Naftan employees recorded an appeal in support of Belarusians: "We want to live in a country where you are not scared to have your own opinion and be able to freely express it!"
10:29 pm A solidarity rally was held in the district of the ball bearing plant in Minsk. Local residents wrote approximately 20 letters to the House of Representatives expressing their criticism of changes to the Constitution.