29 August 2020 | Infocenter Free Belarus 2020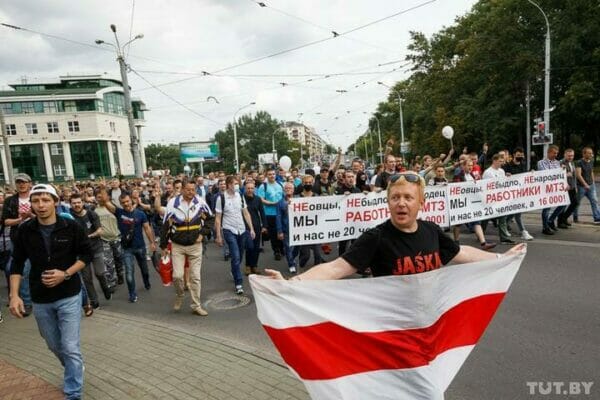 8:01 am As reported by the portal nn.by, the country's largest independent media sites Nasha Niva and Naviny.by were blocked last night. Nasha Niva continues to work on Telegram.
The newly appointed Minister of Information has assured people that "internet normalization" would not mean blocking sites. Lukashenko has also repeatedly stated that "we do not restrict anyone".
The access has been blocked by the order of the Ministry of Information of Belarus.
8:42 am Vitaly Krivko, the coordinator of Viktar Babaryka's election campaign headquarters and the member of the Coordination Council, was detained on the evening of 28th August, reported TUT.BY, citing the information from the headquarters.
8:52 am A Linkedin survey found that Twelve IT companies have already commenced full relocation of their offices abroad and fifty-nine companies are to relocate part of their offices. Additionally 112 companies are considering opportunities for relocation. It was organised by Nikolai Murzenkov, co-founder and chief executive of the IT-company Iomico.
9:22 am Vitaly Rymashevsky, a member of the Coordination Council, has published a video of a road accident involving him and several cars that had been seen at a pro-Lukashenko rally. Vitaly believes his car had been caught between two off-road vehicles and deliberately cut off.
9:35 am The detention of a Belarusian politician Mikalai Statkevich has been extended for another two months, his wife, Marina Adamovich, said.
Mikalai Statkevich was detained on 31st May on his way to Komarovsky market in Minsk, where he was going to attend the election rally of Svetlana Tikhanovskaya. He is charged with a criminal offence under Part 1 of Art. 342 of the Criminal Code of Belarus ("Organization or participation in group actions that grossly violate public order").
10:41 am Amir Al-Haydar, a Belarusian IT-entrepreneur with Iraqi origin, described his detention and time in prison on Akrestina Street. "I thought that this is still not a prison, this is not an extermination camp – this is a projection of hell on earth".
11:16 am PARIS (Reuters) reported that yesterday President of France Emmanuel Macron had called Vladimir Putin and told him that "any Russian military intervention in Belarus would be unwelcome, and that Paris does not want to see a repeat of what happened in Ukraine six years ago".
11:26 am The Chair of the Humanities Department of Polotsk University Denis Kondakov left his post following the post-election events in the country. "Since the authorities are consistently narrowing the space for any moral, aesthetic and political choice at the moment, I feel it is my duty to expand it as much as I can," – he wrote.
11:34 am According to Nasha Niva Belarusian authorities have revoked accreditation and decided to expel all the Western journalists from the country: Radio Svoboda, Reuters, Associated Press, Agence France-Presse, Deutsche Welle, RFi, ARD, BBC, AFP have lost their press-passes. The order was made by the Foreign Affairs Ministry of Belarus.
11:53 am The Belarusians who have filed complaints of turture and beatings to the Investigative Committee are being charged with a criminal case instead.
One of the Telegram users writes:
"So, this is what's happened. A friend of mine has filed a complaint against the police for torturing and beating him. He was called to the investigator and went there ready to tell how it was, and … they've told he was now a suspect in a criminal case […] for participation in mass disorders and have seized his phone. It seems they are going to do like that with everyone, and will check the phones, and if they find anything – there will be charges. Got a message arranging to meet your friends – you are the organizer.
The investigators aren't going to help us out, just finish us off."
This information was confirmed by the legal attorney Maria Kolesova-Gudilina.
12:00 am Russia recognizes the legitimacy of the 9th August presidential elections in Belarus, – said Putin in his interview to a Russian TV channel. "We proceed from the fact that the election took place. We – I did it right away – we recognized its legitimacy. And as you know, I congratulated Alexander Grigorievich Lukashenko on his victory in this election," Putin added.
Putin congratulated Lukashenko on his victory in the elections even before the official results were announced.
12:10 am Members of the Coordination Council Olga Kovalkova and Sergei Dylevsky were transferred from the preliminary detention ward on Akrescina Street to the prison in Zhodino, – reported press service of the Coordination Council.
Police detained Olga and Sergei on 24 August at the entrance to the Minsk Tractors Works building where they'd come to support the striking workers. They were sentenced to 10 days of arrest. Lawyers are not allowed to see them.
12:15 am The Football Federation of Belarus issued a caution to the FC Krumkachy Minsk who came to the last match wearing T-shirts with a caption "We are with the people" in Belarusian.
12:46 am The Ministry of Foreign Affairs of Austria has reacted to the Belarusian decision on the accreditation.
"Stripping journalists, including those working for foreign media, of their accreditation, is an unprecedented attack on media freedom. Austria condemns this blatant attempt to suppress objective reporting and calls on Belarusian authorities to immediately stop targeting journalists!"
Vienna also calls on Belarus to stop persecuting the media.
12:50 am Another auto-rally in support of Lukashenka is taking place in Minsk today. Some of the roads have been blocked to make way for the participants of the rally who are driving along the central streets of Minsk. Some of the cars are carrying both Belarusian and Russian flags.
1:10 pm Minister of Economy and Innovation of Lithuania, Rimantas Sinkevičius has commented on Lukashenko's threats to terminate the transit of Belarusian goods through Lithuanian territory. He expressed hope that the government of Belarus will convince its leader of the economic harm of such a decision.
The Minister noted that he had not received any official warnings from Belarus, and had learned about the plans to reorient cargo from Klaipeda port from the media.
1:15 pm Four days ago, some unidentified people stole a huge white-red-white flag from one of the multi-story buildings in Minsk. However, its residents haven't given up, and today the flag has appeared on the house again. This time it is made up of many red and white ribbons and is 15 stories long.
1:20 pm TASS reported that the EU, US, UK, and Switzerland called on Minsk to stop violence and threats of using military force against the people and to comply with international obligations.
1:35 pm Nasha Niva published that one of the militants detained in Minsk at the end of July and accused by the Belarusian authorities of terrorism claims that it was Viktor Lukashenko, the eldest son of Alexander Lukashenko, who had come to release him from the detention ward in Zhodino.
1:45 pm Nexta Live channel reports numerous buses seen in the center of Minsk, around the Victory Square. You cannot see what is inside the buses, as the windows are covered with carpets. At four o'clock, a women's grand march of solidarity is scheduled to take place in the square.
Radio Svoboda has published photographs showing that the monument in the square is surrounded by a fence.
1:50 pm The US Embassy in Minsk has published a statement claiming that targeting and detaining journalists and blocking internet access must cease. The statement goes on to say, "the United States calls for the immediate release of those unjustly detained, and an accounting for those reported missing. We stand with the Belarusian people in their aspirations for a democratic, prosperous future and support their call for the Government of Belarus to carry out democratic reforms and respect human rights and fundamental freedoms"; the full version of the statement is available at the official website of the Embassy.
1:55 pm Senior Prosecutor of the International Legal Department of the General Prosecutor's Office, Counselor of Justice Vitaly Volskiy has resigned in protest against the actions of the authorities.
2:20 pm The Village Belarus telegram channel has reported that the Ministry of Internal Affairs uses unlicensed Microsoft software. The detainees, whose trial took place via Skype, noticed this and have already written a statement to the international office of the company.
2:25 pm A member of the national triathlon team of the Republic of Belarus and an athlete of the Tristyle club Valentina Zelenkevich has announced that she will not take part in the event organized by her club.
"I want to state that I, as still acting athlete of the Tristyle club, REFUSE to take part in the start organized by the club. I've made this decision based on some reasons, which I don't want to discuss in detail. I am not calling on the others and do not judge anyone – everyone is entitled to express their opinion and position. In the end, I'd like to remind you that any pressure for political views is not only undemocratic but illegal, dishonest, and unworthy."
2:50 pm According to Euroradio Two more people have been detained, Vitaly Krivko and Andrei Yaroshevich, co-owners of the event agency Terra Group. Principal of the agency, Iya Kolomentseva, wrote about this on her Facebook. Krivko was detained yesterday, most likely he is in the detention ward in Akrescina Street. The location of Andrey is unknown.
3.12 pm Opposition Telegram channel Nexta warned people about the appearance of a fraud app with the same name in Google Play Store for Android smartphones. The app can be used to obtain the user's personal data.
3.25 pm Svetlana Tikhanovskaya today met the Solidarity Fund team, represented by IT business leaders Yaroslav Likhachevsky and Alexander Podgorny, as well as co-founders of the #BYCOVID19, BY_help and bysol solidarity funds. As of today, the fund has managed to raise more than $5 million.
4:07 pm The ex-employees of state social media, who recently resigned as an act of protest, have given an interview to Deutsche Welle journalists. They described advocacy and censorship procedures in the state media. They also talked about suppressing COVID information in Belarus, and one-sided coverage of the presidential campaign. 'We only talked about Lukashenko, as we were instructed not to write about other candidates at all – not even to mention their names. There are people whose names are banned on Belarusian TV. Among them is the recently deceased founder of the TUT.by portal, Yuri Zisser. Editors, as a rule, crossed out the words "Stalinism", "cult of personality", "GULAG". There were also quite absurd things: once the word "moustached" was removed from one of the anchor person's texts,' said the ex-employees.
4:18 pm The Women's Grand March of Solidarity has started in Minsk. The column of women moved to Independence Square, where, as usual, OMON – the riot police – were waiting for the protesters with paddy wagons at the ready. A group of people with flags of the Russian Pro-Imperial forces were also noticed there.
4:38 pm Today's Women's March was organized spontaneously through Telegram channels. Women agreed on the day, time, and main messages. Authorities are trying to scare them now with a voice broadcast over a tannoy saying: "Your gathering is unauthorized". People are still turning out, despite arrests, massive repressions and intimidation.
4:54 pm Ales Piletsky, the Radio Svoboda journalist, who was live-streaming from The Women's Grand March of Solidarity in the center of Minsk, was arrested mid-broadcast.
4:55 pm Maria Kolesnikova has joined the march. Also present is legendary 73-year-old activist Nina Baginskaya. Meanwhile, OMON – the riot police – has blocked entry to Independence Square, but the women weren't deterred and simply turned around and headed in the opposite direction.
5:16 pm According to the Belarusian Association of Journalists, DW correspondent Pavlyuk Bykovsky has been detained.
5:22 pm A mini-performance dedicated to police informants in civil clothes is being held near the building of the Belarusian National Technical University. At the same time, a bike ride with white-red-white flags has started near the Sports Palace.
5:36 pm According to TUT.BY, more than 10,000 women are taking part in The Women's Grand March of Solidarity.
5:44 pm News from Belarus regions:
In Brest, Gomel, Zaslavl, Rechitsa and Hrodna, several rallies and chains of solidarity are taking place.
6:00 pm Right next to the Belarusian State Philharmonic Society, police attempted to drag two men, one of whom was wearing a vest identifying him as press, into a gray van without a license plate. However, a group of female protesters surrounded the officers, chanting "Shame on you!" and "You are criminals!" until the men were released.
6:05 pm The "Savushkin product" dairy factory, which caught fire earlier today, is still burning.
6:10 pm The atmosphere in the streets can only be described as festive. The marching women are singing "Three turtles" (a song by Lavon Volski that is very popular with protesters), sharing water bottles, chanting "Tribunal!" and "I'm just taking a walk". The latter is a reference to Nina Baginskaya's defiant response to the police during a protest a few days ago. The 73-year old has been participating in rallies for decades, becoming somewhat of a legend among the opposition. Nina has also joined the march today, with many people recognizing and warmly greeting her.
6:28 pm A crowd of women is marching towards Nemiga street. They are chanting: "We are not sheep! We don't need a shepherd!"

6:30 pm The number of women attending today's march is estimated at about 15,000, as reported by Belsat.
7:05 pm Female officers were spotted among the riot police who were trying to disperse today's Women's March in Minsk, as reported by Franak Viačorka in a Facebook post.
7:15 pm A convoy consisting of police detention vans, military vans and ambulances is heading down Bogdanovicha street towards Bangalore square.
7:19 pm The protesting women have moved from traffic lanes to the sidewalks. They are chanting "Riot police, go home!"
7:25 pm The Ministry of Emergency Situations has identified the cause of fire at the "Savushkin product" dairy factory. They stated that when repairs were conducted on the technical floor of the building, some rubble caught fire, which then spread to the insulation. Fortunately, no one was hurt.
7:30 pm The protesters are heading towards the Riga department store. Bangalore Square has been cordoned off by law enforcement.
7:35 pm Maria Kolesnikova, a member of the Executive Committee of the National Coordination Council, is now live on YouTube. She is giving a poignant speech explaining what it would mean for the government to take responsibility for the extreme police brutality and violence towards the peaceful protesters. She is also outlining a process for investigating such cases.
7:38 pm Journalists Ales Piletski and Andrey Ryabchik of Radio Svoboda have been released from the Oktyabrsky police department. Pavel Matskevich, a reporter for Belsat, is still inside.
7:45 pm Students from at least seven Belarusian universities are collecting signatures under a joint statement. They are demanding a stop to the violence against peaceful protesters, the release of all political prisoners, and invalidation of the election results. In addition, they are urging current authorities to establish communication with Sviatlana Tsikhanouskaya and her team in order to solve the political crisis.
7:46 pm At Bangalore Square, protesting women chanted "See you tomorrow" in front of the riot police before walking away. Jokes along the lines of "No borscht for these guys" could also be heard in the crowd. The participants are now moving towards the Akademiya Nauk metro station, while law enforcement officers remain stationed in the streets.
7:53 pm Riot police are blocking the entrance to the Akademiya Nauk metro station on Surganova street. The crowd is chanting "Let us go home!"
8:08 pm The Women's March finished at the Akademiya Nauk station. A reporter for @radiosvoboda witnessed the police arresting a young man who was walking in a completely different direction from the protesters. They also attempted to detain two men who were able to escape and ran into the station.
8:15 pm A group of musicians is performing "Khochu Peremen" (which translates to "Changes" and is written by V. Tsoi) on Nemiga street in MInsk. The song is especially popular with the local protesters.
8:25 pm A white-red-white Belarusian opposition flag is now displayed on a wall of the Palace of the Grand Dukes of Lithuania in Vilnius in a show of solidarity.
9:00 pm An opposition rally took place in Gomel today, starting with a women's protest at Victory Square and finishing with a march and a concert at Gromyka Square. Street performers played a few songs by Victor Tsoi, whose poignant lyrics became a call for change in the 1980s Soviet Union. The musicians were then arrested and taken to the Central district police department. A young woman was also detained in a park for displaying a white-red-white opposition flag.
10:00 pm Svetlana Vuchak, the coordinator of the Belarusian State University strike committee, was arrested today with her husband Mikhail. While searching their home, police confiscated a laptop, a few phones, a drone and some documents. Mikhail Vuchak's sister told the press that the couple are accused of allegedly "damaging car license plates".