24 August 2020, 10:00 | TUT.BY, Delfi.lt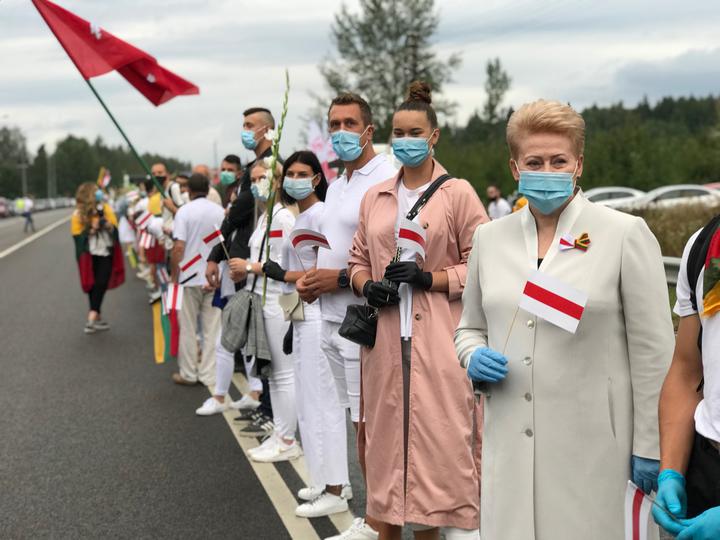 The world can no longer play a double game with Belarusian President Aleksander Lukashenko's regime; it needs to be politically and diplomatically isolated, said former President of Lithuania Dalia Grybauskaitė.
"This regime should be isolated politically and diplomatically. And we need to impose not only serious political but also economic sanctions on specific representatives of the regime, not the Belarusian nation," Grybauskaitė told the Lithuanian National Television and Radio (LRT).
The former president went to Medininkai to participate in the "Freedom Way" [human chain].
"This regime needs to know how the world sees it. Enough of those games and sitting on two chairs, as the West and we have done in part, as if we see something and don't see other things because economic ties are very important," said the former president.
"Now, after such a massive use of brutal force against its own people, which will sooner or later be considered a crime against humanity, I think we cannot play a double game if we want to be true to our freedom and the path we have traveled," she said.
After the Central Election Committee (CEC) of Belarus announced that Lukashenko received 80% of the votes in the presidential elections, protests began in Belarus. Authorities use force against protesters: about 7,000 people have been detained, with people reporting ill-treatment and use of violence by security forces. Three people have died; hundreds have been injured.
Grybauskaitė said that the help of Lithuanians is important for Belarusians. She reminded that at the dawn of its independence, Lithuania also needed the support of other countries.
"It is important for any country to know that it is not alone. And today, we show that Belarusians are not alone," Grybauskaitė said before the "Freedom Way" event.
As a reminder, almost 50,000 people took part in the event; people stood in a human chain 32 km long. The event took place on 23 August, the same day the "Baltic Way" took place in 1989 – a human chain from Vilnius to Tallinn, in which over a million people stood holding hands. Back then, the world was sent a message that Lithuania, Latvia and Estonia intended to rid themselves of Soviet occupation and restore their independence.