7 September 2020, 17:48 | Coordination Council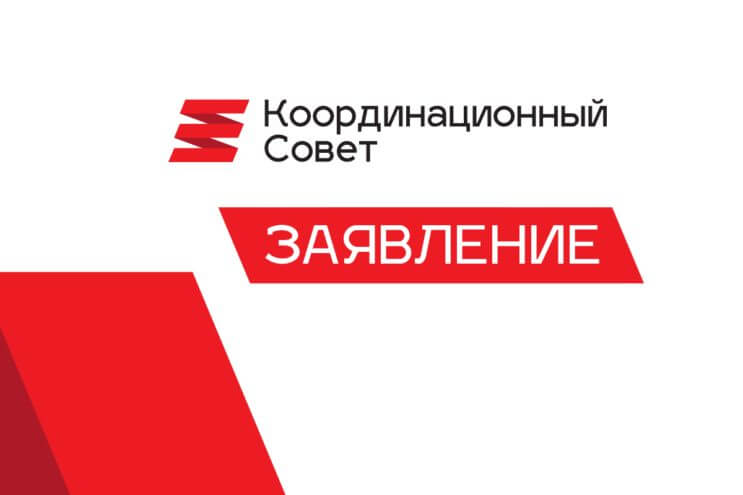 Whereas activists, peaceful protestors and random bystanders, including students, residents of the tractor plant campus in Minsk, residents of Grodno, OSVOD lifesaving society employees, coffee shop patrons and many others have been brutally detained;
Whereas on 7 September 2020 Coordination Council Presidium member Mariya Kalesnikava, press secretary Anton Rodnenkov and executive secretary Ivan Kravtsov were abducted, on 4 September 2020 Coordination Council Presidium member Volha Kavalkova was forcibly removed from the country, on 31 August 2020 a criminal investigation was opened against the Coordination Council Presidium member Lilia Vlasava, and whereas Coordination Council Presidium Siarhey Dyleuski has been detained and is being held under administrative arrest since 31 August 2020, the Coordination Council considers it necessary to make the following statement:
Peaceful protests taking place across the Republic of Belarus since 9 August 2020 and reflecting the majority's opinion are so massive that the authorities have begun to openly utilize terror to suppress the protests.
In an attempt to intimidate this majority and to force people to stop publicly expressing their opinion, the authorities are persecuting activists and detaining citizens at random with manifest brutality, and are using pain-inducing weapons.
All these methods are patently illegal and all they can result in is the escalation of the situation and the deepening of the crisis.
Peaceful rallies occur in a decentralized manner and are leaderless. Using terror tactics against protesters is useless. More than the violence that the authorities are personally threatening them with, protestors are afraid of a future in an outlaw state that awaits them and their loved ones if the situation in the country does not change, and the rule of law and democracy are not restored.
Today the members of the Coordination Council are filing complaints with the Investigative Committee about all the illegal actions committed by law enforcement officers on 6 September 2020 and at other times.
The complaint draws special attention to the group of unknown persons that was in the area of building 3 on Pobediteley Avenue in Minsk on the evening of that day. These people were not wearing uniforms or insignia, had their faces covered with masks to prevent identification, would not introduce themselves or show ID, instead openly demonstrating various weapons during a peaceful protest and, without announcing any demands, using pain-inducing weapons and beating citizens. According to the statement made by the press secretary of the Ministry of Internal Affairs O.V. Chemodanova, these persons are law enforcement officers. They were led by the head of GUBOPiK (Main Directorate for Combating Organized Crime and Corruption in the Ministry of Internal Affairs) Police Colonel N.N. Karpenkov, who personally broke a glass door in a coffee shop.
The use of pain-inducing weapons and force against peaceful protestors and random bystanders who do not offer resistance and even against those lying on the ground to demonstrate peaceful intentions, is abuse of power or official authority (Article 426 of the Criminal Code of Belarus).
We believe that it is important to investigate the goals that were being pursued in issuing these criminal orders – was it to punish people for taking a civic stand or to intimidate the population or to provoke an unlawful response – the specific goals will determine the extent of the responsibility.
We believe that if violence and infliction of suffering are committed by a person acting in an official capacity for the purposes of meting out punishment for political views, then additional responsibility applies under Article 128 of the Criminal Code of the Republic of Belarus (Crimes Against the Security of Mankind).
If violence is being committed with the aim of intimidating and forcing citizens to abandon political and civic action or to intimidate the population, and if the violent acts are being committed in a manner that is dangerous for people or that may have grave consequences, these acts may be additionally qualified as acts of terrorism (Article 289 of the Criminal Code of the Republic of Belarus).
If law enforcement officers use unjustified violence in an attempt to provoke peaceful protestors into retaliatory violence in order to justify subsequent use of weapons, these actions can additionally be qualified as an attempt to incite social hatred (Article 130 of the Criminal Code).
The Coordination Council notes that any action committed by persons acting in official capacity and involving the use of violence while being aimed at suppressing citizens' political and public action, are crimes against the security of humanity, and as such have no statute of limitations and can be prosecuted in any country. The Coordination Council notes that following manifestly criminal orders does not relieve the person who follows them from responsibility, while disobeying a manifestly unlawful order is legal.
The Coordination Council is once again calling on the authorities to recognize the obvious and act to restore the rule of law and the status of the Republic of Belarus as a democratic state.
The following actions need to be taken immediately in order to resolve the crisis and to demonstrate that initial steps are being taken to respond to the demands formulated by the Coordination Council:
Launch and investigate crimes committed in the period since 9 August 2020 against peaceful protestors, including the deaths of people who have disappeared from 9 August 2020 onwards. Provide daily public updates on the progress of the investigation.
Publish accurate information on the results of the voting that took place on 9 August 2020 for each polling station. Determine whether there is enough evidence for a crime under Art. 192 of the Criminal Code, for all recorded instances of electoral process violations, including but not limited to the instances of vote count falsifications that have been identified and documented, the drawing up of deliberately forged election result reports, the forcing of election commission members to commit these acts by representatives of state authorities and management.
Stop political persecution and, in accordance with the procedure established by law, consider canceling or changing restrictions in pending criminal investigations of cases of mass riot and group violations of public order against all the accused in these cases, detained since 10 May 2020 to the present, including cases against Viktar Babaryka, Siarhey Tsikhanouski and other people recognized as political prisoners. Release all illegally detained peaceful protestors and people under administrative arrest for participating in peaceful rallies.
Stop the persecution of Coordination Council members, immediately release Mariya Kalesnikava, Liliya Ulasava, Andrey Egorov, Anton Rodnenkov, Ivan Kravtsov and confirm and provide guarantees that Volha Koavalkova, Pavel Latushka and Sviatlana Tsikhanouskaya are free to return to the country.
The Coordination Council is asking citizens not to give in to provocations, not to respond with violence to violence and to work on bringing all criminals to justice solely in court.