European airlines stop flights over Belarus; the body of political prisoner Ashurak handed over to his family five days after death; state media show a video with beaten Pratasevich
25 May 2021 | Voice of Belarus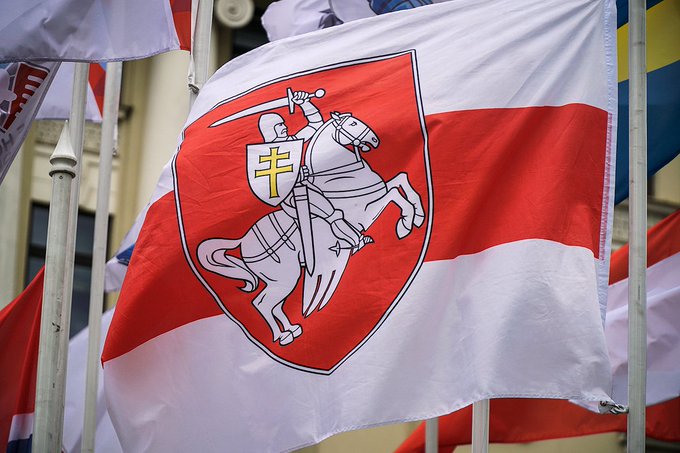 The body of the deceased political prisoner Vitold Ashurak was handed over to his family with the head bandaged from crown to nose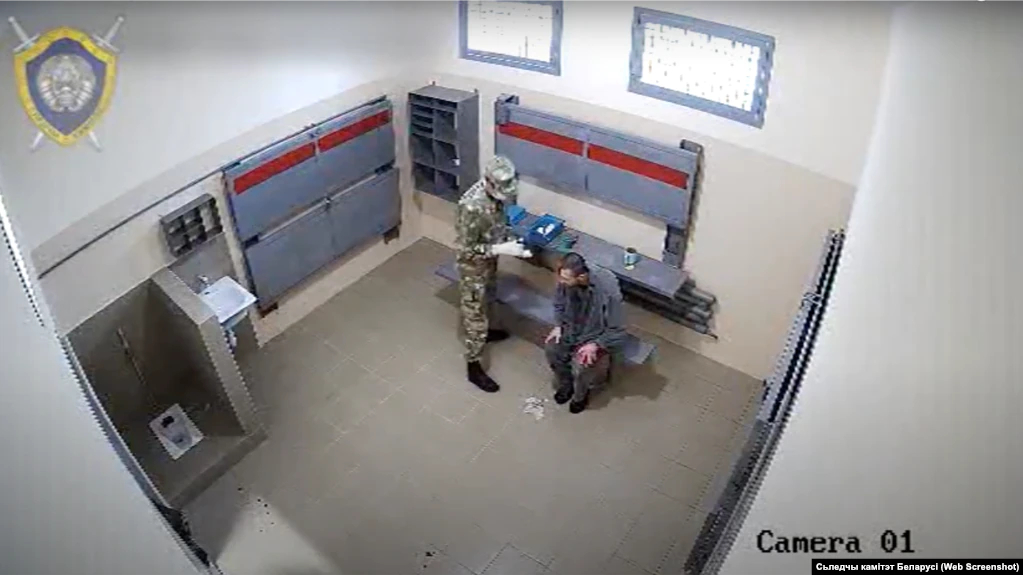 Political prisoner Vitold Ashurak died unexpectedly in the penal colony on 21 May 2021, allegedly from cardiac arrest. Ashurak's body was released to family only five days after his death. According to family friends, Vitold's head was bandaged from crown to nose, only his nose was visible and his hands were scratched.
Soon after the publication of these details, the Investigative Committee published a video filmed during the last minutes of Vitold Ashurak's life. The quality of the video does not allow to determine if this was really Ashurak. In the video, he falls twice, hurting his head in the first fall. He is being helped and is probably left alone in his cell again. Then he falls down again. According to the official version, shortly before his death, Ashurak fell and "received bodily injuries on the face".
The family decided not to conduct additional examinations, since they do not trust possible results and do not want to further postpone the funeral.
Belarusian state media showed a video of the detained Pratasevich. On the video, he appears with signs of beatings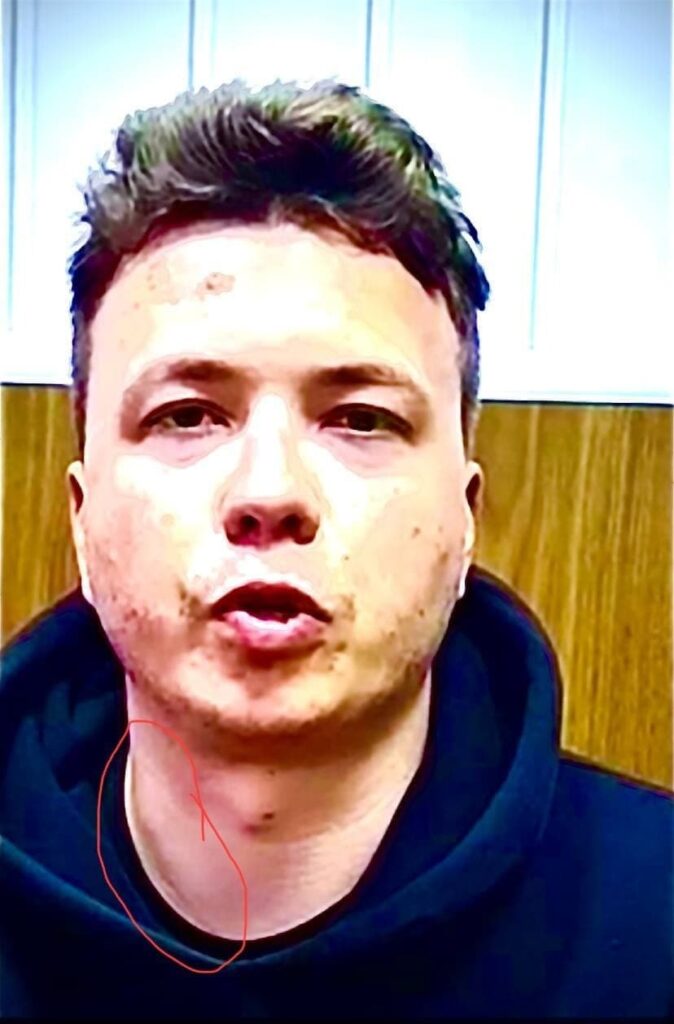 Belarusian state media showed a video of the detainee Pratasevich where he says that he is giving "confessions". Pratasevich's colleagues from Nexta channel suggest that judging by the video he was beaten.
There are traces of bruises on Raman's face, his father believes that his son's teeth are knocked out and his nose is broken, because its shape has changed, and he has a lot of face powder on. "These are not his words, this is not his tone. He acts very restrained and you can see that he is nervous. And it's not his pack of cigarettes on the table – he doesn't smoke these. So I think he was forced. My son cannot admit to creating riots because he just didn't do any such thing," said the father.
Telegram channel "Belsat" published processed frames from this video. They testify to the use of violence and torture against the detainee. These were done by a Belarusian doctor who wished to remain anonymous. He believes that Raman was strangled and the bruises were covered with foundation.
Sofia Sapega, Raman Pratasevich's girlfriend and a citizen of Russia, was arrested for two months and transferred to the KGB pre-trial detention center.
Politician Pavel Sieviaryniec sentenced to 7 years in prison for organizing mass riots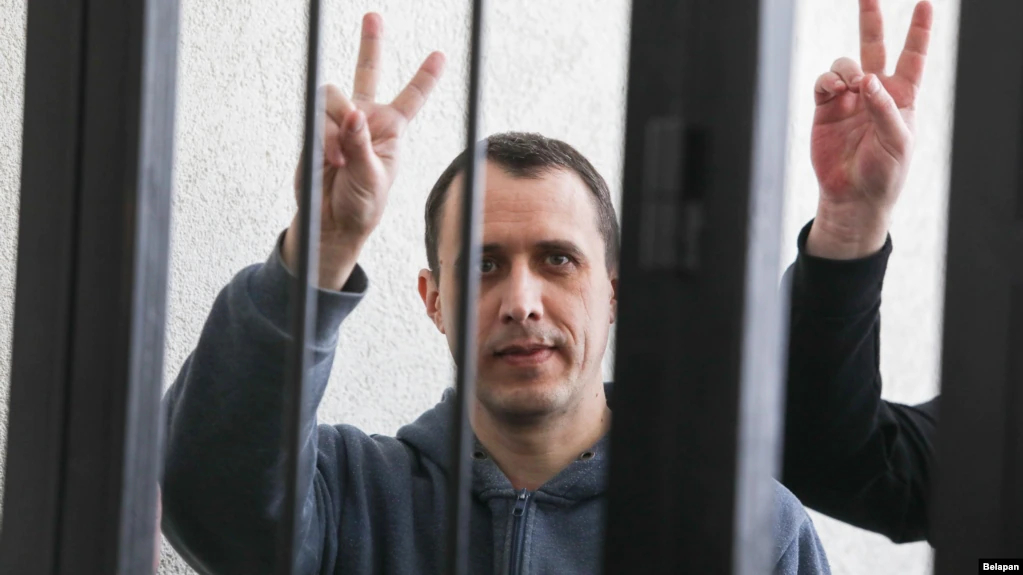 The Mahiliou Regional Court sentenced one of the leaders of the Belarusian Christian Democracy party, political prisoner Pavel Sieviaryniec, as well as activists of the civil campaign "European Belarus" Yaugen Afnahel, Pavel Yukhnevich, Maksim Viniarski, and the editor of telegram channels Iryna Schastnaya. The "trial" was held behind closed doors and only at the last moment relatives were allowed into the courtroom. Political prisoners were sentenced to jail terms from 4 to 7 years for organizing the riots.
Sieviaryniec was detained on 7 June 2020, shortly after he held a "picket of freedom and solidarity" next to pickets to collect signatures for nominating alternative presidential candidates to challenge Alexander Lukashenko. The other five defendants were detained between June 2020 and January 2021.
Pavel Sieviaryniec stated that "there was no trial, and Belarus will be free". His exclamation "We believe, we can, we'll win!" was picked up by other political prisoners and their families.
Biden is planning to meet with Putin to discuss Belarus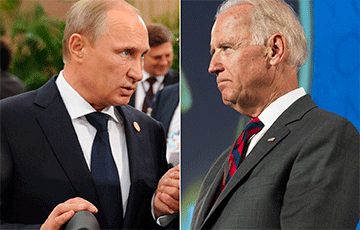 US President Joe Biden called the incident with the forced landing of the Ryanair plane in Minsk outrageous and supported the EU sanctions against the Belarusian authorities. In a statement issued by the head of the White House in this regard, Biden promised that his administration will also work on options to bring those responsible to justice. This will be done in close cooperation with the European Union, US partners, and international organizations. Biden also plans to discuss the situation in Belarus at the upcoming meeting with Vladimir Putin in Geneva on 16 June 2021.
French President Macron wants to invite Tsikhanouskaya to G7 summit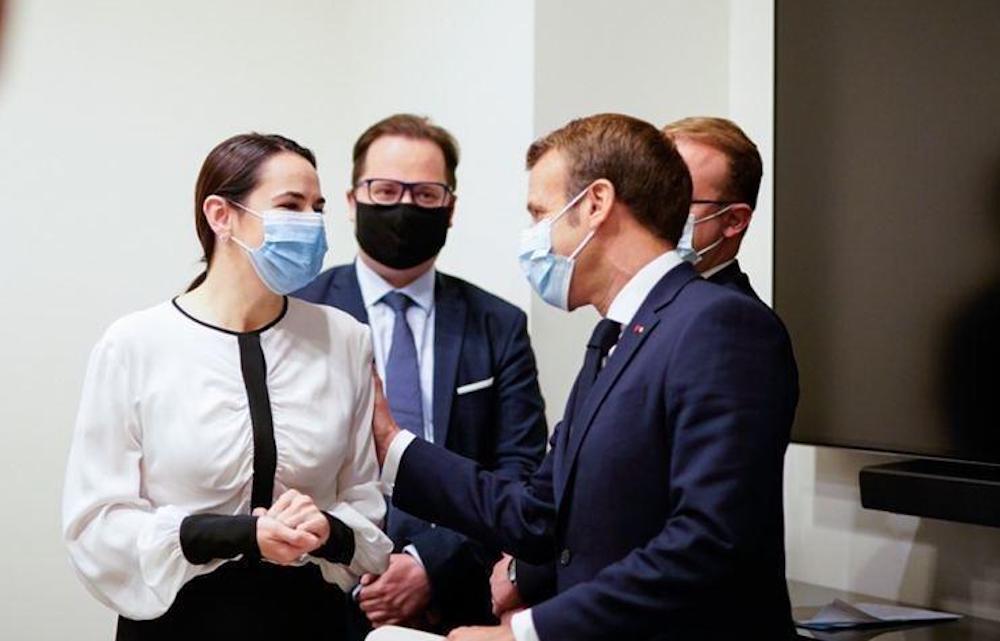 French President Emmanuel Macron suggested to the G7 member states inviting Sviatlana Tsikhanouskaya and other representatives of the Belarusian opposition to the next summit. During the summit, Sviatlana Tsikhanouskaya might make a statement on the situation with the landing of the Athens-Vilnius plane in Minsk and the subsequent arrest of Raman Pratasevich.
More and more airlines cancel flights over Belarus
Due to the detention of opposition activist Raman Pratasevich after the emergency landing of the Ryanair flight in Minsk, the EU countries called on European airlines to stop flying over Belarus.
Ukraine stops flight connection with Belarus from midnight on 26 May.
France has banned its aircrafts from flying in the airspace of Belarus.
Lithuania has stopped receiving and sending flights crossing Belarus.
Air France, Finnair, Singapore Airlines, Austrian Airlines, Lufthansa, and KLM also announced the suspension of flights over Belarus.
Belarus was flown around by Wizz Air, KlasJet, Austrian Airlines, British Airways, and LOT planes.
The United Kingdom and France withdrew Belavia's permit to fly. In this regard, Belavia has decided to lay off a significant number of employees.